They're cute, fluffy and adored world wide, but pandas are apparently nothing but big fat liars.
What would have been the first ever live broadcast of a panda cub birth had to be cancelled after it emerged the expectant mother wasn't actually pregnant and may have faked the whole thing to get more sticky buns, AFP reports state news agency Xinhua as saying.
'Phantom pregnancy' is common among pandas, but one expert claims that those at the Chengdu Breeding Research Centre in China have learned that they get special treatment when they display signs of pregnancy.
Pandas who are thought to be pregnant receive 24-hour care, more food, live in an air-conditioned single room and receive other "enrichment programmes."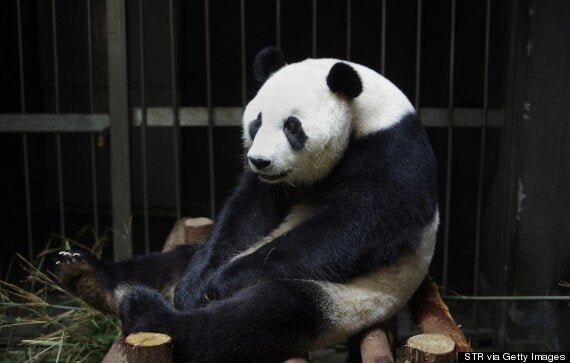 A sheepish-looking Ai Hin
Giant panda Ai Hin apparently cleverly cottoned onto this and displayed signs of being pregnant after becoming aware of the fancy treatment.
Wu Kongju, who works at the centre, told Xinhua: "They also receive more buns, fruits and bamboo, so some clever pandas have used this to their advantage to improve their quality of life."
Ai Hin clearly likes here food, as the video below demonstrates.
Edinburgh Zoo's resident giant panda, Tian Tian, is believed to be pregnant and may give birth by the end of the month.
Keepers have been monitoring Tian Tian since she was artificially inseminated on April 13.
Iain Valentine, director of pandas at the zoo, said: "The latest scientific data suggests Tian Tian the giant panda is now pregnant and that implantation has taken place; therefore, she may give birth at the end of the month. She's in the family way: Tian Tian enjoys a bamboo snack
Tian Tian (Sweetie) and Yang Guang (Sunshine) are the first giant pandas to live in the UK for 17 years.
The animals, now both aged 10, arrived on loan from China in December 2011 and will remain at Edinburgh Zoo for a decade.