Hummus isn't just a fancy dip, oh no. These recipes from Hummus Bros who specialise in simple fare with fresh ingredients, show there is far more you can do with the scrummy veggie treat.
Hummus with Slow-cooked Chickpeas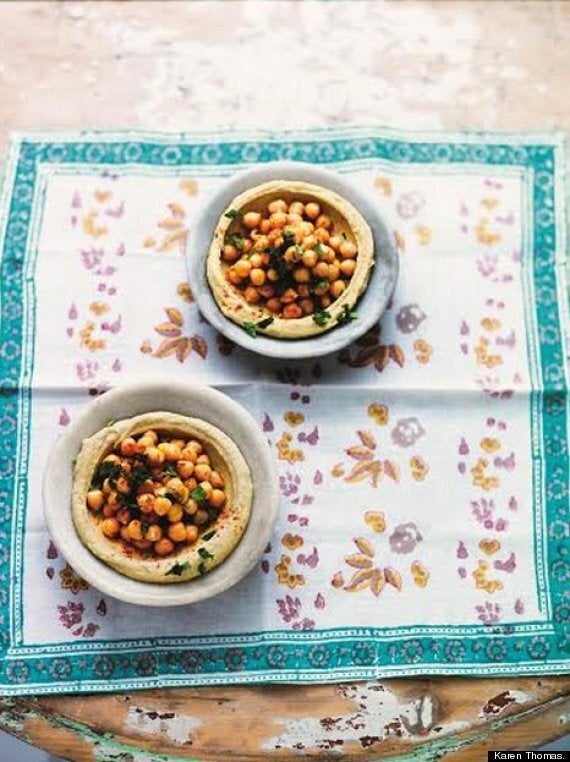 This is a double whammy of chickpeas, full of taste, not to mention fibre, protein and healthy slow-release carbs to power you through the afternoon.
250g/9oz dried chickpeas, soaked overnight in plenty of cold water
700ml/11⁄4 pints cold water
1 tbsp ground cumin seeds
450g/1lb Hummus (see p..19)
chopped fresh flat-leaf parsley, for sprinkling
Drain the soaked chickpeas, put into a medium saucepan and pour in the water so that the chickpeas are covered by about 2cm/3⁄4in. Add the oil and cumin and bring to the boil. Skim off any scum, if liked, then partially cover with a lid and cook over a medium heat for 40–60 minutes until the chickpeas are tender but still a good shape. Drain in a sieve set over a bowl to catch the cooking liquid.
Spread the Hummus over 4 serving plates and make a small well in the middle. Add a few spoonfuls of chickpeas to each well. Dress each portion with lots of olive oil, lemon juice and tahini sauce, then season to taste. Moisten with some of the reserved cooking liquid, if necessary and top with a little paprika and chopped parsley.
TIP: Quarter a white onion and soak in bowl of water for 30 minutes. Drain and peel off the individual layers, then use to scoop up the hummus and chickpeas.
Hummus with Moroccan meatballs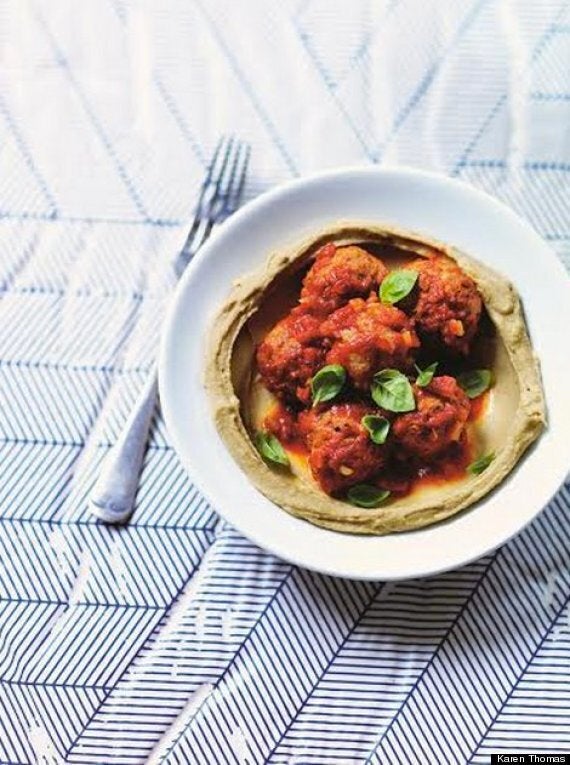 Christian: "This is my favourite topping by far and it goes particularly well with guacamole. Meatballs are always popular in the restaurant, but people are put off making them at home as they think they're fiddly.
If you have a food processor then just bung everything in together and blitz in seconds, then just add the meatballs to our easy tomato sauce and let them simmer gently while you get on with something else."
125g/41⁄2oz sliced bread, torn into pieces
500g/1lb 2oz fresh extra lean beef mince
sea salt and freshly ground black pepper
450g/1lb Hummus (see p.19), to serve
fresh parsley or basil leaves, to garnish
2 celery sticks, finely chopped
2–3 garlic cloves, finely chopped
2 x 400g/14oz cans chopped tomatoes
Blitz the bread in a food processor until fine crumbs form. Add the beef mince and eggs, then spoon in the chilli powder and cinnamon. Season generously with salt and pepper, then blitz together until well mixed. If you don't have a food processor, make breadcrumbs in a blender or rub over a coarse grater, then mix with the remaining ingredients in a bowl.
Using a dessertspoon, scoop out the meatball mixture on to a chopping board or baking sheet to make 24 mounds, then shape into balls by hand.
For the sauce, heat the oil in a large, deep frying pan with a lid, add the onion and celery and fry for 5 minutes over alow heat until soft and just beginning to turn golden. Stir in the garlic and chilli powder, then the tomatoes and sugar. Season with salt and pepper, then cover and simmer gently for 5 minutes.
Take the lid off the pan and add the meatballs, in a single layer if there's room. Cover and cook over a low heat for 15 minutes. Uncover, turn the meatballs and cook for a further 5 minutes until the sauce has thickened and the meatballs are cooked through. To test if they are cooked, take out one of the meatballs and cut it in half – there should be no hint of pink.
Spoon on to serving plates spread with Hummus and top with parsley or basil or a mixture of them both.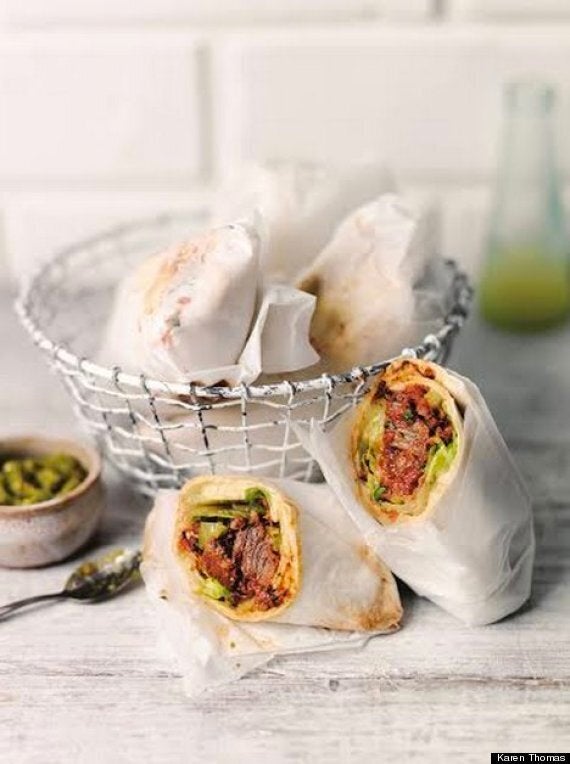 Transform some leftover beef casserole into lunch or another supper with these tasty wraps. Or why not make a double quantity of casserole and freeze in smaller portions for another night when you are too tired to cook?
225g/8oz Hummus (see p..19)
100g/31⁄2oz Tomato & Coriander Salsa (see p.19)
2 Salt-pickled Cucumbers (see p.146) or shop-bought, drained and cut into long strips
1 quantity hot beef casserole from Hummus with Chunky Beef.
Warm the wraps in a hot dry frying pan for 1 minute on each side, then remove and put on serving plates.
Spread the Hummus in a line down the centre of each wrap, top with 1 cos lettuce leaf, broken in half, then add a spoonful of Tomato & Coriander Salsa, 2 long strips of pickled cucumber, then, finally, top with a couple of spoonfuls of the hot beef casserole.
Fold the ends of the wrap inwards, then use a sheet of non-stick baking paper to roll the wrap up tightly. The paper helps keep the wrap together. Tuck the ends of the paper in like a parcel, then cut the wrap in half, with the paper still in place, to serve.