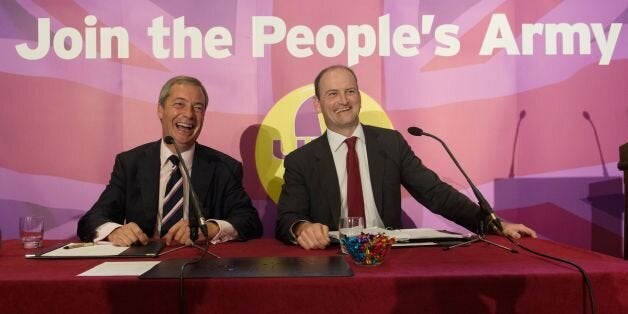 Roger Lord, the Ukip parliamentary candidate for Clacton elbowed aside by Douglas Carswell, has threatened to "rip out" the Tory defector's throat if he fails to explain why he should replace him.
Speaking on Sky News today, Lord furiously demanded a public debate with Carswell, who he labelled as "the establishment", to decide who should be Ukip's parliamentary candidate.
"These people don't want politicians that are looking after themselves they want a fighter and I'm going to get out there and fight for them and my hometown," he said, adding: "Douglas Carswell has been a bit stupid on this."
"I am standing up for everybody who has been ridden rough-shot by the establishment. We're going to take on the establishment and if we don't get the answers down in Clacton, we're going to rip its throat out," he warned. "Simple as that."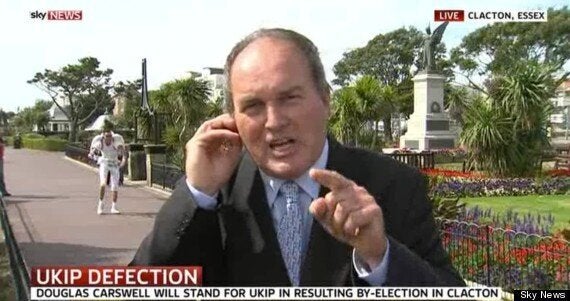 Lord speaking on Sky News
HuffPost UK asked whether Essex Police were investigating Lord's threat. A spokeswoman said Carswell himself would have to complain for them to look into it. Despite his angry threat, Lord later insisted he was a "quiet person".
He added: "I don't shout, I don't swear I think everything can be done with nice discussion and cup of tea, but when I'm pushed I can push back."
Lord went on to suggest that he and Carswell could reach a compromise, but that "he hasn't got the guts to do it".
Yesterday Carswell, the sitting MP, sensationally announced he was defecting to Ukip and would trigger a by-election in his Essex seat in order to secure a fresh mandate from voters.
However the announcement has not gone as smoothly as Nigel Farage might have hoped, as the Ukip leader apparently forgot that he already has a candidate in place, who is not too happy about being pushed out by Carswell.
Lord, who told BuzzFeed Farage would have to "shoot" him before he stepped aside, is so annoyed he has also said he might consider swapping places with Carswell and defect from Ukip to the Tories.
Asked by LBC this morning whether he would consider running on the Tory, he said he would "see what deal comes up".
"Dougals Carswell, he jumped ship didn't he, we shall see. It's got to be a damn good deal," he said. Pressed on whether he would be happy to stand as the Tory candidate, he said: "It's possible, we shall see."
Defending his decision to defect to Ukip today, Carswell said "I stab people in the front, not the back". Carswell returned to his Clacton constituency flanked by Farage as he sought to convince voters to back him. The Ukip leader has stoked expectations that other MPs among both Labour and Conservative rank-and-file could follow suit and defect.
However eurosceptic Tory MPs, the likely candidates, have gone out of their way to deny suggestions they are ready to join Carswell.
Andrew Bridgen, a staunch eurosceptic, told The Huffington Post yesterday that Carswell would likely "regret" his decision. And Brian Binley, who would vote to leave the EU, said Carswell had shown "poor judgement" by joining Ukip.
Senior backbencher Bernard Jenkin, who is an Essex neighbour of Carswell, also told the BBC that the defection had come as a "bolt from the blue".
"Douglas will regret making this move because the more Tory voters defect to Ukip, the more likely it becomes that Ed Miliband becomes prime minister," he said.
Additional reporting by Asa Bennett and Jack Sommers
Related