Shinji Kagawa looked dazed and confused, and that was before a bloody nose forced him off at MK Dons after 20 minutes. How had it come to this? Bought to replace Wayne Rooney, he was surrounded by Manchester United's kids and stiffs in the second round of the Capital One Cup. Two days later, the new Japanese national team coach Javier Aguirre omitted from Kagawa from his first squad.
Today, Kagawa will re-join Borussia Dortmund for less than half the £17 million United paid the Yellow and Blacks for Kagawa two years ago.
Of all the players to suffer from Sir Alex Ferguson's retirement, Kagawa's decline has arguably been the most spectacular and yet the waste of his talent is no surprise. Comparisons with Juan Sebastián Verón were being made before he flew into Manchester and, like Verón, Kagawa will leave M16 after two seasons.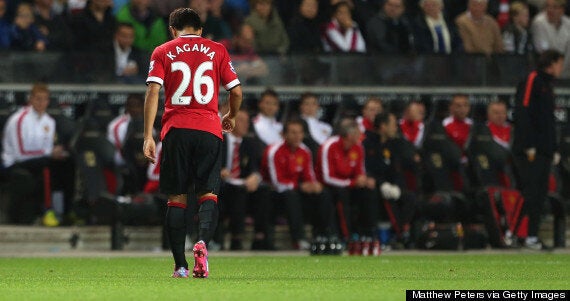 Kagawa trudges off against MK Dons on Tuesday night
The 25-year-old was a victim of Ferguson's tinkering and, by the Scot's own admission, his hesitation. "I'd already given the fourth official the card," Ferguson explained when asked about Kagawa's baffling substitution at West Ham in April 2013, where he assisted both of United's goals. "Javier [Hernández] was stood on the touchline when we scored the second goal.
"I think if I'd have changed my decision then I think we'd have won the game because Shinji was doing really well." Mike Phelan was absent from the touchline that night.
Ferguson had all but confirmed Rooney's sale after his final home match in charge the following month. Rooney disputes this but whether it was true or not was immaterial, Ferguson had instructed David Moyes to sell a player who had, supposedly, twice requested to leave the club.
Moyes, though, had unfinished business with Rooney after seeing him depart his Everton side as an 18-year-old. Kagawa didn't figure in the opening game at Swansea, or for the visit of Chelsea and was, inexplicably, omitted from the squad entirely for the defeat at Anfield a year ago. Rooney wasn't even fit for that particular fixture and the questionable hashtag #freeShinji began to trend.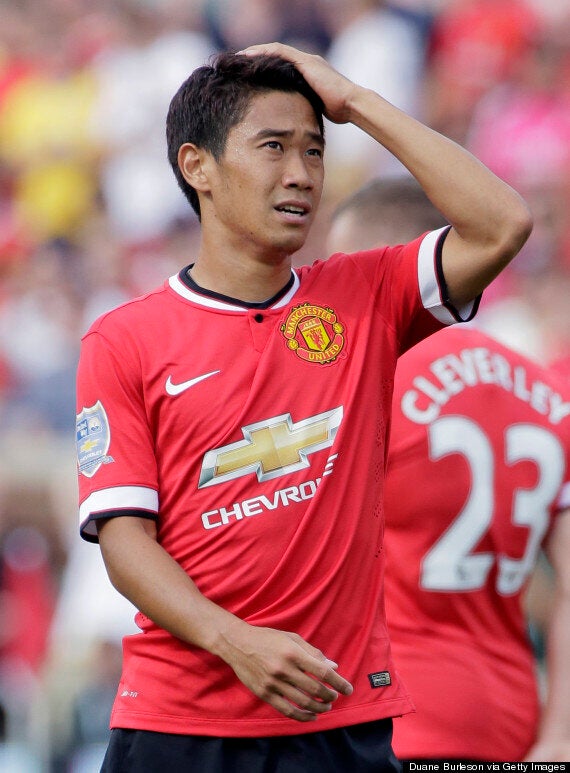 Kagawa featured sporadically during United's US tour
Rooney was one of the few United players resuscitated by Moyes as several others' Reds careers flatlined. Kagawa didn't start a Premier League match until late September and was hauled off at half-time against West Brom.
In December, Moyes quashed suggestions United were keen on Ross Barkley, a player he had nurtured at Everton. United already had a No.10 in Rooney, Adnan Januzaj had emerged while Kagawa was also available. Fast-forward a month and United were paying Chelsea £37.1m for Juan Mata, a playmaker. That signalled the end for Kagawa.
Mata was a buoyant buy during a jittery January for United. They had exited both domestic cup competitions pitifully and lost to Tottenham and Chelsea. The team needed central midfielders or centre-backs, and instead Moyes was handed an expensive gift in the shape of Mata. Like a teenager handed the keys to the car before he has obtained his licence, Moyes just didn't know what to do with the Spaniard.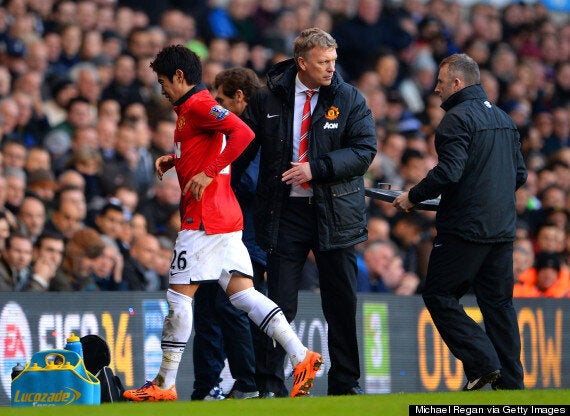 Kagawa never saw eye-to-eye with Moyes
Kagawa's cull is predictable. The "unbalanced and broken" squad Louis van Gaal has inherited features "six No.10s", which, as the Dutchman admitted himself, is a "problem". Mata's United career is yet to get out of second gear but he has been prolific in a central role, scoring seven times in nine games and United are not going to cut their losses of a player who, until Tuesday, was their record buy. The irony is Mata began to flourish when Kagawa started alongside him.
Kagawa's lightweight frame meant he lacked courage in certain games (he actually figured in 30 matches last season). Brittle and easily dismissed by burlier opponents, he would fade quickly and did not score once under Moyes.
Fate also intervened. Injury against Braga in 2012 kept Kagawa out for two months and Rooney played 11 more games than him in Ferguson's last campaign. Ferguson actually played Kagawa off the striker - or strikers - six times in his opening seven games but at the turn of the year, United became cagier having trailed opponents 17 times out of 28 games and Kagawa played a more restricted role.
Popular in the Community