Vladimir Putin has been warned that he is "practically in a state of war with Europe" as EU leaders plans to draft urgent sanctions over the Ukraine crisis.
Lithuanian president Dalia Grybauskaite delivered the dramatic message to Moscow as she arrived in Brussels for a summit.
Grybauskaite suggested EU states should be supplying Kiev with military equipment. "It is the fact that Russia is in a war state against Ukraine," she told reporters.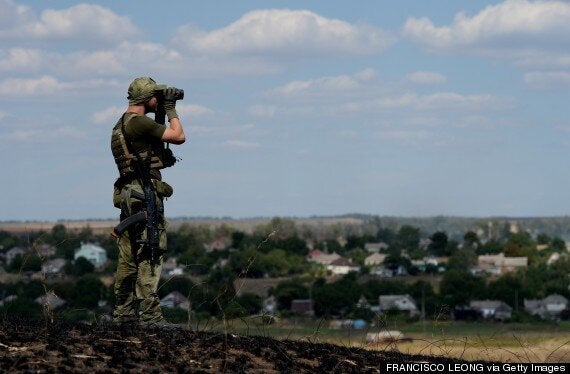 A Ukrainian loyalist stands guard on a hill on the outskirts of Mariupol
"That means it is in a state of war against a country which would like to be closely integrated with the EU. Practically Russia is in a state of war against Europe.
"That means we need to help Ukraine to ... defend its territory and its people and to help militarily, especially with the military materials to help Ukraine to defend itself because today Ukraine is fighting a war on behalf of all Europe."
Outgoing European commission president Jose Manuel Barroso said the situation was in danger of reaching "the point of no return".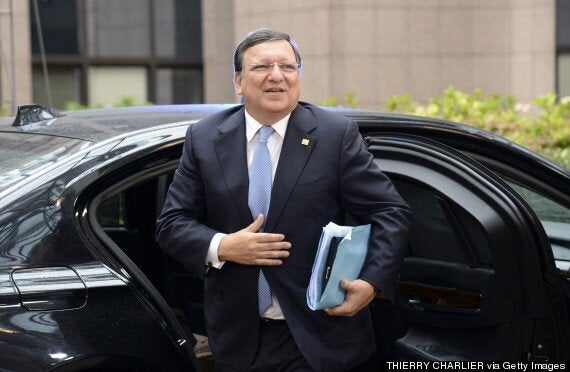 Jose Manuel Barroso warned of the "point of no return"
David Cameron has insisted there must be "consequences" if an estimated 1,000 Russian troops are not withdrawn from the east of the country.
The comments came after Nato released images apparently showing Russian forces and an array of heavy weaponry in Ukraine.
EU leaders are meeting to decide on a new European Council President, and have just named Polish prime minister Donald Tusk in the position. Italy's finance minister, Federica Mogherini, has also been named the new EU foreign policy chief.
The leaders are considering tougher sanctions to punish Russia for its military intervention in Ukraine. The sanctions would probably focus on individuals close to Mr Putin, and the energy, defence and financial sectors.
A UK government source said specific sanctions are not due to be agreed at the summit, as not enough work has been done on the details. It is understood Britain does not support supplying arms to Ukraine.
Story continues below slideshow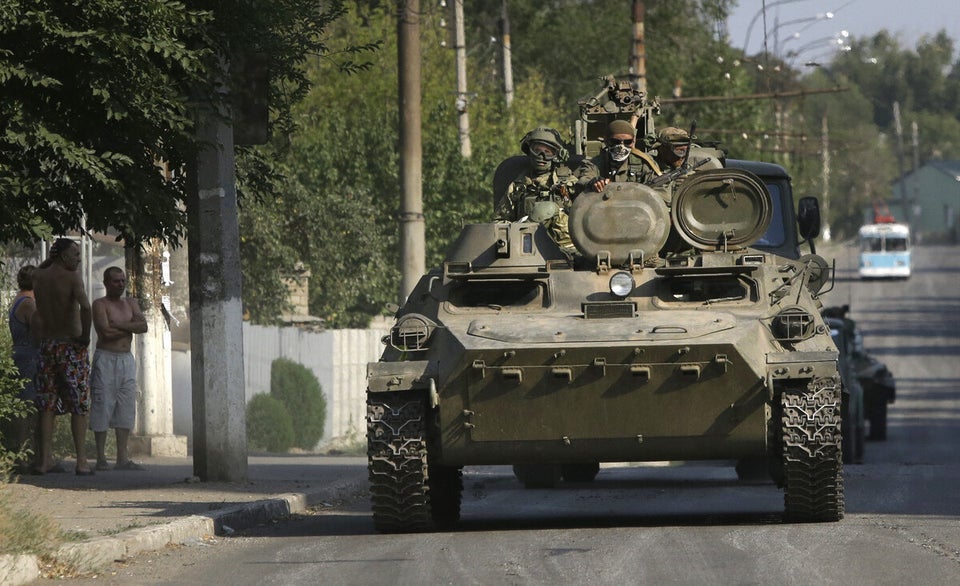 Pro-Russian rebels in Ukraine
Mr Cameron, who earlier held talks with Ukraine president Petro Poroshenko at a nearby hotel, said: "We have to address the completely unacceptable situation of having Russian troops on Ukraine soil.
"Consequences must follow if that situation continues and we will be discussing that as well today."
At a joint press conference with President Poroshenko this morning, Mr Barroso insisted it was not too late to find a political solution.
But he added: "We are in a very serious, I would say, dramatic situation... where we can reach the point of no return.
"If the escalation of the conflict continues, this point can come."
He added: "Russia should not underestimate the European Union's will and resolve to stand by its principles and values."
Mr Poroshenko said his presence at the summit was an important demonstration of solidarity with his country.
He said he still hoped tensions could be eased, after meeting Mr Putin in Minsk earlier this week.
"The most important thing now is peace," he said.
"Today we are talking about the fate of Ukraine, tomorrow it could be for all Europe."