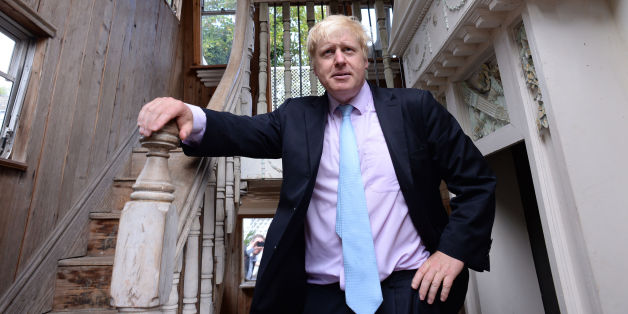 Stefan Rousseau/PA Wire
Boris Johnson has ruled out standing as the Conservative Party candidate in the upcoming Clacton by-election triggered by Douglas Carswell when the former Tory MP defected to Ukip last week.
Speaking on LBC Radio on Tuesday morning, the London mayor said it would be a "bit eccentric" for him to decide to seek election to parliament from the Essex seat just days after formally submitting a bid to become the MP for the West London seat of Uxbridge.
"The fist objection to that is I've already whacked in a CV for Uxbridge," he said. "I've put in for Uxbridge and I think first things first and that's all."
Boris has faced calls to battle Carswell for Clacton amid Tory fears that Ukip will sweep to victory in the seat, giving the eurosceptic party its first ever elected MP. Many see Boris as the only Tory capable of stopping Nigel Farage and Carswell.
Tory fears were realised over the weekend, when a Survation study for the Mail on Sunday put Ukip on 64% in the constituency, with the Tories a distant second on 20%.
However the same survey suggested that the Conservatives would not fare that much better, even with Boris as the candidate. The mayor would win 27% against Carswell's 60%, cutting Ukip's lead by 11% but still far behind.
Having been repeatedly challenged on his opposition to the expansion of Heathrow and his hopes of building a new airport in Kent, Boris also revealed to LBC he had also thought about proposing a new runways be built in Clacton. "Well l looked at that," he said. "Clacton is a little bit far out, not even Douglas Carswell deserves to have an airport put on top of him."
On Tuesday the government-appointed Airports Commission to rejected the "Boris Island" Thames Estuary airport plan favoured by the mayor.
Boris said: "In one myopic stroke the commission has set the debate back by half a century and consigned their work to the long list of vertically-filed reports on aviation expansion that are gathering dust on a shelf in Whitehall."
An added complication for Boris is that he is now seeking the Tory 2015 general election candidacy at Uxbridge and South Ruislip - a constituency which borders Heathrow and contains many people who depend on the west London airport for their livelihood.