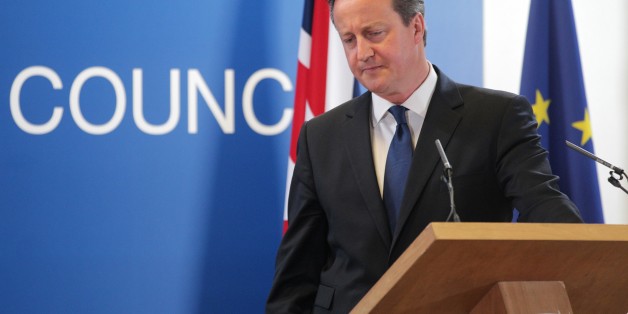 ASSOCIATED PRESS
David Cameron has been warned by one of his former cabinet ministers that he must set out his "red lines" and "spell out" what he wants in his attempt to renegotiate Britain's membership of the European Union.
Speaking to The Huffington Post UK, Tory MP David Jones, who was fired as Welsh secretary by the prime minister in July, said that Britain needed a much "looser" relationship with the EU.
In his first major intervention since leaving the cabinet, Jones also dismissed the idea that Scottish independence would lead to Wales also quitting the United Kingdom, as Welsh separatists only had "weak" support.
His warning came as the Conservative Party braced itself for a heavy defeat to Ukip in the Clacton by-election, due to be held on 9 October.
The prime minister has pledged to claw back powers from Europe and then put that new deal to the public in an in/out referendum by 2017. However he has not spelled out, in detail, which powers he would like to see Brussels give back to Westminster.
Jones suggested Norway and Switzerland, two countries that are not members of the EU but trade with it, could be potential models for the UK.
"Norway has done rather well out of their relationship with Europe, as has Switzerland. It's interesting to see that while Europe struggles to get free trade agreements set up with China, the Swiss have already got those agreements," he said.
"We are clearly a very important part of the EU and other nations recognise that and they'd be anxious to see us remain there. From our point of view, I think we should be part of a free trade area and see if we can create a looser sort of Europe rather than a deeper Europe."
Cameron has warned that following in the footsteps of Norway, which is part of the European Free Trade Association, would leave Britain "governed by fax" from Brussels.
Asked if he wanted Britain to pull out of the European Union, given that Norway and Switzerland are not part of the political bloc, Jones said: "I want to see the outcome of the re-negotiation."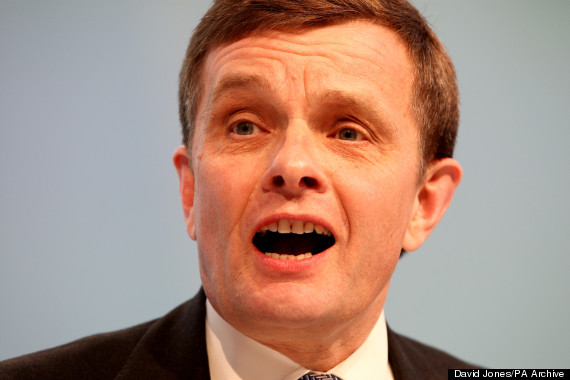 David Jones speaking at the Conservative Spring Forum
Jones' intervention, echoing London Mayor Boris Johnson's suggestion that the UK could join an EU "outer-tier", comes amid warnings that the prime minister will find it extremely difficult to persuade all 27 other EU states to agree to significant changes.
The former cabinet minister praised Cameron renegotiation efforts as "quite right", but added: "I think that we need to spell out our position on Europe and what the red lines will be in any European negotiations."
"I think the Conservatives generally see the benefits of free trade and clearly I'd be reluctant to see Britain withdrawing from a free trade area that is potentially extremely beneficial to this country."
But Jones said there were a "whole host of things" the prime minister should be "very clear" about, stressing: "We need to make clear what the red lines are."
"It's fairly clear given the immigration figures that were published last week that we need to do more to control our own borders," he said, describing the issue as "crucially important".
"The difficulty we have got is the free movement of labour in Europe means it's very difficult to stop large numbers of residents in the EU coming into this country."
He also urged Cameron to ensure that British interests "are not damaged" due to any treaty brought in to help the Eurozone economies, adding that it was "absolutely central".
Last week Clacton MP Douglas Carswell defected from the Tories to Ukip, claiming that Cameron was not serious about reforming Britain's relationship with Brussels.
Jones said it was sad that Carswell was now "a thinker in a party of knee-jerk reactives".
"Ukip are the angry brigade because they're disaffected with everything. Douglas is an intelligent man and he has a view of the future that is reasonably clear but I happen not to agree with.
"What Ukip can do is damage the prospects of the Conservative Party getting an overall majority, which is the only way you can get a referendum on Britain's continued membership of the EU."
Jones said that Nigel Farage was "playing the long game of trying to damage the Conservative party", warning: "This is not a 2015 matter, not even the one after."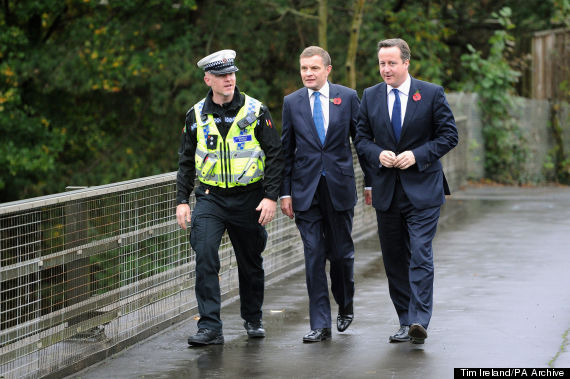 Jones, as secretary of state for Wales, with Cameron overlooking the M4 outside Cardiff
Jones, who served as Welsh secretary between September 2012 and July this year, said that he was "fine" about the Prime Minister's decision to sack him in the the recent reshuffle.
He explained: "I think that anybody who is grown up about these things would realise that your tenure was time limited."
With just over two weeks to go until the Scottish independence referendum, Jones told HuffPost UK that a 'Yes' vote for independence would be seized upon by Welsh nationalists to push for independence for Wales.
"Welsh nationalists may want to read the smoke signals from Scotland, but I think Wales is different and should be treated differently from Scotland," he said.
Leanne Wood, leader of the Welsh nationalist party Plaid Cymru, recently said that Scottish independence vote would show the rest of Britain "what is possible".
However, the former Welsh secretary ridiculed her stance, saying: "Plaid Cymru will use any reason to promote the issue of separatism, fortunately it is an extremely small minority party with weak support across Wales."