The last 18 months have seen a fully-fledged McConaissance, with the transformation of Matthew McConaughey from mahogany-skinned, buffed-to-the-eyeballs rom-com leading man to oft-emaciated, scene-stealing Oscar winner, via a gruelling performance in 'Dallas Buyers Club' and a stunning outing in HBO's 'True Detective'.
This season sees the turn of Steve Carell, flexing his muscles and showing all that's there, besides the funnies he's been giving us for years.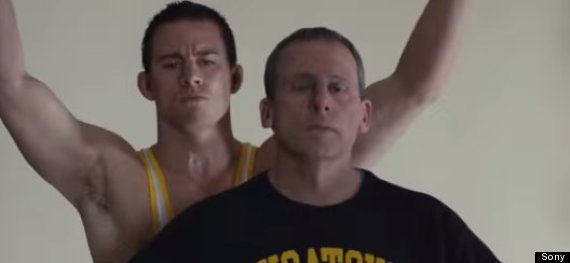 Steve Carell and Channing Tatum in 'Foxcatcher'
In the film 'Foxcatcher', based on a true story and for which the latest trailer has just arrived - see above - Steve plays John du Pont, the troubled scion of one of America's richest families, who follows his dream to become a wresting coach.
In the trailer, we see him unearth the lofty goals he has for wrestler Mark Schultz, played by Channing Tatum. The film follows the relationship between the pair, with John du Pont's money first controlling and then undermining Schultz's talents, much to the displeasure of Schultz's brother Dave, played equally effectively by Mark Ruffalo.
Steve Carell is already generating Awards buzz for his unrecognisable portrayal of du Pont, veering between anger, deep narcissism and the desperate need to impress his mother (Vanessa Redgrave, the only jarring note in the film), but Channing Tatum can't be overlooked - his usual action-hero brawn intact and on show, but counterpointing his diminishing abilities to control his life.
'Foxcatcher' is in UK cinemas from 9 January 2015.
LIKE US ON FACEBOOK | FOLLOW US ON TWITTER