It's been a catastrophic four months for Malaysia Airlines, which suffered the twin tragedies of losing flights MH17 and MH370.
Now the beleaguered airline appears to have launched the "marketing gaffe of the century" in a desperate bid to rebrand.
Before it was swiftly removed, the ill-conceived contest - called "My Ultimate Bucket List" - asked people in Australia and New Zealand purchasing a plane ticket to write a 500-word response to this prompt: "What and where would you like to tick off on your bucket list, and explain why?"
The "bucket list" reference is to list of things to do before you die, or 'kick the bucket'.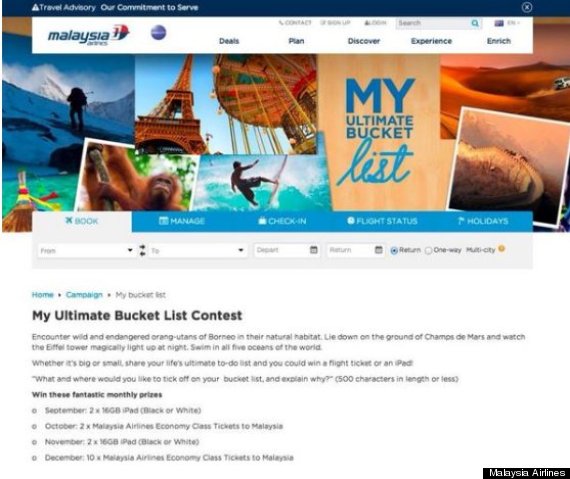 The state-owned airline has now pulled any reference of "My Ultimate Bucket List", with links now directing to error pages. The contest exists elsewhere but is now asking customers to describe their "ultimate to-do list."
On Tuesday, scores of news outlets and social media users lamented the airline's unfortunately-named contest.
Malaysia Airlines "My Ultimate Bucket List", cause if there r things to do before you die, MA is the best way to fly pic.twitter.com/nDejYoEHlo

— Rob Stanley (@rjastanley) September 2, 2014
"Straight from the files of What Were You Thinking? comes a 'Bucket List'-themed contest from Malaysia Airlines that ranks as the second worst decision recently made by the beleaguered travel brand," wrote MediaBistro's Claire Daniel, referring to the airline's recent decision to lay off 6,000 workers.
"Bucket list" is done before death. Malaysia Airlines asked people's 'bucket lists' in ill-advised contest http://t.co/1Bg4U6kIYW -@TIME

— Roop Raj (@rooprajfox2) September 2, 2014
This is a sick, sick joke, right?! Malaysia Airlines hosts "Bucket List Contest": http://t.co/DUddHNjRoI. Marketing/PR needs to be fired.

— M. Gaston (@MAHidalgo) September 2, 2014
The company announced last week that it will sack about a quarter of its 19,500 staff to revive its damaged brand after the double tragedies.
The airline's market value has plunged by a massive 40% during the past nine months, with losses in the last quarter widening to 307 million ringgit (£59 million) from 1,176 million ringgit the year before.
Releasing its latest quarterly financial result last Thursday, the airline said the worst impact from the disasters would come in the second half of this year.