Samsung has stunned the IFA tech conference in Berlin by revealing a phone with a curved edge that seems to disappear off the side of the device.
It also unveiled a virtual reality headset, a next-generation smartwatch - oh, and a new metal Galaxy Note to top things off.
The latter - the Galaxy Note 4 - is a big upgrade from the well-received previous generation of Samsung's stylus-and-large screen flagship - also known as a 'phablet'.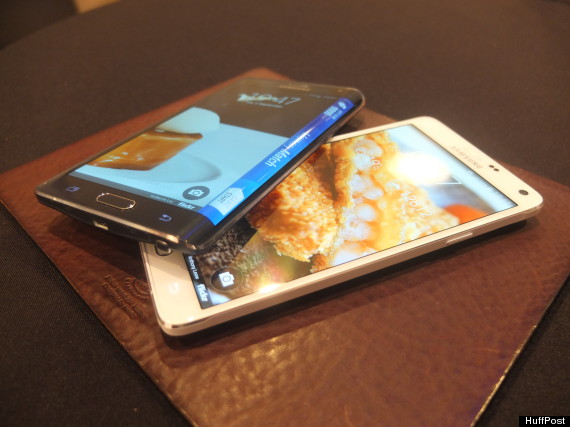 Above: the Galaxy Note Edge and Note 4
The new Note features a larger 5.7-inch Quad HD Super AMOLED screen, improved pen input, a new metallic design combined with the traditional 'soft feel' backplate, improved performance and software tweaks.
Some of the other new features in the Note 4 include:
Improved pressure sensitivity up to 2048 levels
Two new 'elaborate' pens (Calligraphy and Fountain Pen)
'Snap Notes' designed to make sharing screenshots simple
'Fast Charging' able to charge 50% of the battery in half an hour
3.7-megapixels front facing camera and 16-megapixels stabilised rear camera
Our full write-up of the new Note and our hands-on can be read here.
But while the Note 4 is impressive, the headlines will likely focus instead on Samsung's new range of concept devices and accessories, which touch on every current trend in the world of tech -- and arguably define a couple of new ones. At least in reality, rather than the imaginations of hobbyist concept designers.
Take the Galaxy Note Edge (below) - a stunning new device which is essentially a Note 4, but with the surprising addition of a single curved edge which is able to display notifications, app controls, photos and even games.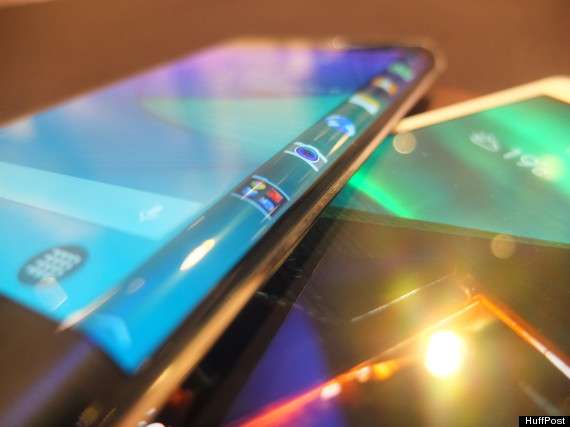 The idea might seem strange at first, but as the pictures below hopefully show it's quite striking in person. The edge is a versatile addition, and Samsung showed off a few great implementations of the idea including subtle controls for a nightline alarm, controls for a movie player that don't distract front the action and a simple icons menu with folders that pop out onto the home screen.
In other respects the Edge is exactly the same as the Note 4, with the same S-Pen stylus, hardware design and software but with a slightly shorter 5.6-inch screen. The Edge is described as representing a new design concept for Samsung, but appears to be a real product that will come out in the UK - even as price and availability information remain unclear for now.
Click here for our full hands-on and write up of the Galaxy Note Edge.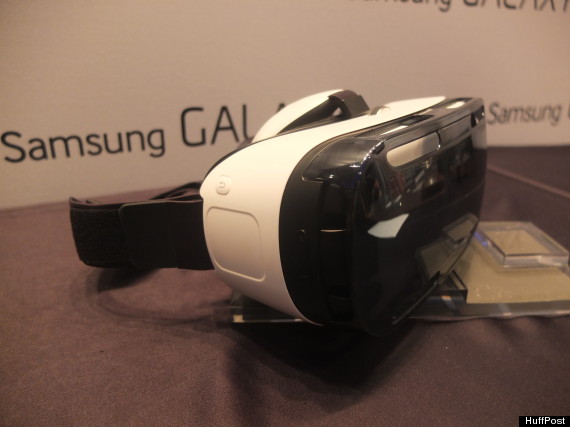 The Gear VR (above) is both Samsung's first virtual reality headset and a new accessory for the Note 4. Take off the front plate of the headset, insert your Galaxy Note 4 into the slot and put it on your head, and with a few adjustments it turns into an impressive and relatively full-featured virtual reality headset.
Designed in conjunction with virtual reality innovators Oculus VR (now owned by Facebook) - though the precise relationship is still a little unclear, the headset works with everything from specially-designed games to 360-degree movies. It also comes with a virtual reality cinema 'in' which you can watch any movie you like, while fully immersed in an expansive, 3D theatre.
There's no word yet on price or availability - we're hoping for a relatively low price based on the fact it's essentially an elaborate case for the Note 4, but we'll see. The good news is that the latency is low, the resolution appears decent and the possibilities for Android developers building cool new games for it (like all VR headsets) are immense.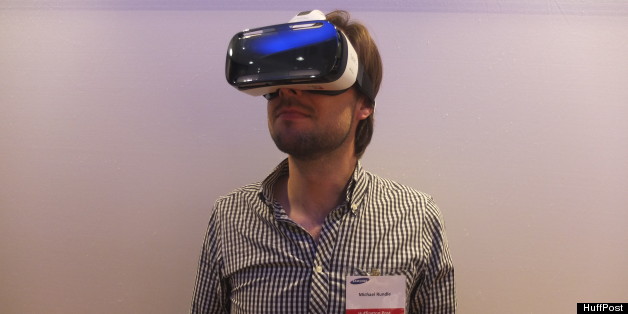 FIRST TEST: Samsung Gear VR

The Gear VR works - that's the first thing to say. At first glance the idea of sliding your Note 4 into a plastic headset might sound tacky or gimmicky. The reality is that there is actually quite a lot of tech inside this thing, and it works together elegantly (thanks in large part to the Oculus expertise under the hood) to make a device which is able to track your head movements well, display a fast, clear picture at a decent resolution, and succeed in delivering the crucial (and always hauntingly fun) levels of immersion on which this generation of VR will succeed (or fail).

The demos we saw were limited, but impressive. Best was a 360 video shot from the stage of a Cirque de Soleil show, in which you glance between actors on stage and acrobats high up above you. A fully 3D space sim was simplistic but fun too - you aim by moving your head, and fire by tapping the touch-enabled panel on the side of the headset.

There are issues to overcome - including resolution, and a lack of truly compelling games at launch, we suspect. But if the cost is low enough, this will be a low-brainer accessory for Note 4 owners with one eye on the future.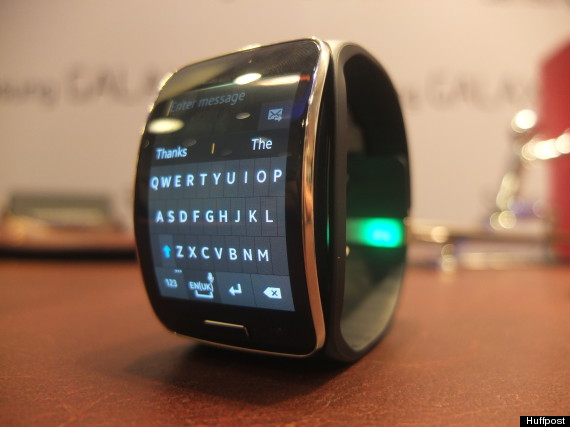 The Gear S smartwatch is also on show at IFA, and while it had already been publicly announced Samsung confirmed a number of fresh details about the device, and clarified several sticking points about its ability to run via a separate SIM Card -- essentially turning the watch into a full-featured phone able to make and receive its own calls and data without the need for a Bluetooth-connected handset.
Some of the new details revealed at IFA include a new charging cradle which comes with a built-in battery, able to add another day's life to the two-day battery watch. We also saw how the new interface works, including details on the five 'widget' screens, newly expanded notifications and the ability to type on a full QWERTY keyboard, despite the gadget's diminutive size. Our full hands-on can be read here.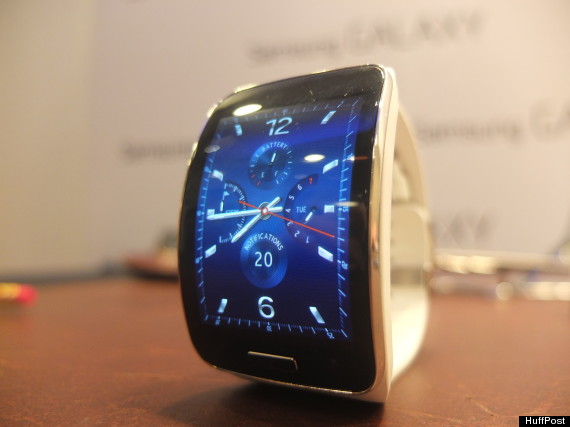 FIRST TEST: Gear S Smartwatch

The Gear S is looking like a large, slightly odd but technically very impressive addition to the Samsung wearable line-up. In person it's bigger and thicker than you'd expect, and the strap is undeniably wide and perhaps not sleek enough to be truly 'cool', but the curved screen is impressive in person and the resolution is higher than on previous Gear watches.

Physically the watch has a clearly 'premium' feel, and also benefits from improved heart-rate detection and a range of new apps and software features. There's now a full Nike+ running app, a space for up to five 'widgets' on the home screen (as well as the expected app menu) and more detailed notifications, with the ability to reply straight from the device.

It's also got a few odd new software additions - the ability to reply to messages on the device is a great feature, but a full QWERTY keyboard, on a 1.5-inch convex screen? That's just madness.

The headline feature of the Gear S is still the fact that it can run on its own SIM card - thus removing the need to be tethered to a phone by Bluetooth, and opening it up for use as a true multi-purpose smartwatch. In truth we need to see how this really works in person, and some of the nuances -- will it be possible to keep the same number as your existing phone? What's the hit on battery life? -- we can't yet answer. But what's clear is this is the most fully-featured Gear so far, and has enough going for it that you really might want to make it your phone, period. At least now and then.