David Cameron is convening the government's Cobra emergency committee after Islamic State (IS) beheaded a second US journalist - and warned a British hostage could be next.
The prime minister expressed disgust at the extremists' "barbarism" after footage showing Steven Sotloff's apparent murder was released.
The masked killer is thought to be the same jihadist with a London accent - nicknamed 'Jihadi John' - who carried out the on-screen slaughter of US reporter James Foley a fortnight ago.
He warned a British hostage - whose family have asked he not be named - was next.
Mr Cameron said in a statement: "If verified, this is a despicable and barbaric murder. My thoughts and prayers are with Mr Sotloff's family and friends as they deal with this appalling and tragic situation.
"As I have said consistently over the last few weeks, (IS) terrorists speak for no religion.
"They threaten Syrians, Iraqis, Americans and British people alike and make no distinction between Muslims, Christians or any other faith.
"We have already been working hard to keep British people safe and we will continue to do all we can to protect our country and our people from these barbaric terrorists.
Labour leader Ed Miliband said: "The killing by (IS) of another hostage and the threat of more violence demonstrates again their murderous barbarism.
"Their cold-blooded brutality against the innocent offends the values of people throughout the world, wherever they live.
"This shows, as we have recently said, that they are a threat which cannot be ignored.
"Our thoughts are with the families of the victims."
In a brief statement, a spokesman for Mr Sotloff's family said they "know of this horrific tragedy and are grieving privately".
The journalist was seized in Syria in August 2013 and had not been seen until he appeared in the video of Mr Foley's killing released by IS on August 20.
Last week Mr Sotloff's mother Shirley made an emotional video plea for the extremists to be "merciful" and spare her son.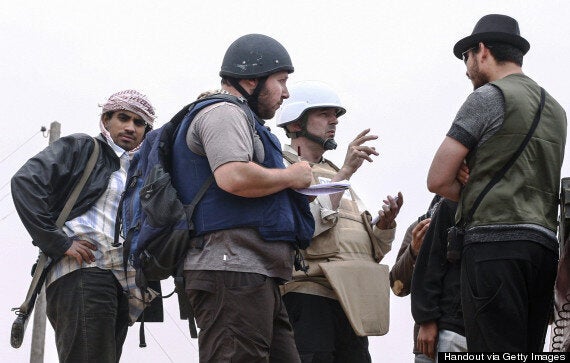 Meanwhile, Muslim leaders have condemned terrorists responsible for beheading a second American journalist, saying: "It is not done in our name."
Religious leaders from several faiths are due to come together and hold a vigil in Westminster Abbey.
Sayed Razawi, an Imam from south London, said the killings were a perversion of their faith.
He said: "The first reaction on hearing the news for many of us was shock and horror. It shouldn't surprise us because of what IS has done in the past.
"But it is very shocking when someone like IS carries out such barbaric actions in your name.
"I have been in contact with Imams tonight and they are all saying 'this isn't in our name' - it is not Islam."
Mr Razawi, who is joint secretary of the Majlis-e-Ulama - the Ulama Council in Europe that represents the majority of Shia Muslims in the United Kingdom and Europe - said he hoped the majority of people would realise that IS did not represent the Muslim faith.
He said: "We have been condemning IS from the beginning.
"Those who are joining them from the UK generally do not come to mosque, they're in fringe groups so they do not always get into the mainstream.
"If anyone is getting 'inspiration' from IS then we would strongly urge them to get in touch with their Imam and go back to the source of Islam.
"Any atrocity like this (the beheading) is wrong and should not happen."
Dr Shuja Shafi, secretary general of the Muslim Council of Britain, said: "This depraved act is yet another illustration of how this group betrays the very principles of Islam they claim to uphold. They dishonour our faith, and sully the Islamic principles of justice.
"We send our condolences to the family of Steven Sotloff and all those left bereaved by this conflict."