On Tuesday evening, Prime Minister David Cameron called the video allegedly showing the beheading an "absolutely disgusting, despicable act", adding that he would be making a statement "later". Josh Earnest, the White House press secretary, said that the administration would work to confirm the video's authenticity, adding, "Our thoughts and prayers are with Mr. Sotloff and Mr. Sotloff's family."
The three-minute film appears to show the same masked jihadi, believed to be British, who murdered Foley in August, while the victim, named as Sotloff, is pictured in an orange jump suit before the beheading. Within the video, militants threaten to execute a British man next.
In the video, the victim reads a "message to America" in which Obama is told: "I am paying the price of your interference with my life." The transcript goes on to read: "You've spent billions of pounds US taxpayers' dollars and we have lost thousands of our troops in our previous fighting against the Islamic State, so where is the people's interest in reigniting this war?"
The killer says: "I am back, Obama, and I am back because of your arrogant foreign policy towards the Islamic State, because of your insistence on continuing your bombings and ... on Mosul Dam, despite our serious warnings. Just as your missiles continue to strike our people, our knife will continue to strike the necks of your people." The militant then warns against other governments joining the "evil alliance of America against the Islamic State".
Sotloff, who freelanced for Time and Foreign Policy magazines, was seized in Syria in August 2013 and had not been seen until he appeared in a video released online last month by the IS group.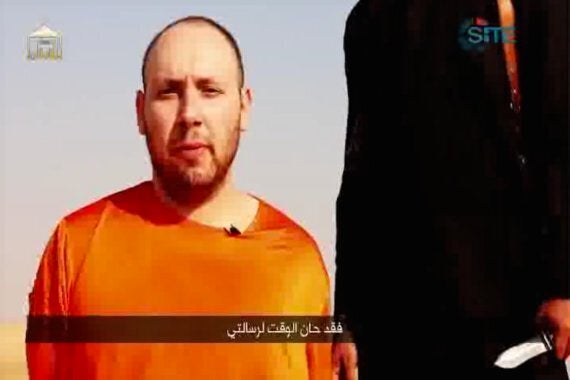 A still from the video in which Sotloff is named
More from the Press Association:
Cameron gave his initial response to the gruesome footage - in which another journalist hostage is also threatened - after addressing a gathering of Tory MPs and peers in Parliament.
Cameron has warned that the West faces a "generational" struggle against the extremist ideology of IS, suggesting it is a more potent force than al Qaida. On Monday the premier announced a package of measures to combat the danger from British jihadists returning from fighting in Syria and Iraq to carry out attacks here.
He said police would be given powers to confiscate passports at airports, and suggested that suspected extremists could be barred from re-entering the country even if they are UK nationals.
However, Labour accused the Government of being in "disarray" after senior figures including former Attorney General Dominic Grieve have raised doubts about whether the latter idea would be legally possible.
The Liberal Democrats have also insisted they are not "definitively" signed up to proposals for beefing up terrorism prevention and investigation measures (Tpims) so suspects can be put into "internal exile".