Steven Seagal, erstwhile Hollywood mystic turned local law enforcement officer turned guitarist, has abutted a controversial performance of his Blues band in recently annexed Crimea by visiting a Russian arms fair near Moscow.
The vocal Russophile, who in the past has been pictured with President Putin, spent time talking to the Russian deputy prime minister Dmitry Rogozin, before inspecting some of the fair's more heavyweight weaponry, including a tank exhibition in which flames were sent bellowing from gun turrets.
Seagal, whose past cinematic offerings include Half Past Dead, Under Siege and Exit Wounds, was criticised for performing in Crimea only months after the peninsula was annexed, with reports suggesting the Russian separatist crowd boasted flags of the pro-Russian rebels currently fighting Ukrainian national forces on the eastern border.
However, the aikido specialist responded by saying the concert had no political motivation. In a statement posted on Twitter, Seagal said:
There was no glorification of war or political motives during the concert which had been booked for many months beforehand. It was also reported that there were Radical [sic] flags placed on the stage whilst I was performing this is simply not true and we have photos and film proving this is inaccurate.

I was handed a T-shirt and I raised it up as a gesture of goodwill. I am an actor and a musician and we were there for the love of Blues music and nothing else. I want to thank the organizers and all those decent kind peaceful people who attended and enjoyed both the music and the event... However I feel both my loyal worldwide fans and other free thinking people know this was just a good old fashioned blues concert.
In March, Russian media reported that Seagal has described Putin's actions in Crimea as "reasonable", while calling western policy on Ukraine as "idiotic". Reported by The Guardian, the portly hardman said Putin's desire "to protect the Russian-speaking people of Crimea, his assets, and the Russian Black Sea military base in Sevastopol... was very reasonable".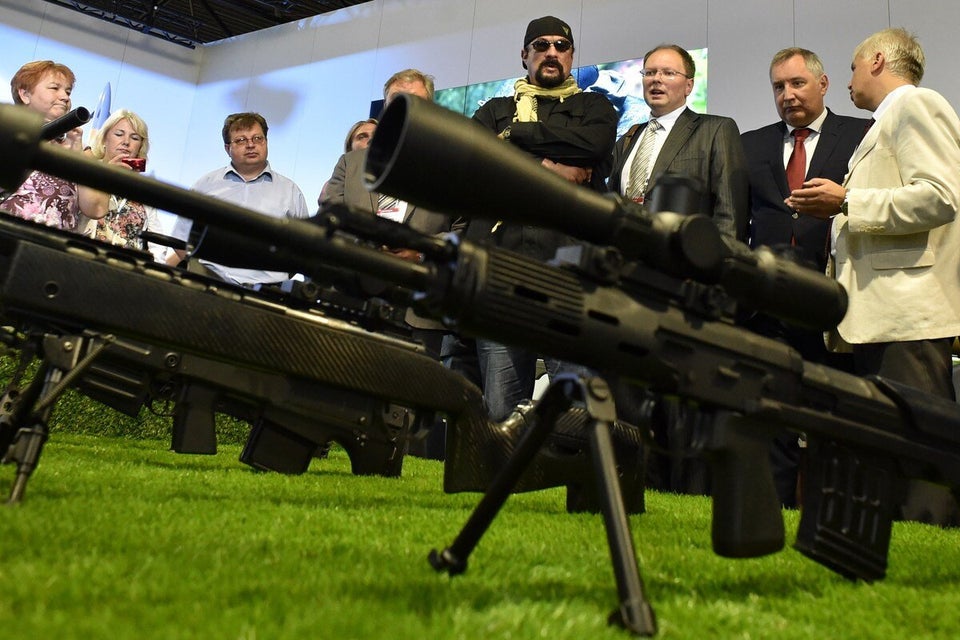 Under Siege