A video showing the apparent beheading of a US journalist by an Islamic State fighter speaking with a British accent appears to be genuine and is "an appalling example of the brutality of this organisation, Foreign Secretary Philip Hammond has said.
Hammond said the video had not been verified but "all the hallmarks point to it being genuine" and acknowledged that the killer spoke with a British accent. James Foley disappeared in 2012 in Syria
He told the BBC: "Certainly at first pass that's what it looks like and we will obviously want to investigate that further.
"We have been saying for a long time that there are a significant number of British nationals in Syria and Iraq operating with extremist organisations.
"That's one of the reasons why this organisation represents such a direct threat to the UK's national security.
"Many of these people may seek at some point to return to the UK and they would then pose a direct threat to our domestic security."
Released by the Al-Furqan foundation, the film shows a man who says he is Foley kneeling in a desert, flanked by a black-cowled militant for the Islamic State (IS).
Dressed in orange garb, the victim makes a statement, entitled, "A message to America" in which he calls on family and friends to "rise up against my real killers, the US government," adding: "For what will happen to me is only the result of their complacency and criminality." The statement, which is punctuated by deep, nervous breaths, ends with the man saying he wished he could see his family again.
Brandishing a knife, the militant accuses America of "aggression towards the Islamic state", adding: "You have plotted against us and gone far out of your way to find reasons to interfere in our affairs."
The militant then cautions against further US involvement in Iraq, saying actions will result in "the bloodshed of your people". The man identifying himself as Foley is then beheaded.
Following the killing, a man saying he is journalist Steven Joel Sotloff, who also went missing in Syria last year, appears on film, with a militant warning that Sotloff's life depends on President Obama's "next decision".
Foley's mother appeared to confirm her son's death on the Facebook page, posting the following statement:
We have never been prouder of our son Jim. He gave his life trying to expose the world to the suffering of the Syrian people. We implore the kidnappers to spare the lives of the remaining hostages. Like Jim, they are innocents. They have no control over American government policy in Iraq, Syria or anywhere in the world. We thank Jim for all the joy he gave us. He was an extraordinary son, brother, journalist and person. Please respect our privacy in the days ahead as we mourn and cherish Jim.
American officials say they believe the man in the film is Foley, with President Obama expected to make a statement on the death on Wednesday. The video was subsequently been removed by YouTube.
The US National Security Council issued a statement about Foley's murder late on Tuesday evening:
We have seen a video that purports to be the murder of U.S. citizen James Foley by ISIL. The intelligence community is working as quickly as possible to determine its authenticity. If genuine, we are appalled by the brutal murder of an innocent American journalist and we express our deepest condolences to his family and friends. We will provide more information when it is available.
Foley was on an assignment for Agence France-Press and the Boston-based media company GlobalPost in northern Syria when his car was stopped by militants in 2012.
The 40-year-old freelancer from Rochester, New Hampshire, was not heard of again.
He was previously held captive by the government in Libya alongside a small group of other journalists, but was released and given a one-year suspended sentence on charges of illegally entering the country.
In an interview with the Associated Press about that experience he said he "would love to go back", but recalled the tragedy of seeing a colleague killed in a firefight.
He also spoke of a love of his profession.
"Journalism is journalism," he said. "If I had a choice to do Nashua (New Hampshire) zoning meetings or give up journalism, I'll do it. I love writing and reporting."
He told the BBC in a 2012 interview that he was "drawn to the drama of the conflict and trying to expose untold stories".
He said: "There's extreme violence, but there's a will to find who these people really are. And I think that's what's really inspiring about it."
Philip Balboni, chief executive of GlobalPost, paid tribute to their employee and thanked the public on behalf of Mr Foley's parents.
"On behalf of John and Diane Foley, and also GlobalPost, we deeply appreciate all of the messages of sympathy and support that have poured in since the news of Jim's possible execution first broke.
"We have been informed that the FBI is in the process of evaluating the video posted by the Islamic State to determine if it is authentic. ... We ask for your prayers for Jim and his family."
The beheading, if confirmed, will be the first time Islamic State, formerly known as ISIS, fighters have killed an American since the conflict broke out in Syria in 2011.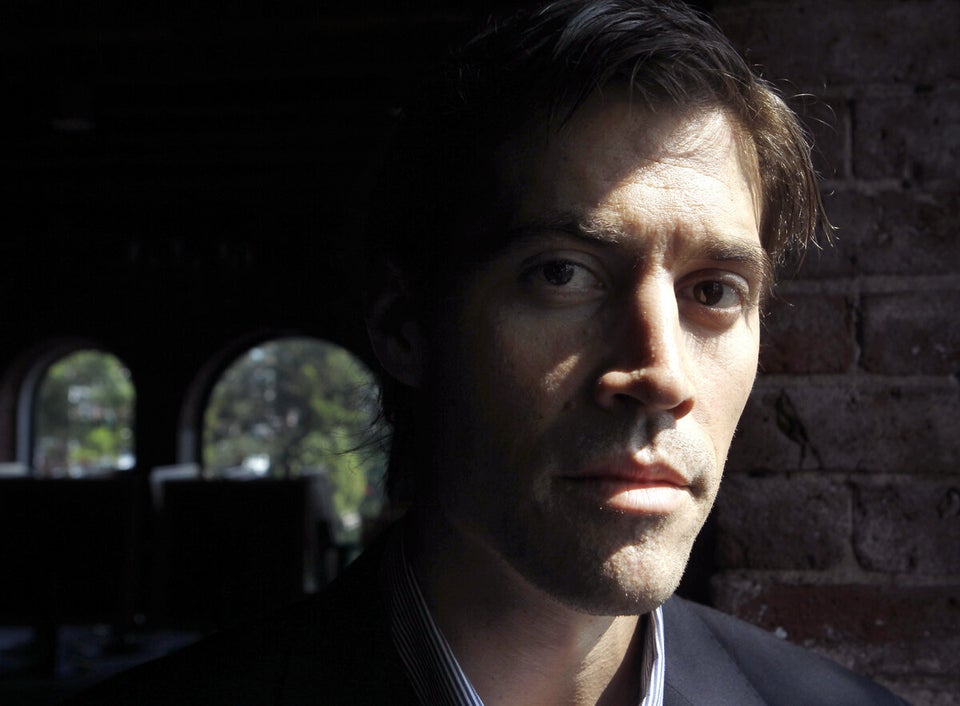 James Foley