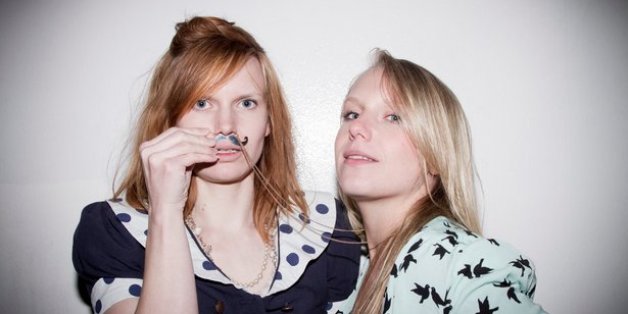 Indiegogo
The founders of a luxury boudoir accessories brand are launching a "pleasure based" sex education campaign in a new bid to start the next revolution in female sexual empowerment among students.
"Mistresses of Tease-wear" Sophie and Alice Holloway, were selling nipple tassels in cabaret clubs when customers began telling the sister-duo about their unfulfilling sex lives.
You Might Also Like..

It's Been A Great Year For Student Feminism: Here's What They Achieved
"More and more we were hearing the desire for women to gain additional pleasure from sex," Sophie Holloway tells The Huffington Post UK.
"Hearing how it affects people's self-esteem, stress levels and relationships, we became passionate about creating pro-pleasure, femme-centric products whilst filling in what we see as vast gaps in sex education from a pleasure perspective."
Their Ladies Come First initiative aims to present a positive learning resource explaining female experience of sexual pleasure to young women. They feel that traditional sex education, while focusing on procreation, teaches the male orgasm and ignores the females, leaving pupils with a lack of understanding of the female body.
"There is a danger that widespread access to pornography is becoming a substitute for a real pleasure-positive source of information," Sophie continues. "Although we are not anti-porn, we feel that real life situations are much more complex than this and issues such as understanding female arousal and sexual anatomy need to be addressed."
They hope to kick off their "social sexual responsibility" campaign at Freshers' Week 2014 and are attempting to raise £10,000 on Indiegogo to print copies of their pocket book 'A Guide to the Female Orgasm' to give out to students. This is the first step in their crusade to sexually empower women whilst fundamentally changing how sex education is taught in schools.
"We hope that by having a presence in universities, we can build networks within Women's Associations for grass roots activism on female sexual empowerment issues," the pair continue.
"Our future goal is to build an argument for pleasure based sex education in schools through working with young adults, teachers and parents to understand the needs and environment that young people are growing up in when it comes to sex."
Go to their website or follow them on Twitter to keep up with all the campaign news.