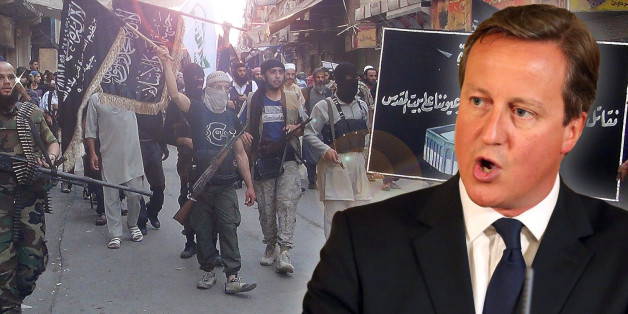 AP/PA
Britons who travelled to the Middle East to join Islamist fundamentalists have said they want to come home, a leading expert has said.
As David Cameron told fellow Nato leaders that Britain would use "everything we have in our armoury" to squeeze the Islamic State terror group out of existence, British jihadists fighting in Syria revealed they are becoming increasingly disillusioned and want to return to the UK, a university in London claimed.
The men told Professor Peter Neumann of King's College that they regret their decision after becoming frustrated that rival rebel groups are fighting among themselves, instead of targeting President Assad's forces.
Professor Neumann told the Times newspaper they have been in contact with a number of British jihadis who want to come back to the UK but feel they cannot do so for fear they will be jailed.
"We came to fight the regime and instead we are involved in gang warfare. It's not what we came for but if we go back [to Britain] we will go to jail," one jihadist, claiming to represent 30 others, told researchers.
He said the Government should set up a "deradicalisation programme" for those willing former jihadis, echoing calls by Labour leader Ed Miliband who last month suggested a mandatory programme of deradicalisation for those involved on the fringes with Islamic State (IS).
Prof Neumann, who works at the university's International Centre for the Study of Radicalisation and Political Violence said: "The people we have been talking to ... want to quit but feel trapped because all the Government is talking about is locking them up for 30 years."
The jihadist told the researchers that the men are "being forced to fight - what option do we have?"
Prof Neumann told the Times he believed as many as a fifth of British fighters could be trying to find a way out of their current situation.
He said if the correct approach was taken towards less-hardened jihadists who wanted to come back, they could become important figures to show potential fighters that the reality of battle may not match the image presented by IS propaganda.
The Prime Minister meanwhile, delivered a staunch warning at Nato's two-day summit in Wales, which has been dominated by concerns over the escalating violence from militants in Iraq.
Cameron, who is coming under growing pressure to unleash a military response, has repeatedly refused to rule out joining the US in air strikes - even leaving the door open to attacking IS in Syria without the approval of President Bashar Assad.
But he appeared to indicate that such action was not imminent, stressing that his immediate priority was offering support to legitimate regional forces already confronting IS on the ground, such as the Iraqi government in Baghdad and the Kurdish authorities in the north of the country.
"I think sometimes people think that there is no strategy unless it simply consists of air strikes," said Cameron. "That is not the case. What it needs is a fully-formed strategy to squeeze this from every angle. That is what you are getting from this conference."
TOP STORIES:
Government sources said that, in a one-to-one meeting with US president Barack Obama, the two leaders discussed "broad strategy" for dealing with the terrorist threat, rather than specific action.
Cameron said ministers were now "actively" considering whether to supply arms to the Kurdish peshmerga militias fighting IS in northern Iraq or to provide them with military training. Lieutenant General Sir Simon Mayall, the Government's senior defence adviser in the Middle East, has been in discussions with leaders of the Kurdish administration in Irbil about how best the UK could assist.
So far Britain has supplied only non-lethal equipment - such as helmets and body armour - although RAF transport planes have flown in ammunition supplied from Albania for the Kurds' Soviet-era weaponry.
Cameron used an address at the lavish official dinner in Cardiff Castle to remind fellow leaders of commitments signed up to at last year's G8 summit at Lough Erne in Northern Ireland not to pay ransoms to terror groups.
While the UK Government has always said that it will not pay ransoms for British nationals, hostages from other countries - such as France and Italy - have been released after large sums were reportedly paid out.
Reports suggested that Conservative MPs were being canvassed in Westminster over their views on potential air strikes against IS - also known as Isis and Isil - in what the chair of the Commons Defence Committee Rory Stewart said appeared to be an attempt to avoid a repeat of last year's vote against military action in Syria.
Leader of the Commons William Hague told MPs that ministers will seek Parliament's support for any British air strikes against Islamic extremists if "there is time to do so", though he added that the Government is not proposing military action "at the moment".
Asked whether the UK could join with the US in air strikes, Cameron told ITV1's Good Morning Britain (GMB): "I'm certainly not ruling anything out and I will always act in the British national interest."
He added: "We need to show real resolve and determination, we need to use every power and everything in our armoury with our allies, with those on the ground, to make sure we do everything we can to squeeze this dreadful organisation out of existence."
He also stressed the urgent need for the establishment of an inclusive and stable government in Baghdad, which Iraqi prime minister-designate Haider Abadi has said he hopes to form by around September 11.
Labour leader Ed Miliband said he "would look at the merits" of any British strike the Government put forward.
He told BBC Radio Scotland's Good Morning Scotland programme: "It's a threat which can't be ignored. I think it's very, very important that we don't just turn away from it and say 'It's too big a problem'."
But Deputy Prime Minister Nick Clegg said that any air strikes "would have to be part of a wider approach which hasn't been assembled yet".
Clegg told BBC News: "Air strikes on their own - particularly if they are deemed to be air strikes by the West against the rest - don't work.
"So any consideration of a military component to what we are all doing as a community of nations to thwart Isil has to be a part of a jigsaw of other measures, which have to be and will be led by countries in the region themselves.
"We can only act in support of those countries that are on the front line against this terrible menace of Isil - the legitimate government in Baghdad, the legitimate authorities in the Kurdish northern part of Iraq."
Clegg later cautioned against a precipitate use of military force, telling Channel 4 News: "One of the worst things to do would be to act rashly and ineffectually. It would be far better to make sure we act patiently and deliver a punch and deliver a blow to Isil which is effective."
Nato Protests In Newport, Wales