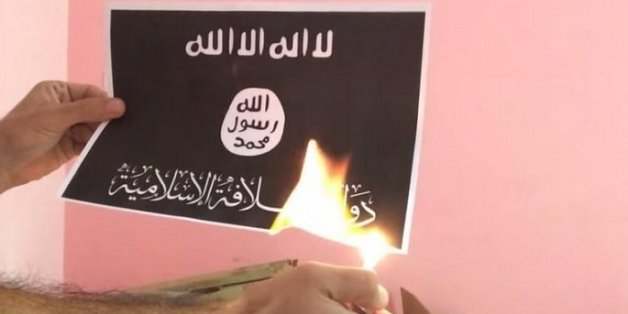 YouTube
Islamic State (IS) militants brought their war to Lebanon this week, and in retaliation brave young Lebanese are using social media to show they are not afraid.
Activists have launched their own version of the ALS 'Ice Bucket Challenge' under the hashtag #BurnISISFlagChallenge or #BurnISIS.
The trend was reportedly instigated after three young burned an Islamic State flag in a Beirut square following the presumed beheading of a Lebanese officer.
IS made its first incursion into Lebanon from Syria this week with the group attacking a border town, killing 16 soldiers, with dozens either missing or injured, Reuters reported.
As others picked up on the idea, more images and videos were posted online. And, just like the Ice Bucket Challenge, in which people nominate others to also partake in the task, this user nominated "the whole world " to take part.
#BurnISISFlagChallenge #burnISIS @BURNISIS pic.twitter.com/YzuMuIGIdY

— Reine (@ReineWW) September 4, 2014
#BurnISISFlagChallenge Goes Viral in Arab World | STOP THE WAR FOR GOD'S SAKE! #LetThereBePeace pic.twitter.com/k0AktyDQnz

— JENNA LHUILLER (@msjennalhuiller) September 5, 2014
#LEBANON: Burning of the '#ISIS' Flag Campaign:

('There is nothing but terrorism' , 'By God we will erase it')

September 2, 2014
Les protestants yézidis brûlent le drapeau de #EI en Allemagne pic.twitter.com/87uqYFr1HE

— ☭★uruz (@UruzOZKAN) September 4, 2014
https://t.co/O4fC4VDWRk pic.twitter.com/w08rnv6Y3w

— A Y A (@AyaIShbn) September 2, 2014
لان الله تعنا مش الله تعن

لان النبي محمد (ص) تعنا مش النبي تعن

#تعى_حاكمني pic.twitter.com/AIcUkX91eT

— Mhamad Haraké (@Mharakeh) August 30, 2014
But despite the widespread support for the cause, Lebanon's Justice Minister said that burning it is sacrilegious and an affront to Islam, as it is emblazoned with the religion's holy tenet "there is no god by Allah and Mohammed is his prophet" in Arabic.
Haaretz reported that Minister Ashraf Rifi demanded the "sternest punishment" for creators of the original video, who are "stirring up sectarian conflicts."
A member of Lebanon's Change and Reform parliamentary group, dismissed Rifi's suggestions however, the International Business Times reported.
Nabil Naqoula said the act was fine as "this flag does not represent Islam in the slightest".
"The youths who burned the Isis flag did not mean to insult the Islamic religion", he said.
Muslim leaders in the UK meanwhile, will use sermons today to reiterate their opposition to extremism, urge young people not to join fundamentalist fighters, and call for the release of all hostages held by the Islamic State (IS).
Imams across Scotland will use Friday prayers to reinforce these messages, according to a joint statement from the Muslim Council of Scotland, Islamic Society of Britain and Glasgow Central Mosque.
Earlier this week the parents of Glasgow woman Aqsa Mahmood who left home last November, said they were horrified to learn that she had joined radicals in Syria and married an IS fighter.
They said she had "betrayed us, our community and the people of Scotland when you took this step" but pleaded for her return, adding that they still love her.
Last month US journalist James Foley was apparently beheaded by an IS fighter with a British accent nicknamed "Jihadi John". This week the same person is thought to have been responsible for the murder of American Steven Sotloff, and a British hostage is currently under threat from the group.
In their statement Muslim leaders said the community "unequivocally condemns the barbaric actions of IS (formerly known as ISIS).
"We send our heartfelt sympathies to the families of those who have been killed at the murderous hands of IS - regardless of where they are from or what their religion.The actions of IS are against the teachings of Islam and therefore supporting or joining such an organisation is unacceptable.
"We call for the immediate release of all hostages held by IS and pray for all of those killed, injured or harmed by extremism the world over."
The leaders also called on governments to "react in accordance with international and domestic law" when dealing with radicals, claiming that the war in Iraq had been the "greatest recruiting sergeant for extremist groups."