The Sun newspaper has faced a backlash this morning over its "deliberately inflammatory" reporting of the brutal beheading in North London on Thursday.
Palmira Silva was found dead outside a house in Edmonton yesterday after police received calls that a man was attacking an animal and car with a knife. The "sweet" 82-year-old widow was found "collapsed" at the scene.
The suspect, who remains under police guard in hospital, was Tasered and arrested on suspicion of murder at the scene in Nightingale Road by armed officers, some of whom were injured in a struggle.
Scotland Yard have not yet confirmed the motive, but have emphasised that the incident did not appear to be terror-related, following the beheading of two American journalists by Islamic State militants in recent weeks.
The Sun story quoted sources who described the man as a "Muslim convert" who had "recently grown a beard."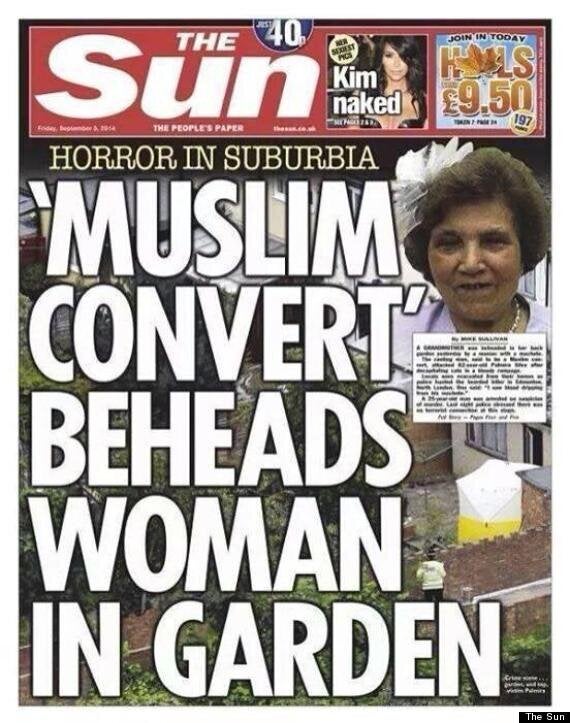 The Sun's front page today
The tabloid's article has been described as "fear-mongering" by some, with many accusing the paper of inciting hatred against Muslims.
An insider "who worked with the suspect" told the paper the 25-year-old man "converted to Islam around April time. One of his parents was Muslim… and talked about praying. He put on a robe and prayed ever when he was at work."
But readers branded the front page as "irresponsible":
The Sun's Head Of PR, Dylan Sharpe, pointed out to the Huffington Post UK that other publications were now also reporting on the murder with similar headlines, while others voiced their support for the Sun's front page.
Details have begun to emerge about the man arrested for the brutal beheading of a great grandmother in a suburban North London back garden.
The man, named by the Evening Standard as Nicholas Salvadore, 25, was an aspiring cage fighter given the nickname "fat Nick" because of his "huge frame."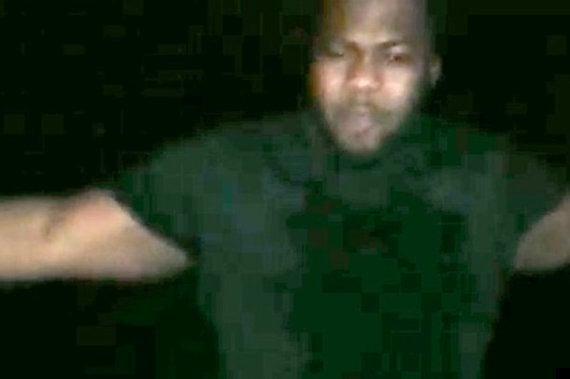 The alleged attacker Nicholas Salvadore
Horrified witnesses have described the moments surrounding the brutal slaying of the elderly woman.
An Edmonton resident has described how he saw a man brandishing a machete and shouting about cats.
The eyewitness, who did not want to be named, said he also saw a headless cat as he watched the drama from his window.
The man said: "There was a scream so I went to the windows and saw a guy with a machete with blood dripping from it.
"We saw a cat on the floor without a head.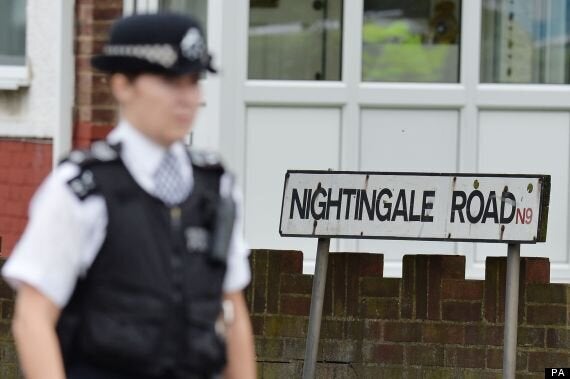 Police on Nightingale Road
"He was standing in the garden and walking up and down shouting about cats. I don't know why he was looking for a cat."
The knifeman then appeared in the witness's garden and began swiping at plants, he said.
He went on: "He started cutting roses. We were just trying to call the police. You can't think anything in that situation.
"He asked our neighbour if he had seen a cat and the neighbour was afraid and walked inside."
At one point the man climbed on top of a garage, he said.
"He appeared in the alleyway and I saw him raising the machete," the man said.
"Then he came to a front door and nobody answered so he started to bash the windows." A woman has been beheaded in a back garden
A neighbour who knew the victim said she was "such a sweet lady" who still went to work every day in a nearby cafe.
The woman, who did not wish to be named, said: "I've lived here since 1987 and I've known her since then.
"Her husband died about five years ago. I think she came from Italy originally.
"I was speaking to her yesterday. She was weeding in the front garden, she loved her gardening.
"She was sitting having a rest. I said 'You've been doing such hard work, your flowers are beautiful'. She said 'I know'.
"I think maybe today she was in the back garden.
"She was such a sweet lady. She was slow getting around but she still went to work. I think really after her husband died that's what kept her going."