Detectives investigating the disappearance of schoolgirl Alice Gross have arrested a man on suspicion of murder.
Fears had been growing for Alice who disappeared from her west London home 11 days ago.
A Metropolitan Police spokesman said yesterday: "Police investigating the disappearance of 14-year-old Alice Gross have arrested a man on suspicion of murder.
"The 25-year-old man was arrested in the Ealing area at approximately 1700hrs."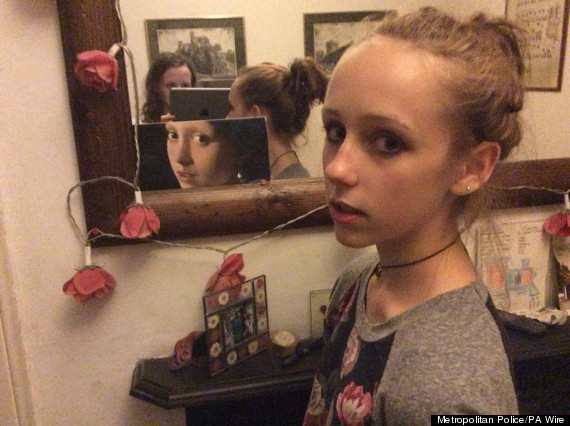 Alice Gross has been missing for 11 days
The suspect is currently in custody at a west London police station.
Police added: "All lines of enquiry are still open at this time and this remains a missing person investigation at this stage."
Alice, who suffers from anorexia, was last seen by her family at 1pm on August 28, when she left her home in Hanwell.
She told them she would be back that evening, but failed to return.
She was captured on CCTV at 2.23pm walking alone on the Grand Union Canal tow path in the direction of Kew.
Alice was later caught at the same point along the tow path at 3.45pm heading back towards Hanwell.
Earlier, the force released new pictures of cyclists riding past the spot where the teenager was last spotted, shortly before her disappearance.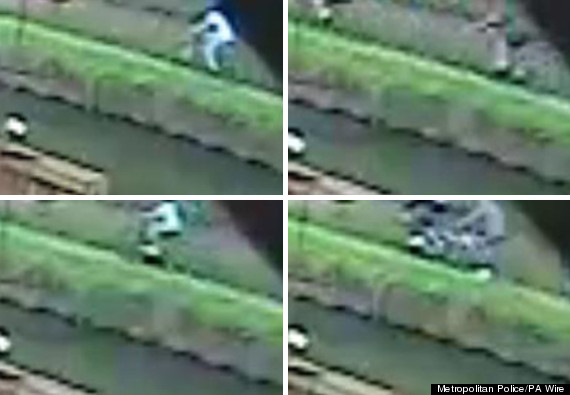 Police issued this CCTV of cyclists riding near where the teenager was last spotted
The grainy images show three cyclists riding along the towpath by the Trumpers Way Canal Bridge in Hanwell, moments before Alice walks past at 4.23pm.
They are followed by two more cyclists who pass under the bridge on the Grand Union Canal.
Police have trawled through hundreds of hours of CCTV footage and carried out "extensive" searches using specialist officers in the hunt for the missing schoolgirl.
Alice is white, 5ft 2ins tall, very slim build and with shoulder-length, light brown hair.
She was last seen wearing dark blue jeans and a dark green lacy cardigan and carrying a dark rucksack, which was recovered earlier this week. She may have been wearing denim blue Vans shoes and tartan-framed spectacles.
Police said they were "especially concerned" as Alice has not been in good health recently.
Officers have been out at the towpath appealing for information. They are also urging anyone who may have befriended
Alice while on a song-writing workshop at the Camden Roundhouse to come forward.
Earlier this week Alice's mother, Rosalind Hodgkiss, issued an emotional appeal to help find her daughter.
She said: "We'd like to say to Alice first of all that we miss her, that we love her and that she's not in any trouble, and we want to know that she's safe. We just want her to come home.
"We're also appealing to anybody who might have seen her or who may have made contact with her or who may know something about her whereabouts to contact police or Missing People, and to just get in touch because we're really concerned about her well-being."
Anyone with information can call police on 020 8358 0100; Ealing Missing Persons Unit on 020 8246 1018 or the charity Missing People on 116000.