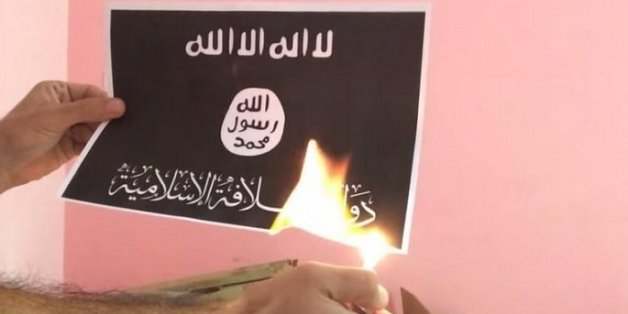 YouTube
As Islamic State (IS) militants continue to wage their bloody war across Iraq and Syria, brave civilians used social media to show they were not afraid.
But now, IS has violently retaliated after activists launched their own version of the ALS 'Ice Bucket Challenge' under the hashtag #BurnISISFlagChallenge or #BurnISIS.
Extremists have reportedly kidnapped dozens of residents of a northern Iraq village after villagers burned one of their black flags, along with one of their bases.
AFP reported that militants withdrew from Tal Ali in Kirkuk province last week, but returned in force a day later and abducted some 50 people.
The defiant flag-burning trend was reportedly instigated after three young men set fire to an Islamic State flag in a Beirut square following the presumed beheading of a Lebanese officer.
As others picked up on the idea, more images and videos were posted online. And, just like the Ice Bucket Challenge, in which people nominate others to also partake in the task, this user nominated "the whole world " to take part.
#BurnISISFlagChallenge #burnISIS @BURNISIS pic.twitter.com/YzuMuIGIdY

— Reine (@ReineWW) September 4, 2014
#BurnISISFlagChallenge Goes Viral in Arab World | STOP THE WAR FOR GOD'S SAKE! #LetThereBePeace pic.twitter.com/k0AktyDQnz

— JENNA LHUILLER (@msjennalhuiller) September 5, 2014
#LEBANON: Burning of the '#ISIS' Flag Campaign:

('There is nothing but terrorism' , 'By God we will erase it')

September 2, 2014
Les protestants yézidis brûlent le drapeau de #EI en Allemagne pic.twitter.com/87uqYFr1HE

— ☭★uruz (@UruzOZKAN) September 4, 2014
https://t.co/O4fC4VDWRk pic.twitter.com/w08rnv6Y3w

— A Y A (@AyaIShbn) September 2, 2014
لان الله تعنا مش الله تعن

لان النبي محمد (ص) تعنا مش النبي تعن

#تعى_حاكمني pic.twitter.com/AIcUkX91eT

— Mhamad Haraké (@Mharakeh) August 30, 2014
But following the mass kidnapping, IS have demonstrated that they will retaliate brutally to any act of defiance.
This is not the first time the group has carried out mass kidnappings in Iraq, according to the human rights group Amnesty International.
Survivors have told how Islamic State militants are committing ethnic cleansing on a "historic scale" and threatened to wipe Iraq's ancient minorities off the map forever.
The tales of bloodshed, torture and intimidation from survivors are limitless. Some described to the charity how men and boys were bundled into pick up trucks, taken to the outskirts of villages , forced to squat at the edge of hastily dug graves and shot execution-style. Others told how Yazidi women and girls were taken away from their families as slaves for the militias, threatened with rape.
Amnesty said the fate of thousands of people is still unknown, but it was working to locate them. Several hundred women and children who were abducted from Kocho on August 15th are currently held in Tal Afar - halfway between the mountainous region of Sinjar and the city of Mosul. Lawyer Mirze Ezdin gave Amnesty the name of 45 female relatives he believed were being held by Isis.