There are few players in the Premier League as polarising as Danny Welbeck. One forthright Manchester United follower, irked at the mourning in the wake of Welbeck's deadline day transfer to Arsenal, remarked: "You'd think we'd just sold Denis Law to City." Danny had done it.
That cliché about a week being a long time in football is relevant with Welbeck. In that time, he has developed from a good squad player, albeit an erratic finisher, to a lethal predator who represents the coup of the transfer window. The viral reactions to his two-goal display in Switzerland on Monday night were not all tongue-in-cheek.
His move has been greeted with a level of opprobrium United might have experienced had Jaap Stam left for Lazio in the social media age. That always felt like a tremendous error by Sir Alex Ferguson and is one of the few mistakes he has admitted to, especially since he replaced Stam with the cumbersome Laurent Blanc. Radamel Falcao has replaced Welbeck.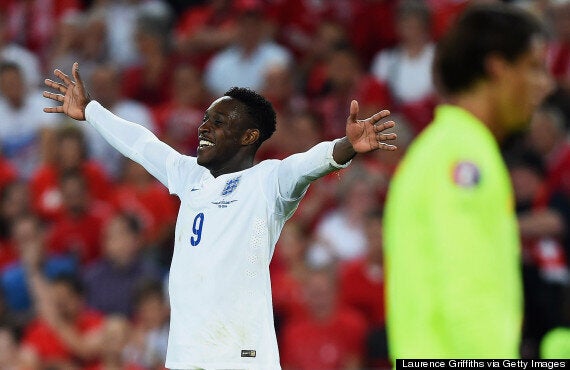 Welbeck's two goals in Basel accentuated the revisionism regarding his quality
"When a player of this calibre becomes available," Louis van Gaal said, "it is an opportunity not to be missed."
At the time it emerged United were prepared to sell Welbeck, who was agitating for a transfer, Falcao seemed likelier to join Real Madrid or Manchester City. Yet a picture of Falcao in a red shirt, or one of Falcao holding a shirt with Ryan Giggs, cannot placate some militant Welbeck supporters.
His development has even been compared with Thierry Henry's. Henry, at 23, had won the European Championship and World Cup, was a proven Premier League finisher and had admirers in Madrid, Turin and London.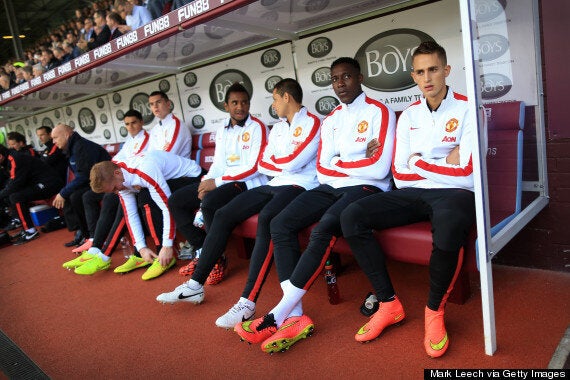 Welbeck started United's three League games on the bench
Spotted by United at the age of six, Welbeck came closer than most local strikers to truly making it at the club and for the red Mancunian republic there is simply nothing better than scoring goals for the team you supported. His first came as an 18-year-old.
"We were 3-0 up and I was told to get ready," Welbeck recalled in 2009. "I was so over the moon and I just started to think about it; I'm going to be playing in front of a massive crowd, shooting towards the Stretford End and in front of millions of fans watching on TV."
Welbeck didn't do that enough, though. His goals in Basel this week overshadowed a first-half opportunity which he squandered in familiar fashion and, most memorably, he attempted to outfox Manuel Neuer with a dink and succeeded in embarrassing only himself.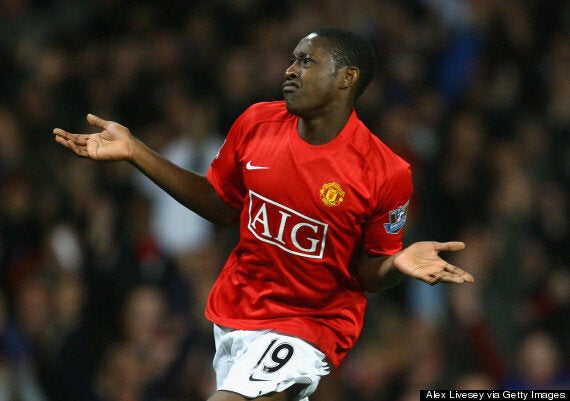 Welbeck relishes his first career goal against Stoke in 2008
Two of Ferguson's former captains, Bryan Robson and Gary Neville, have criticised the decision to sell Welbeck. His sale compelled pundits to pontificate about United's identity and whether the club had lost faith in their youth system. The priority for United is to return to the top four and they are not going to do that with a raft of mediocre British players.
The academy graduates, the Class of 2011 exempted, have been underwhelming this century, and if United miss out on Champions League football again their British defenders - Chris Smalling, Phil Jones and Jonny Evans - could be scapegoated.
Doubt Van Gaal at your peril. He nurtured Clarence Seedorf, Edgar Davids, Patrick Kluivert, Xavi, Andrés Iniesta, Thomas Müller and Toni Kroos, while James Wilson, United's exciting Biddulph-born striker, is only 18 and will have the chance to vindicate Van Gaal.
Eyebrows were initially raised at Welbeck's £16 million fee. The British tax applied to him, too, however he was always regarded as a gamely impact player at United who was not quite lethal enough to spearhead the attack. United were patient with Darron Gibson and Tom Cleverley to no avail and outwitting Johan Djourou is not a particularly arduous task for a forward.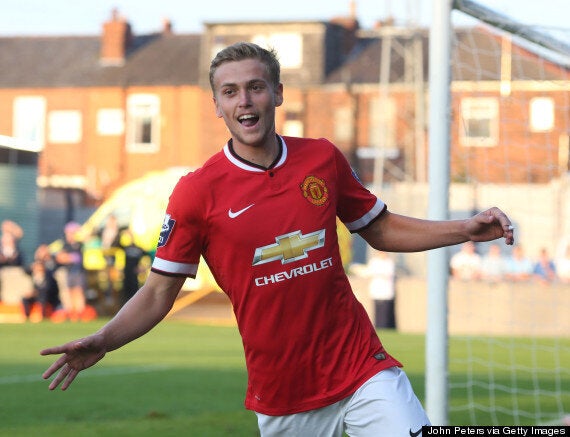 James Wilson could vindicate Van Gaal's decision to sell Welbeck
Arsenal's online following has especially accentuated the Welbeck revisionism. Up until this summer, "Arsenal transfer news" and its variants were the most-read club specific round-ups in the UK, and the reaction from their internet fans to any signing is, usually, overwhelmingly positive. One of the most influential Arsenal bloggers, Arseblog, received violent threats after objecting to the club's attempts to sign Luis Suárez last year.
"Objecting to the signing of Suárez has led to some of the most virulent abuse I've ever received," Andrew Mangan wrote recently. "What I find most dismaying is the revisionism that's gone on since our interest has become public knowledge. I don't remember too many Arsenal fans defending him when he was banned for eight games for the Evra incident. I don't remember too many Arsenal fans saying that biting somebody isn't really that bad when you think about it. I don't remember too many Arsenal fans who said anything other than Suárez, for all his talent on the field, was a pretty despicable person whose antics, cheating and nasty play made him one of the most loathed characters in the game. Yet now, people are falling over themselves to make excuses for him."
Arsène Wenger, invariably an objective voice, is understandably cautious. "With an option to buy yes," he said about Welbeck. "In the end, when it was a permanent transfer or loan with an option to buy, I was happy to buy permanently." Welbeck has time to develop into an excellent striker and it will be fascinating to see how he handles the pressure of leading Arsenal's attack.
Plenty of United supporters were sanguine with the prospect of the Liverpudlian Rooney joining Chelsea last summer, whereas Longsight lad Welbeck's departure for a rival has infuriated that faction. Players' images still matter, but judgement on Welbeck is premature unless he should return to haunt United like Law.