London children under the age of ten are being "trained as jihadists" the city's Deputy Mayor has said as he issued a stark warning on the threat to the nation's capital.
Stephen Greenhalgh told the Evening Standard that both he and London Mayor Boris Johnson have been shown examples of primary school children having been subjected to propaganda and "extremist ideology" by their families in a bid to radicalise them as "junior jihadis."
Although Greenhalgh insisted to the paper that Londoners should not be "panicked" by recent reports of British terrorists returning to the UK from Syria and Iraq, he branded the indoctrination of children in the nation's capital as "horrendous."
"The threat of radicalisation of young people is real and this is a problem that is going to be with us not just for a couple of years, but for the next generation," he said.
Greenhalgh, who oversees policing in the capital, issued the bleak warning ahead of a counter-terrorism summit at City Hall today which will aim to limit the radicalisation of children by adults in the UK.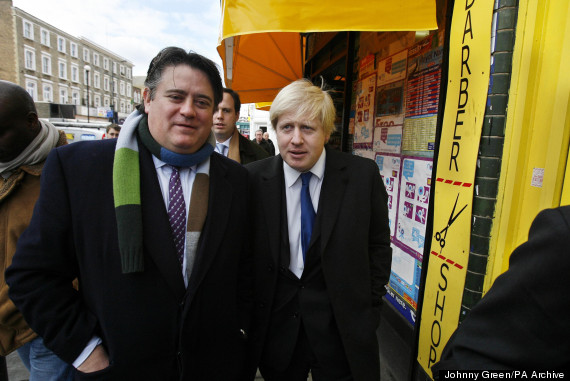 The Mayor of London Boris Johnson with Stephen Greenhalgh
Police fear an increasing number of young people are being inspired to flee their homes to join ISIS after two teenagers were caught trying to travel to Syria, while shocking reports emerged that British female jihadists, most of whom are teenagers, are running 'brothels' where thousands of Iraqi women are being forced to work after being captured by Islamic State militants.
Young British girls are said to be behind an ultra-religious all female militia in Raqqa that is brutally punishing "un-Islamic behaviour" in the area.
Sources claim that the women, who travelled from the UK to marry militant fighters, have set up brothels for the IS fighters to use.
Experts identified four women from the UK working together just last week, and an 18-year-old British woman hit the headlines recently when she tweeted from Syria saying she wants "David Cameron's head on a spike".
The disturbing developments came as it was confirmed this week by Austrian interior Ministry official Alexander Marakovits two unnamed girls from Austria, aged 16 and 14, were caught attempting to leave the country and join ISIS.
They may have been following Samra Kesinovic and Sabina Selimovic, who disappeared from their homes in Vienna back in April. Subsequently images of them with Kalashnikov rifles and surrounded by armed men were posted on social media. Selimovic with armed men
As a result both Austrian media and police are concerned the girls, aged just 16 and 15, have become the public face for the call to jihad, according to the Daily Mail. Selimovic and Kesinovic posted this photo to social media
The unnamed girls this week were stopped when a third girl, who was supposed to be travelling with the pair, roused the suspicions of her mother, who became concerned about the amount of luggage her daughter had packed.
It is not certain whether the unnamed teenagers were in contact with Kesinovic and Selimovic, who have remained missing although Interpol are searching for them. Profiles on Interpol of the two teenagers who went missing in April
School friends of Kesinovic and Selimovic confirmed that the pair had become radicalised after attending a local mosque.
Peter Slanar, the headmaster of the school the teenagers attended, told The Express: "I would have said a year ago that they were perfectly normal teenage girls, but then the older, Samra, started sending pictures of herself in the Muslim headscarf to fellow pupils and was trying to convert everybody to her point of view.
"There were vandalism incidents in which tables and walls had the words 'I love Al Qaeda' written on them.
"We had to act when they started saying that America was to blame for the September 11 attack. That was simply going too far."
The chilling images of the young girls emerged after several recent reports have already claimed to show children fighting for the terrorist group.
A horrific picture was posted online by convicted Australian terrorist Khaled Sharrouf, showing his seven-year-old son holding a decapitated head in Syria.
The image was posted with the caption: "That's my boy."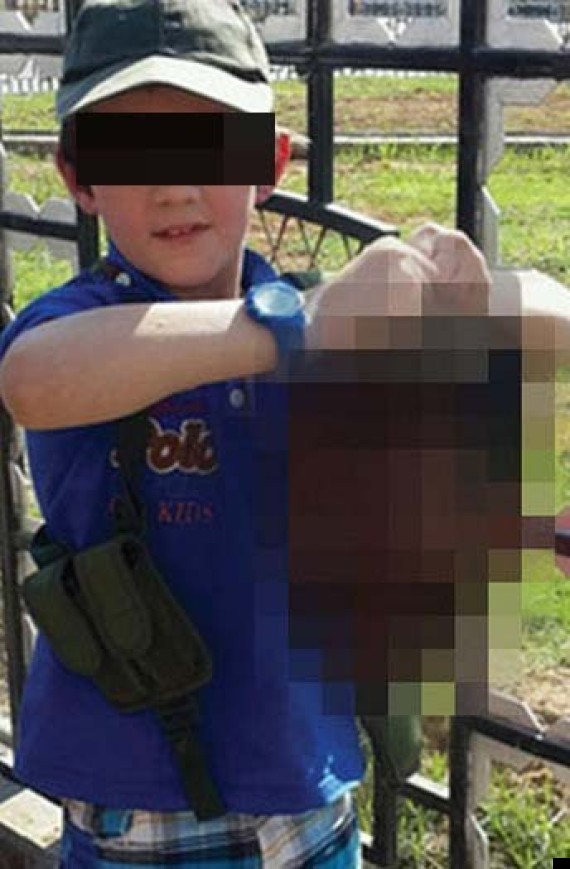 'That's my boy': This horrific picture was reportedly posted to Khaled Sharrouf's twitter account
A shocking photo of a baby lying on an Islamic State flag next to guns and grenades has also been posted online.
The image of the child is believed to have been posted by militants fighting across Iraq and Syria and is the latest to have emerged in a collection of children posing like terrorists.
Another shocking picture, reportedly posted by the group, shows a baby propped up with a Kalashnikov bigger than his entire body.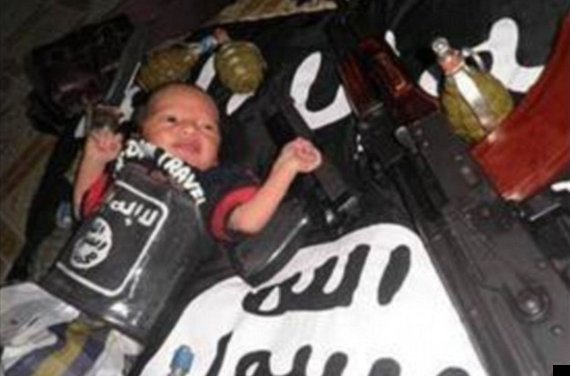 Islamic State militants appear to have used the baby as a prop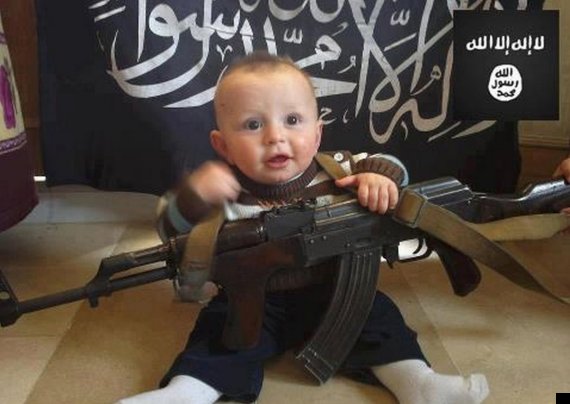 Another toddler holding a gun
Disturbing images emerged recently of a young child appearing to emulate "Jihad John," the British Islamic State militant who allegedly beheaded James Foley and Steven Sotloff.
Holding a large knife and standing in front of the black flag, the masked child appeared to "re-enact" Foley's execution by beheading a doll in an orange jumpsuit.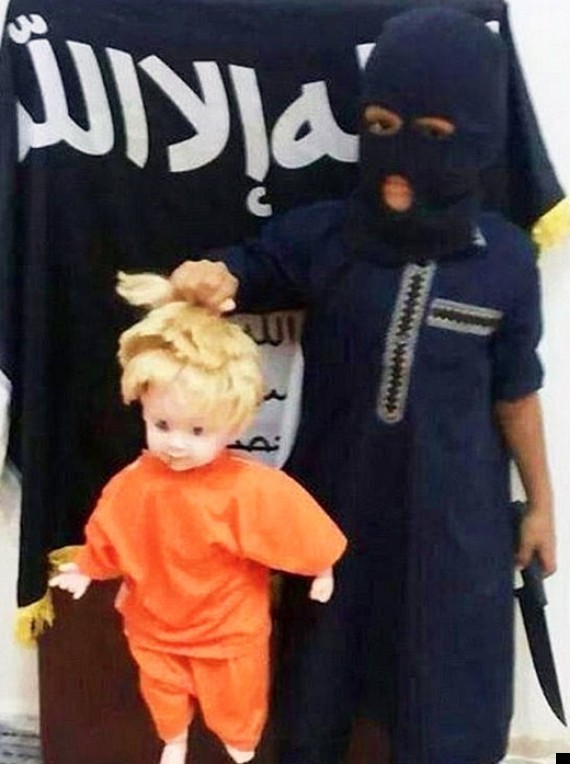 The young boy appears to re-enact the brutal murder of the US journalist James Foley
The picture of the young child was posted along with the disturbing message: "Teach your children to cut necks, tomorrow there will be a lot of rotten heads."
The United Nations have voiced their condemnation, stating that the IS are responsible for recruiting children.
"Armed opposition groups have been responsible for the recruitment and use of children both in combat and support roles, as well as for conducting military operations, including using terror tactics, in civilian-populated areas, leading to civilian casualties, including children," a United Nations report on children in Syria, published last February stated.
These are the young British women that have been identified so far: