Disillusioned British jihadists who travelled to the Middle East to join Islamist fundamentalists are reportedly being punished after saying they want to come home.
A group of five Britons have reportedly been taken to "a punishment centre" after being stripped of their weapons in the Islamic State Stronghold of Raqqa, in Syria.
Following a bombardment of US air attacks, militant commanders in the area have become paranoid that spies could direct attacks, the Daily Mail reported.
The "formerly welcoming atmosphere for Western militants has now changed to suspicion" a source told the Mail.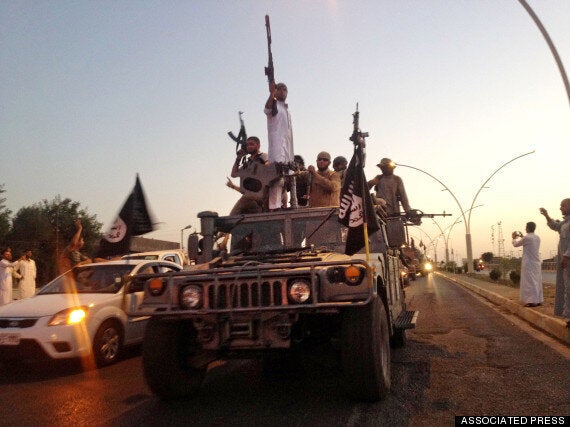 Islamic State group parade in a commandeered armoured vehicle
"It is very dangerous to expose your identity if you want to come back in case IS find out who you are. Anyone who wants to leave, should just leave," Haras Rafiq, of the counter-extremism think-tank Quilliam, said.
The developments come after jihadists fighting in Syria told leading terrorism experts they wanted to return to the UK.
The men told Professor Peter Neumann of King's College that they regret their decision after becoming frustrated that rival rebel groups are fighting among themselves, instead of targeting President Assad's forces.
Professor Neumann told the Times newspaper they have been in contact with a number of British jihadis who want to come back to the UK but feel they cannot do so for fear they will be jailed.
"We came to fight the regime and instead we are involved in gang warfare. It's not what we came for but if we go back [to Britain] we will go to jail," one jihadist, claiming to represent 30 others, told researchers.
Prof Neumann, who works at the university's International Centre for the Study of Radicalisation and Political Violence said: "The people we have been talking to ... want to quit but feel trapped because all the Government is talking about is locking them up for 30 years."
The jihadist told the researchers that the men are "being forced to fight - what option do we have?"
Prof Neumann told the Times he believed as many as a fifth of British fighters could be trying to find a way out of their current situation.
He said if the correct approach was taken towards less-hardened jihadists who wanted to come back, they could become important figures to show potential fighters that the reality of battle may not match the image presented by IS propaganda.
British militants, dubbed 'The Beatles', are thought to have become behind the beheading of US hostages James Foley and Steven Sotloff - they have threatened to execute a British aid worker next.
The family of David Haines today urged his captors to contact them. The extremists have have not responded to any of the family's attempts to make contact so far, the Foreign and Commonwealth Office (FCO) said.
A statement on behalf of the family released by the FCO said: "We are the family of David Haines.
"We have sent messages to you to which we have not received a reply. We are asking those holding David to make contact with us."
Mr Haines, 44, was taken while working for ACTED in Syria in March 2013, having previously helped local people in Libya and South Sudan.
Militants from IS have beheaded two American journalists, posting the evidence online in gruesome videos featuring a masked jihadist with a British accent.
Foreign Secretary Philip Hammond has said the FCO will be doing "everything" they could to protect Mr Haines.
The 44-year-old has a teenage daughter in Scotland from a previous marriage and a four-year-old daughter in Croatia from his present marriage.
Educated at Perth Academy secondary school, he has worked for aid agencies in some of the world's worst trouble spots, including Libya and South Sudan.
He was in Libya during its civil war in 2011, working as head of mission for Handicap International, which helps disabled people in poverty and conflict zones around the world.
ACTED has previously said that the threats made to the Scotsman's life were "intolerable".
In a statement, it said: "ACTED strongly condemns the violence and threats against David. A man's life should never be threatened on account of his humanitarian commitment."
The charity said Mr Haines had worked as "a humanitarian" since 1999, helping people in the Balkans, the Middle East and Africa.
When he was taken by jihadists in Syria he was working to help "tens of thousands of people affected by the crisis" created by the long-running civil war.