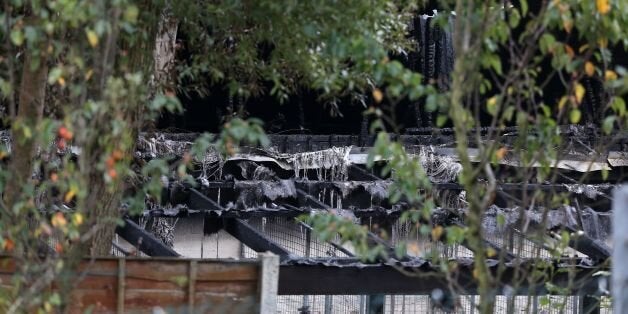 A 15-year-old boy arrested on suspicion of starting the Manchester Dogs Home blaze which killed 60 animals has been released on bail.
The teenager was held by detectives in the wake of the suspected arson attack, which claimed the lives of dozens of dogs and injured several others.
Colin Ballance, Manchester Dogs' Home liason officer, described the "horrendous" scene as the building blazed with the animals trapped inside on Thursday night.
"You could hear them screaming but the thing was, you couldn't do anything," he said to Sky News.
"It was unbearable, it was like something out of a horror film. Something I don't want to remember if you know what I mean, but I will never forget it."
In response to the tragedy, grief-stricken pet owners have used social media to raise more than a million pounds in the wake of the "sickening and harrowing" attack.
Thousands have taken to Twitter and Facebook in the wake of the tragedy at Manchester Dogs' Home, using a site set up by the Manchester Evening News (MEN) and by posting a selfie of themselves and their pet alongside their donation for the centre.
Mr Farrar told the Huffington Post UK he hoped to capitalise on the recent success of the ALS Ice Bucket Challenge to help out the stricken Manchester mutts.
"It knocked me sick when I saw the story," he said, adding that he hoped the viral nature of the money-raising campaign would help to to rebuild the home and get it back to it's former glory.
"I thought there was an opportunity to get my local community in Wythenshawe involved and donating, and well it's spiralled and it's been unbelievable," he said.
The fund set up following last night's fire is incredibly now heading towards a £1 million target.
The blaze at the Manchester Dogs Home, in the Harpurhey area of the city, provoked a huge outpouring of local concern when it broke it just after 7pm.
Some people living in the area tried desperately to break into the compound after a passing police officer raised the alarm.
And, after more than 30 firefighters began to tackle the fire, hundreds of people rallied round to provide refreshments, animal food and other help for the dogs that were rescued.
Bosses at the charity which cares for more than 7,000 stray and unwanted dogs each year said they were overwhelmed with the offers of help.
Most of the donations were just a few pounds each sent anonymously by text message.
On its Twitter page, Manchester Dogs Home said: "Words are not enough. Thank you everyone, you have touched our hearts and surrounded us with love and we are truly grateful.
Lisa Graham, from the home, said the local community has always supported the centre as the city grew around the site over the last 120 years.
She said: "We saw that last night. We saw that community out in droves. We saw them coming out with things you wouldn't even expect."
Ms Graham said one man brought his camper van and began making tea and coffee for the rescuers. She said another brought a case of water for everyone at the scene.
She said: "To think that for the length of time we've served this community and the many generations we've been serving this community and that one of them would come and do this to us is sickening.
"We had staff here last night that were coming out of the kennels in tears with dogs they knew. There were dogs in there that they cared for that they lost."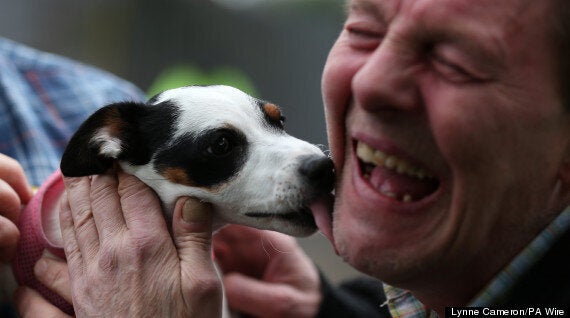 Misty the Jack Russell is fussed over by local resident
Jason Dyer, 41, and his nephew Dean Rostock, 25, described how they brought the terrified animals to safety after seeing the fire.
Jason said: "All the windows of where the dogs are advertised for sale were blown out and the ceiling was collapsed.
"We initially ran into the bit that was on fire but we couldn't get those dogs out. We went to the other kennels and began kicking out the doors. We just wanted to get them out.
"This place is part of our childhoods. We both have dogs and love dogs - of course we are going to run in there. We just wanted to make sure as many as possible would be okay."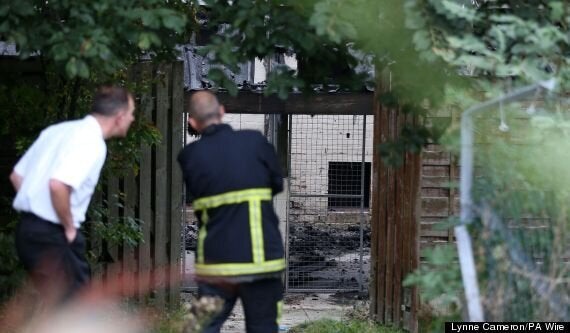 Emergency services at the scene at Manchester Dogs Home
Police are continuing to question a 15-year-old boy arrested last night on suspicion of arson. Greater Manchester Fire and Rescue Service said 53 dogs had died, while about 150 were rescued.
The rescued dogs have been taken to the centre's sister site near Warrington, in Cheshire.
Speaking at a press conference at the scene, Detective Inspector Neil Jones said: "Last night a local neighbourhood officer was passing and saw a plume of smoke coming up from the dogs home and responded really quickly, as did a vast number of the local community and the fire service."
The officer said: "The public reaction immediately and overnight has been really, really overwhelming. We're really, really grateful for the response that we've had."
Mr Jones added: "I'm treating it as an arson investigation at the moment based on the extent of the fire and the initial outpouring from the community and some of the information we've been provided with so far."
He said the centre was made up of a series of buildings, one of which had been completely destroyed.
The story continues under the slideshow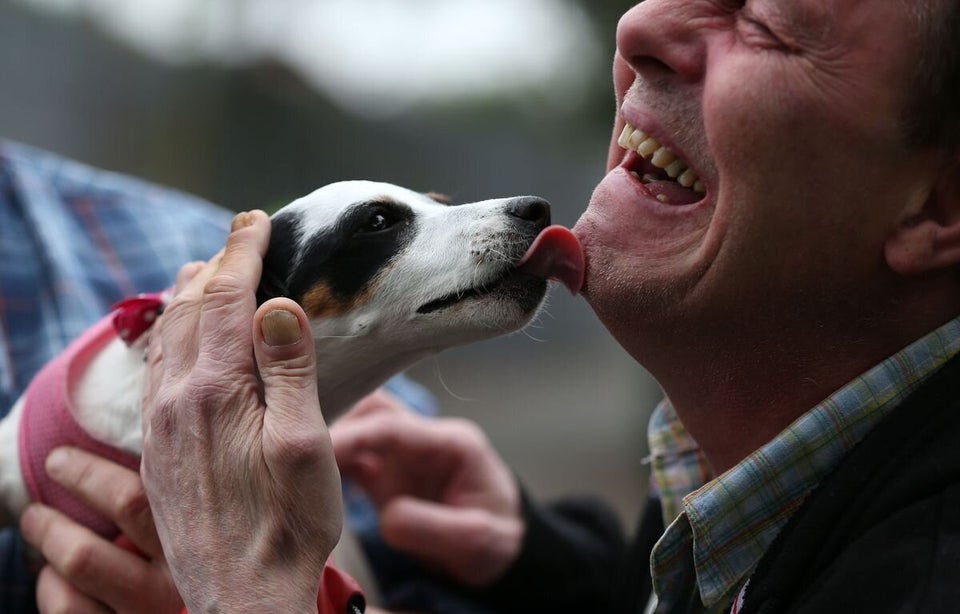 Manchester Dogs Home fire
Station Commander Paul Duggan, from Greater Manchester Fire Service, said: "A number of the local people had made an attempt to try and rescue the dogs because, obviously, they could hear them in some distress.
"So what firefighters were met with was a fire in a fairly large building with some measure of security, so we had to break into that. You've also then got a number of dogs that were agitated and, obviously, when a dog's in pain it may bite you, so you've got that risk. And, also, you've got a number of members of the public doing a very charitable thing, trying to help the dogs, but obviously it's a risk to them.
"All-in-all a fairly complex and complicated and, also, harrowing incident."
"We are overwhelmed with the offers of help, support and money. Grateful and humbled."