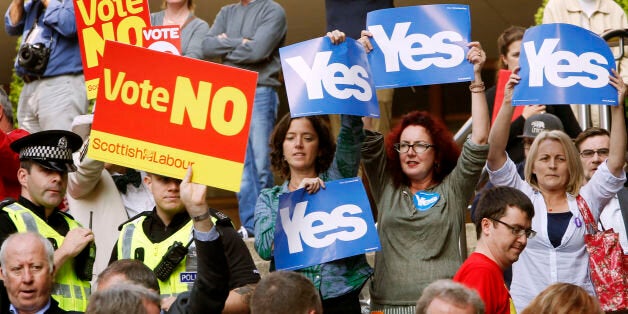 Senior unionist politicians have made emotional pleas for Scotland to stay in the UK - and have promptly been dismissed by nationalists as "Horsemen of the Naw-pocalyse" who "shall suffer" and face a "reckoning" if there is a Yes vote in the independence referendum.
Conservative chief whip Michael Gove, who was raised in Scotland, has accused nationalists of "putting the interests of those who look and speak and think like you" over the solidarity of the UK, who "mourned together" over the Lockerbie bombing, the Piper Alpha disaster, Dunblane, the disappearance of Madeleine McCann, the death of Baby Peter and the abuse in Rotherham.
But his plea failed to impress former Creation Records boss Alan McGee - the Scottish Svengali who discovered Oasis - who said unionist "scare stories" are becoming increasingly "ridiculous" and that independence would allow Scots to "kick the 'effing Tories', as the Prime Minister said so patronisingly".
In an explosive attack in the Herald Newspaper, Mr McGee wrote "next thing it will be 'Asteroid hits Earth if Scotland votes for independence'. We are not children, stop trying to frighten us."
"This has been the most negative, fear-driven and insulting political campaign in modern history and should be treated with nothing other than the total contempt it so richly deserves.
"Scots have long memories. And the main culprits, no matter the result, shall suffer."
Meanwhile, Ex-Labour MP Jim Sillars, a prominent nationalist and widower of SNP trailblazer Margo MacDonald, has rolled back on his claims that companies that have spoken out against independence will face "a day of reckoning" - insisting it was a bid to get media attention.
Yesterday, Mr Sillars caused consternation amongst some companies when he said "when we get a Yes majority we will use that power for a day of reckoning with BP and the banks".
Iceland chief executive Malcolm Walker retorted to Mr Sillars, saying: "B******s! Is that blackmail or a threat or what?
"That is a stupid thing to say, 'day of reckoning'. What's he going to do, close us down?"
Speaking on Radio 4's Today programme this morning, Mr Sillars said: "I knew when I used terms like 'reckoning' and 'nationalisation' that I would get exposed both on radio and television and here I am on your prestigious programme, hopefully able to say to BP's institutional shareholders and the board of BP: it's time you reined this man in (Bob Dudley) because he is taking part in 'project fear' organised by the Prime Minister from Downing Street."
He added: "For us to nationalise BP would be a major problem. We don't have the ability to nationalise the North Sea. Anyone with any knowledge of Scotland ... we don't have the kind of technical knowledge and financial and contractual knowledge. There's about 570 rigs out there."
As the debate continues to heat up, both sides of the Scottish independence debate will make their latest push for votes as the final weekend of campaigning gets under way today.
Yes Scotland is promising what it called the biggest day of national campaigning ever seen in the country, with some 2.6 million leaflets being delivered to households in the space of 48 hours.
For the No camp, Labour big-hitters former prime minister Gordon Brown and shadow Scottish secretary Margaret Curran will be addressing voters in the east of the country.
Elsewhere, the Orange Order will hold a "Proud to be British" rally in Edinburgh in support of the Union, with organisers expecting more than 10,000 people to attend.