US actress Daniele Watts says she is angry and frustrated after she was arrested by police because they saw her kissing her husband in public, and apparently mistook her for a prostitute.
Watts, who is African American and appeared in the film Django Unchained, claimed she was handcuffed by police in Los Angeles when she was out with white husband Brian James Lucas.
A photo posted on Facebook by Watts on Friday shows her crying while an officer speaks to her.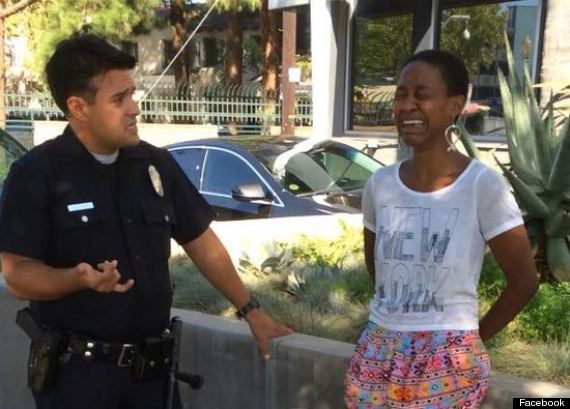 Watts posted that she felt 'frustration' after the arrest
Watts claimed the handcuffs cut her arm, and she was placed in the back of a police car after refusing to show ID to two police officers who approached her.
The police officers were from Studio City Police Department in Los Angeles, according to The Metro.
Watts refused to show identification and was then handcuffed and put in the back of a police car, while the officers looked at her ID. She was released soon afterwards.
She posted on her Facebook page: "When the officer arrived, I was standing on the sidewalk by a tree. I was talking to my father on my cell phone. I knew that I had done nothing wrong, that I wasn't harming anyone, so I walked away.
"A few minutes later, I was still talking to my dad when 2 different police officers accosted me and forced me into handcuffs."
Watts played CoCo in Django Unchained, the Oscar-winning 2012 western film by Quentin Tarantino, and also acted in the TV show Weeds. She is now on the new comedy Partners on Fox-owned TV channel FX.
She wrote passionately about her arrest on her Facebook page, saying it happened because she was "refusing to agree that I had done something wrong by showing affection, fully clothed, in a public place."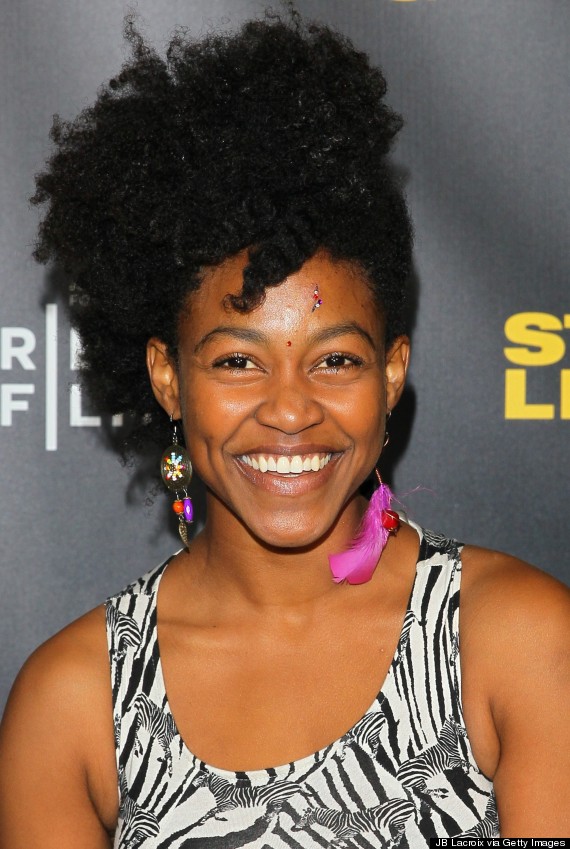 Watts has appeared in Weeds and Django Unchained
She continued: "As I was sitting in the back of the police car, I remembered the countless times my father came home frustrated or humiliated by the cops when he had done nothing wrong.
"I felt his shame, his anger, and my own feelings of frustration for existing in a world where I have allowed myself to believe that "authority figures" could control my BEING… my ability to BE!!!!!!! [sic]"
Her experience comes after the mass protests in Ferguson, Missouri, where an unarmed black teenager was shot by a police offer, leading to crowds clashing with police.
At the city's first council meeting last week, hundreds claimed that the areas politicians had "lost the right to govern" due to the perceived racism of the mainly-white police force.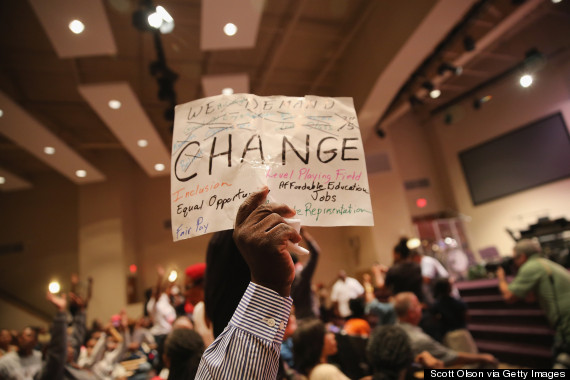 A protester holds up a sign at the Ferguson council meeting
SEE ALSO:
Actress Watts wrote on Facebook that she found the arrest incident empowering, despite it being frustrating: "I deeply enjoyed connecting with the cops who detained me," she wrote.
"I allowed myself to be honest about my anger, frustration, and rage as tears flowed from my eyes. The tears I cry for a country that calls itself "the land of the free and the home of the brave" and yet detains people for claiming that very right."
Los Angeles Police Department told Variety magazine that it had no record of the arrest as Watts was not taken to a police station.