An outraged crowd of several hundred yelled and heckled the officials, insisting they had lost the right to govern following the death of 18-year-old Brown who was killed by a police officer in the American suburb on 9 August, the Associated Press reported.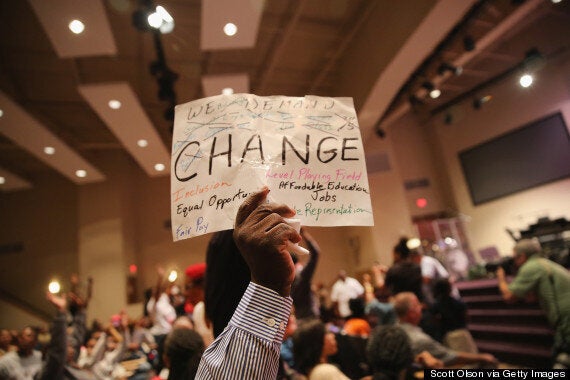 A protestor holds up a sign demanding change in Ferguson
The meeting was the first since the shooting, which sparked protests and violent clashes with police as residents and supporters demanded action over the death.
The crowd had to walk through metal detectors to get to the meeting in a church, which was under substantial police guard.
The council planned to use the event to discuss its proposals to reform Ferguson's courts and hire more police officers from minority backgrounds. Ferguson's 53-person police force has just three black officers, despite around 70% of people in the town being black.
But within minutes, demonstrators stood up and shouted down the officials. "You've lost your authority to govern this community," St. Louis activist John Chasnoff said. "You're going to have to step aside peacefully if this community is going to heal."
Later, according to reports, others stood and chanted, "Shut it down!" whilst raising their hands in the air, a gesture that has been adopted by protestors because some witnesses say Brown had raised his hands as he was shot by officer Darren Wilson.
In calmer moments during the three-hour session, the audience took turns in speaking into a microphone, some reportedly introduced themselves by saying "I am Mike Brown."
Speakers expressed doubt about the city's planned reforms and anger at the officials on the stage.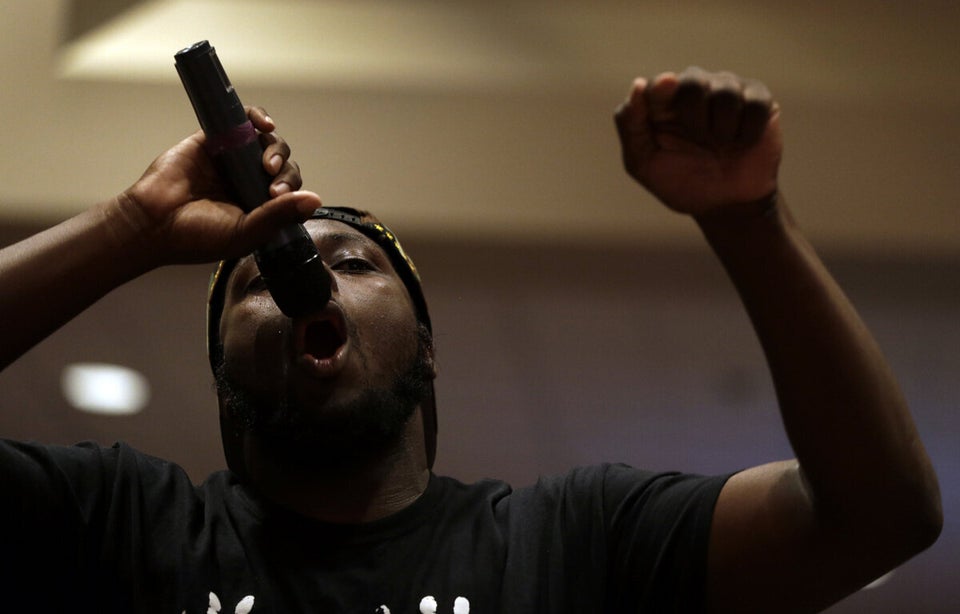 Ferguson City Council meeting
Brian Fletcher, a former mayor of Ferguson, tried to speak about the importance of black Americans running for political office, but was interrupted throughout his assigned three minutes of speaking time.
Ferguson's mayor James Knowles also spoke over chants from the audience. At some points he was forced to wait for the crowd to stop yelling, the Wall Street Journal reported.
The shooting last month lead to weeks of protest and violent clashes with police in the town, over racial and social tensions between the police and the community.
"I heard the mayor say Ferguson doesn't have a race problem," said one attendee, Taurean Russell. "There must be two Fergusons."
Protestors now plan to block part of the Interstate 70 road in Ferguson on Wednesday to bring traffic to a standstill.
Ferguson's council plans to reform court procedures and reduce court fines, which critics say penalize low-income residents who can't afford private attorney, meaning they are often jailed for not promptly paying those fines.
The US Justice Department announced last week that it was launching an investigation into the Ferguson Police Department, to look for patterns of discrimination. There is also a federal inquiry into Brown's death.
Ferguson has around 21,000 inhabitants and nearly three quarters of them are black. The mayor and five of the six City Council members are white.
Popular in the Community