Alex Salmond may be taking on the might of the Union as he enters the final week of his historic campaign to separate Scotland from the rest of the British Isles but, for a group of his constituents, his treatment of them over the last eight years has been worse even than their longtime antagonist, Donald Trump.
"At least Trump was prepared to sit down and answer uncomfortable questions," 'A Dangerous Game' director Anthony Baxter tells HuffPostUK. "In the case of Alex Salmond, what's so shocking about his role is that he hasn't been to visit any of the residents who have gone through all this. We've been asking for an interview with him for eight years."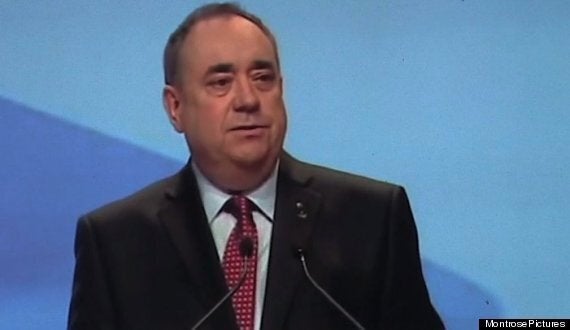 Alex Salmond is resident MSP for the region affected in the film, but declined to be interviewed - for eight years
The film 'A Dangerous Game' follows the fortunes of a group of beleaguered residents of a beautiful part of Aberdeenshire, whose MSP is Mr Salmond. And they're not impressed with his efforts to work for their interests, as they battle with the mighty army of Donald Trump and his minions, determined to build a corporate golf course on one of the last bits of open land on Scotland's east coast, with devastating effects on their homes and natural habitat.
As one longtime resident puts it, "Alex Salmond knows what's going on, but he's never taken the time to go and see his constituents. That's disgraceful, he owes them a duty of care."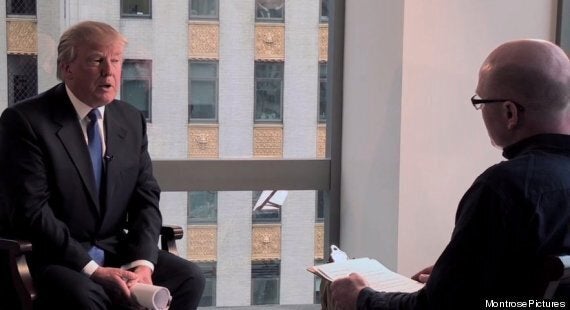 The Trump at least was prepared to sit down with film-maker Anthony Baxter for 'A Dangerous Game'
In 2011, Anthony Baxter's award-winning documentary, 'You've Been Trumped', he followed the 'David and Goliath' tale of one resident, Michael Forbes, refusing to buckle to the bully-boy tactics of Trump and his diggers, changing the land between Forbes, his farm and the sea.
Now, follow-up film 'A Dangerous Game' picks up the tale to reveal Trump's strategy of attrition on the weary community, including Michael Forbes' 90-year-old mother who has to retrieve water from a stream with a wheelbarrow, four years after Trump bulldozers damaged the well that provided her water supply. Baxter tirelessly points his camera at the lack of support from the local government, seduced by Trump's promises of money and local jobs that come with the course.
Michael Forbes, who has meanwhile been made Scot of the Year for his efforts in standing up to big business, describes receiving a letter from Alex Salmond saying "a letter is being drafted" and then hearing nothing else once the public furore had died down. He says now of Salmond, "He needs to grow a backbone."
One outraged citizen explains, "A lot of people are disappointed, and until we have a proper explanation of why it occurred and what the thinking on it now, there's always the possibility of it happening again."
Baxter is at pains to point out that, despite the timing of the film on the eve of the Scottish independence vote, this isn't his own political campaign. "It's not about that debate," he says. "It's about democracy, because environmental destruction goes hand in hand with the corruption of democracy.
"Nothing illegal has been done, but the system is broken and, whatever happens on referendum day, we have to fix that."
Anthony Baxter, who lives 40 miles south of the proposed golf course and whose family have been playing golf all their lives – "on public courses, ground for everyone, not these elite courses where only rich people can play" – is less angered by Trump personally, more by what he represents.
"He sells exclusivity, catering for the rich and powerful, building in spectacular but ecologically damaging settings. He's manicuring them into these pleasing things, but it's not necessarily Trump himself who's the problem."
Baxter is joined on film by powerful collaborators including actor Alec Baldwin and environmental lawyer Robert F Kennedy Jr, who points out the need for common land if we are to preserve communities. The film demonstrates how Scotland is not alone in this challenge, with golf courses designed by stars including Tiger Woods in Dubai and Greg Norman in Dubrovnik both requiring massive changes to the natural habitat.
"Robert Kennedy says there are Donald Trumps in every country, every community," says Baxter. "So you have to be vigilant."
'A Dangerous Game' is in UK (English? Scottish?) cinemas now. Watch the trailer below...
Related