Forget tribal tassels and animal prints - death and the killings of innocent youths are the latest trends for Autumn/Winter '14, if Urban Outfitters' latest creation is anything to go by.
Not satisfied with telling young women to eat less or trivialising depression, it seems the controversial fashion brand is now setting its sights on dead students - specifically, those killed in cold blood by US troops during anti-war protests at a university in 1970.
Urban Outfitters selling what looks like a blood-soaked Kent State sweatshirt http://t.co/aGgolT139Q via @sarahrich pic.twitter.com/WC6t3TlwWo

— Matt Novak (@paleofuture) September 15, 2014
The Kent State shootings involved the killing of four unarmed college students by the Ohio National Guard, while nine others were wounded, one of whom suffered permanent paralysis.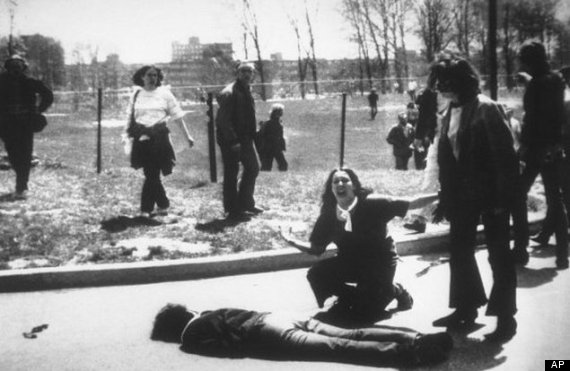 The 1970 shootings: totally 'on trend'
Evidently Urban Outfitters felt this was an event fit to draw inspiration from for their latest clothing creation - in the form of a "vintage" blood-spattered Kent State sweater, as discovered by BuzzFeed.
SEE ALSO: Historic Photos From Kent State University Shootings
Customers are urged to splurge on the jumper, which is in "excellent vintage condition. We only have one, so get it or regret it!"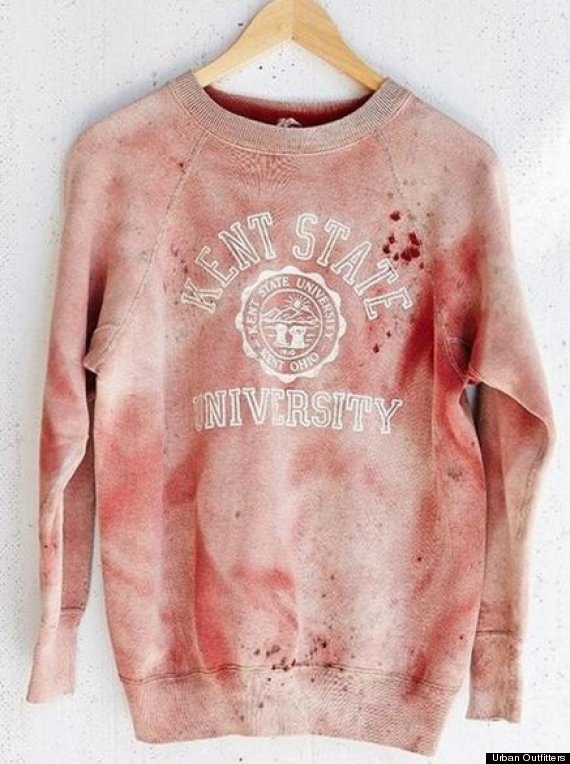 The jumper is "washed soft and perfectly broken in".
Members of the public have been demanding answers from the company - who has yet to break its silence over the jumpers.
Hey @UrbanOutfitters...Why?? What on Earth are you thinking? Disgusting all the way around. Shun -> #urbanoutfitters. http://t.co/VF5hbyVGnL

— Kimberly (@Kmich718) September 15, 2014
The @UrbanOutfitters bloody-Kent-State-shirt gaffe isn't a gaffe. It's marketing, which is infinitely worse.

— Rick Wilson (@TheRickWilson) September 15, 2014
how can urban outfitters fathom making this a real product. worse, how come it's sold out pic.twitter.com/ZtI63fBEGv

— bagel (@SamiaTheBagel) September 15, 2014
Hey @UrbanOutfitters, when will the Sandy Hook shirts be available? And will there be child sizes? #UrbanOutfitters pic.twitter.com/M7F6EQ5jSi

— Promoted Tweet (@kickitupanacho) September 15, 2014
how long til Urban Outfitters starts selling this Mugabe suit for $325? pic.twitter.com/pdu8T1p5Nu

— Media Disrupter (@PatriotMom776) September 15, 2014
"@HPUKStudents: Urban Outfitters are selling this.

Poor taste does not even cover this.

As an alumni this is heart breaking.

Bad move.

— Trinka Messenheimer (@Puka_mess) September 15, 2014
Urban Outfitters came under fire in 2012 after selling a $100 "Wood Wood Kellog Tee", which had a star patch is placed on the T-shirt pocket right above the yellow shirt's left breast, which critics said mimicked the horrors of the Holocaust.
Update: Urban Outfitters has since released a statement, which reads:
"Urban Outfitters sincerely apologizes for any offense our Vintage Kent State Sweatshirt may have caused. It was never our intention to allude to the tragic events that took place at Kent State in 1970 and we are extremely saddened that this item was perceived as such. The one-of-a-kind item was purchased as part of our sun-faded vintage collection. There is no blood on this shirt nor has this item been altered in any way. The red stains are discoloration from the original shade of the shirt and the holes are from natural wear and fray. Again, we deeply regret that this item was perceived negatively and we have removed it immediately from our website to avoid further upset."