A murder probe is underway after the bodies of two British tourists were found on a beach in southern Thailand.
The pair, believed to be a 23-year-old woman from Great Yarmouth, Norfolk and a 24-year-old man from Jersey in the Channel Islands, were naked and had deep head wounds, police said.
It is thought they had attended a beach event on Koh Tao, a small island popular with divers near the full moon party spot of Koh Phangan.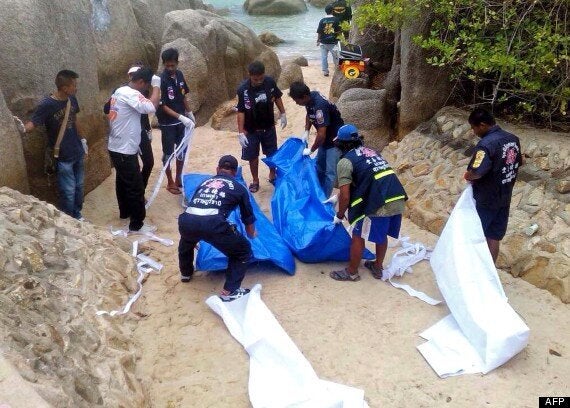 Thai workers remove the bodies of two British tourists found on Koh Tao island
Phuket Wan News reports the woman had been raped and that "shocked residents have now blocked the pier at the island to prevent anyone leaving."
He added the authorities were checking CCTV at nearby restaurants, hotels and shops for clues.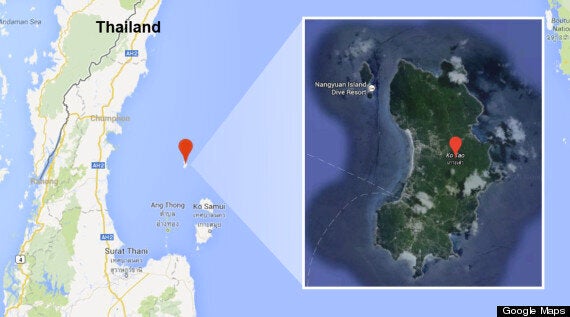 The Foreign and Commonwealth Office (FCO) said: "We are aware of the death of two British nationals on September 15 on the island of Koh Tao in the Gulf of Thailand.
"The embassy are urgently seeking information from the local authorities and consular staff stand ready to provide assistance to friends and family at this tragic time."
According to the Lonely Planet travel guides, Koh Tao welcomes thousands of visitors who "come to worship the turquoise waters offshore". Its turquoise coral, sharks and rays bring in divers, hikers enjoy jungle walks and the bar scene "rages on until dawn".
The FCO says as many as 11 Britons have been murdered in Thailand since 2009.
In a 2012/13 New Year's Eve party Londoner Stephen Ashton, 22, was killed in a bar on Haad Rin beach on the Thai island of Koh Phangan - a resort where the FCO warns British travellers to beware "vicious, unprovoked attacks by gangs".
The FCO says such attacks are particularly common around the time of Full Moon parties and generally occur late at night near bars in Haad Rin.
British visitors are also warned that violent assaults and robberies have been reported in the resort town of Chaweng in Koh Samui. Attacks have also occurred in other tourist districts in Thailand including Chiang Mai, Pattaya and Krabi.
In July last year an American was stabbed to death, and his son seriously injured in an attack in a bar in Krabi.
On crime generally, the FCO warns Britons to beware scams, pickpockets, bag-snatchers and credit card fraud.
Just a few weeks ago, the FCO published comprehensive, country-by-country lists of places where Britons needed consular assistance in the 12 months ending March 2014.
The list also showed where Britons have been victims of crime.
Taking into account the number of visits made by Britons to a country as well as the number of Britons living in that country, Thailand was second only to the Philippines in being the destination where Britons needed the most consular assistance.
In 2013/14, Britons made more than 906,000 visits to Thailand - a country where around 50,000 Britons live. There were 1,164 incidents of consular assistance, including 11 cases of rape, six of assault and 267 instances of Britons being taken to hospital.
There were also 362 deaths of Britons in Thailand in 2013/14. Although this figure included those who died of natural causes, the total was more than in any other country except Spain, which received around 12 times the number of Britons than Thailand.
The latest murder is a further setback for Thailand's tourism industry which is still recovering from the military coup which took place in May this year.
For a time tourists had to obey a strict night curfew which was lifted after a few weeks. The FCO warns Britons that it is illegal to criticise the coup and that visitors "should be wary of making political statements in public."