Had Rio Ferdinand's latest chapter been released ahead of his weekend return to Manchester United the Stretford End might have greeted him with a "Goodbye, Mr Chips" banner as he paid a belated farewell. For the deep-fried potatoes have humiliated the former United defender more than his former teammates did at Old Trafford on Sunday.
"Footballers are creatures of habit and for as long as I can remember at United, it was a ritual that we had low-fat chips the night before a game," Ferdinand said. "We loved our chips.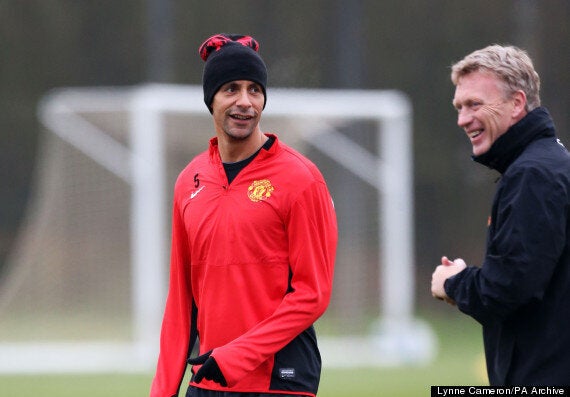 Ferdinand's hatchet job has exposed United's mutinous petulance
"But Moyes comes in and, after his first week, he says we can't have chips any more. We weren't eating badly. In fact, you'd struggle to find a more professional bunch of players than the ones at Manchester United in the summer of 2013.
"Then suddenly, for no good reason we could see, it was 'no chips'. It's not something to go to the barricades over. But all the lads were pissed off.
"And guess what happened after Moyes left and Ryan Giggs took over?
"Moyes has been gone about 20 minutes, we're on the bikes warming up for the first training session without him and one of the lads says: 'You know what? We've got to get onto Giggsy. We've got to get him to get us our f***ing chips back.'"
No one could have imagined United's experienced serial winners could stoop to such petulance under Moyes. That Ferguson should never have considered his compatriot to succeed him undoubtedly contributed to Moyes' failings - he was hopelessly out of his depth - however he was fighting a losing battle against ageing and undermining players.
Ferdinand on Moyes: The Best Quotes

"On our pre-season tour he told me and a couple of others that he wanted us to play a narrow 4–2–2–2 with the wide players coming inside. I remember thinking: 'Have you not read up on this club's history? This club was built on wingers. It only goes back about 100 years! Cristiano Ronaldo, David Beckham, Ryan Giggs, Steve Coppell, Willie Morgan, George Best... that's quite a tradition."
On a video session with Moyes: "Me and Vida [Nemanja Vidić] came out of there and looked at each other. 'I don't know what the f*** he just asked us to do,' I said."
"The whole approach was alien. Other times Moyes wanted lots of passing. He'd say: 'Today I want us to have 600 passes in the game. Last week it was only 400.' Who cares? I'd rather score five goals from ten passes!"
"On the morning of a game we'd spend half an hour on the training ground, drilling to stop [opponents]. There was so much attention to the subject it suddenly became a worry — they must be fucking good at this to have us spend all this time on it."
"The mixed messages were even worse. Sometimes he'd say, 'I want you to pass the ball.' Other days it was: 'I don't want you to pass the ball.' What the fuck do you want us to do, man?"
Ferdinand was actually the first player to publicly subvert Moyes in December, when he claimed the Scot's team selections were "turning me into a madman" in a micro documentary for BT Sport. Ferdinand filmed his insolence and didn't request that it be edited out. As a senior player who had spent 11 years at United, this set a horrendous example.
One of the club's youngsters leaked team news again after Moyes gave him a dressing down about it. The farcical Anderson launched a barb after sealing a loan move to Fiorentina, claiming players "wanted out" because of Moyes' management. Danny Welbeck waited until the morning of Moyes' final match in charge - at his former club - to confirm he wanted to leave United.
It didn't end there. One first-teamer was caught smoking in Manchester Airport's toilets and an influential squad member humiliated Moyes after accepting pastries in an airport lounge, much to the amusement of his teammates. Louis van Gaal's cull is further justified. United had morphed into a collection of wannabes and wantaways.
Van Gaal is yet to confirm whether chips are banned at Carrington, but United players will not be rushing to knock on his door and demand they return to the menu. Moyes, not a credible appointment, didn't lose the dressing room. He never had it.