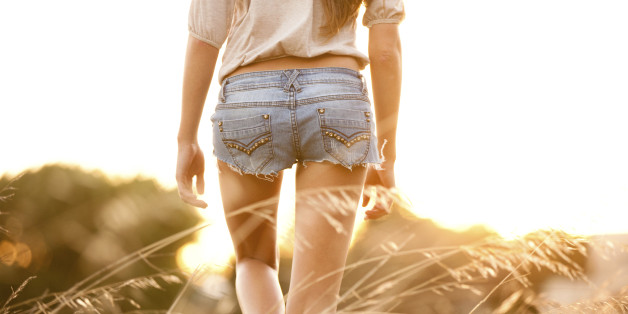 epicurean via Getty Images
What's a sure fire way to piss off half of Twitter? Write an article stating big bums are en trend...
Last week Vogue published an article online which said: "the big booty has officially become ubiquitous."
According to writer Patricia Garcia, big bottoms are currently fashionable thanks to celebs like Rose McGowan, Iggy Azalea, Jen Selter and Kim Kardashian.
"The measure of sex appeal is inextricably linked to the prominence of a woman's behind," she writes.
When we read Garcia's article, the team here at HuffPost UK Lifestyle were pretty disturbed by the idea that a body part could go in and out of fashion, and it seems we weren't the only ones questioning Vogue's piece.
Members of the public have taken to Twitter to criticise the fashion magazine by using the hashtag #VogueArticles.
While some used the hashtag to point out that a body can not be a trend...
Big booties are not a fashion accessory. My ass is not a scarf. #VogueArticles

— Megan Brogan (@MeganBrogue) September 16, 2014
Others slammed Vogue for suggesting white women have made big bums acceptable...
Darker skin is now in! New tips to get that "multicultural" look! #VogueArticles

— Amber White (@arw3695) September 16, 2014
And soon, Twitter was full of fake Vogue headlines...
Miley Cyrus: "The person who started the twerking phenomenon" #VogueArticles #DishNation

— Simone Umba (@SimmiSweetHeart) September 15, 2014
Angelina Jolie: Pioneer of full lips #VogueArticles

— Shug Baevery (@JamelleMyBelle) September 10, 2014
Bill Clinton On What It Was Like Dealing With Racism As The First Black President. #VogueArticles

— A$AP Aspie (@ProfessorBLove) September 10, 2014
Girlz in Da Hood: Gwen Stefani makes the "Holla Back" relevant. #VogueArticles

— J M (@thebeastmeister) September 11, 2014
Why Elizabeth Taylor was the most authentic Cleopatra ever. #VogueArticles

— Sepia Panaorama (@ellewhyinn) September 11, 2014
Sorry Vogue, but you really got it wrong this time.
SEE ALSO:

Dear Vogue, Big Bums Aren't Back In Fashion, a Body Part Isn't a Passing Trend