Voters believe George Osborne is more trustworthy than Ed Balls on a range of issues including being able to fill in a tax return, manage a local bank branch and take back a library book on time, a poll published on Monday has shown.
A Survation survey for The Huffington Post also found that voters also thought that Osborne was a better chancellor than Balls would be, by a margin of 59% to 41%.
However a second survey carried out for The Huffington Post immediately following the shadow chancellor's speech today found that 54% of voters support his plan to cap in the rise in child benefit at 1% year, compared to 29% who do not.
A large majority of Labour voters, 68%, supported the child benefit cap. It was also backed by 56% of Conservative voters.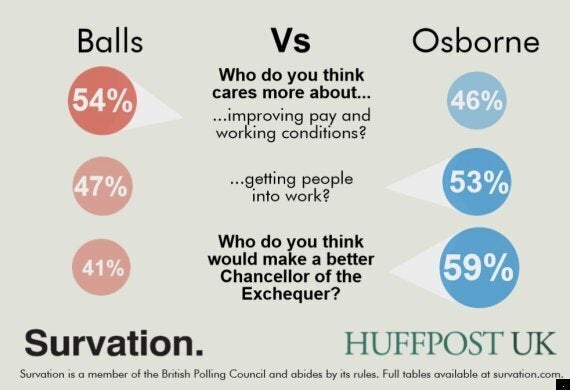 In polling conducted before the conference began, voters were asked to compare Balls to Osborne on a range of measures.
As the data tables above show, the poll found that a majority, 53% to 47%, thought Osborne cared more about getting people into work than Balls did.
However Balls had a clear lead, 54% to 46%, when people were asked which man they thought cared more about improving pay and working conditions. He was also seen to care more about the poor by a margin of 65% to 35%.
Osborne came out best in a series of more personal questions, including who people trusted to fill in a tax return correctly, manage a local bank branch, and return a library book. Osborne was also deemed to be better looking, 56% to 44%, than Balls.
But more people, 54% to 46%, would rather go to the pub for a drink with Balls than they would with Osborne.
With the economy a key battleground at the general election in nine months time, the poll also found that 40% of voters credited Osborne with growing the economy. By contrast 37% thought the economy had begun to grow again despite the actions of the chancellor. Of those asked 23% did not know either way. The poll discovered that 25% of Labour voters also give Osborne credit for growing the economy.
Chris Hopkins, researcher at Survation said: "Our polling indicates that a majority of people who expressed a view feel Ed Balls cares more about the poor and improving pay and working conditions than Osborne. However, the public seem to favour Osborne's actions over Balls' empathy; a third of respondents still blame the last Labour government for the UK's economic difficulties and 34% believe Osborne would make the better Chancellor compared to to less than a quarter favouring Balls, although over 40% could not choose between them.
"Even a quarter of Labour voters attribute the recent economic improvements to Osborne's actions in government, suggesting that whilst Balls' personality may not be as toxic as Labour once feared, his lack of economic credibility may still present a problem."
On behalf of HuffPost, Survation also asked voters what words sprang to mind when they thought of Balls and Osborne. The shadow chancellor was variously described as "good" and "funny". However other less flattering words included "idiot", "rubbish", "weak", "boring" and "twat".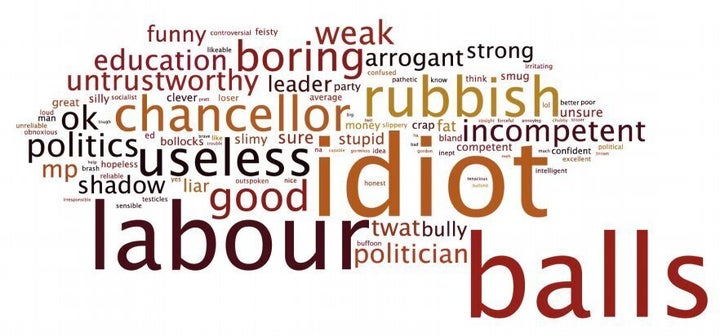 Osborne was seen by many of those asked as synonymous with "money","clever" and "competent". However others thought he was "posh", a "toff", an "idiot", "arrogant" and, like Balls, a "twat".

For the word clouds, click them to enlarge, respondents were asked: "What is the first word that comes to your mind when you think of Ed Balls/George Osborne?". The bigger the word in the cloud, the more often it was used. The full list of replies, including "yukkkkkkkkkkkkkkkkkkkkkk!!!!!!!", can be viewed here.
Survation polled 1,090 people on behalf of The Huffington Post on 12 September 2014. For the survey on Ed Balls' conference speech, Survation polled 1,004 people on 22 September.
Popular in the Community