If you're thinking of getting a tattoo (or just like musing over pictures of incredible body art), one of the best places to go for inspiration is Instagram.
But with so many #Tattoo pictures out there, navigating your way past the "Magaluf2014" drunken snaps to the seriously impressive accounts can be pretty tricky.
And so, to make life a little easier, we bring you 15 of our favourite tattoo-themed Instagram accounts.
Where: Memoir Tattoo, Los Angeles, California
Why: From peacocks to cobras to human skulls, Saigh depicts wildly ornate imagery reveal you can be fancy and strong at once.
Why: Machlev's tripped out geometric designs weave dots and lines together in ways you never dreamed possible.
Where: St. Petersburg, Russia
Why: Sasha's color-blocked depictions of the animal kingdom are sleek, playful and adorable all at once.
Where: Brooklyn, New York
Why: Wachob's marbled, watercolor-esque designs show just how much the tattoo medium verges on art.
Where: 2 Spirit Tattoo, San Francisco, California
Why: Roxx's black-and-white, architecturally-inspired designs resemble optical illusions written on the flesh.
Where: Shamrock Social Club, Los Angeles, California
Why: Dr. Woo is the kind of delicate lines, sharp angles and ink that seems to float right above the flesh.
Where: Brooklyn, New York
Why: "Listen to my picture," SupaKitch's Instagram profile reads, and indeed his flowing imagery has a rhythm all its own.
Where: Captured Tattoo, Old Town Tustin, California
Why: He's the man for modern takes on tattoo classics, with what we suspect is a soft spot for felines.
Where: Rock of Ages Tattoo, Austin, Texas
Why: Stare too long at one of Hooper's geometric designs and you may find yourself hypnotized.
Where: Long Street Collective, Columbus, Ohio
Why: Huber's sharp imagery combines folksy Americana with a mystical edge.
Where: New York City, New York
Why: The go-to guy for Miley Cyrus, Rihanna and Cara Delevingne, he's the tattoo artist to the stars for a reason.
Where: King's Avenue, New York
Why: Rubendall is known for his insanely detailed remixes of traditional Japanese imagery.
Where: The Saint Mariner, Milan, Italy
Why: Sedda's surrealist faces are the perfect combination of modernism and mathematics.
Why: Alucky's mesmerizing monochrome geometry seems to operate on its own logic, each minute detail gloriously fitting into place.
Where: Melbourne, Australia
Why: Murray works in a traditional tattoo aesthetic depicting enchanting, 1920s femme fatales.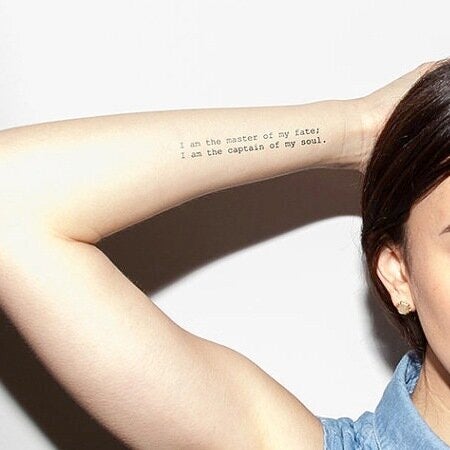 Bookish Temporary Tattoos Worth Wearing