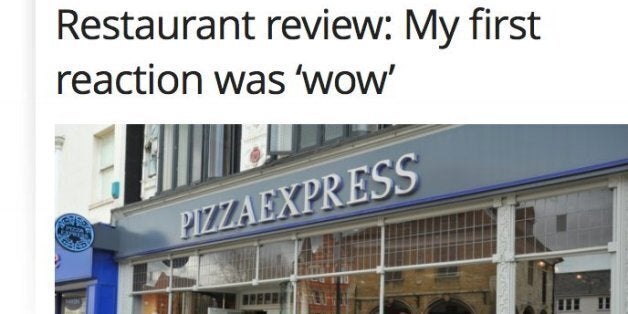 When the Peterborough Today published a review on Pizza Express they probably didn't think many people would read it (sorry Peterborough Today, but it's most likely true).
The delightfully enthusiastic reviewer however, piqued the internet's interest.
Then, when a footnote was added by the paper explaining the piece was written by a journalism student as part of a work experience programme, Twitter duly exploded - with, naturally, a few not so nice comments being made along the way.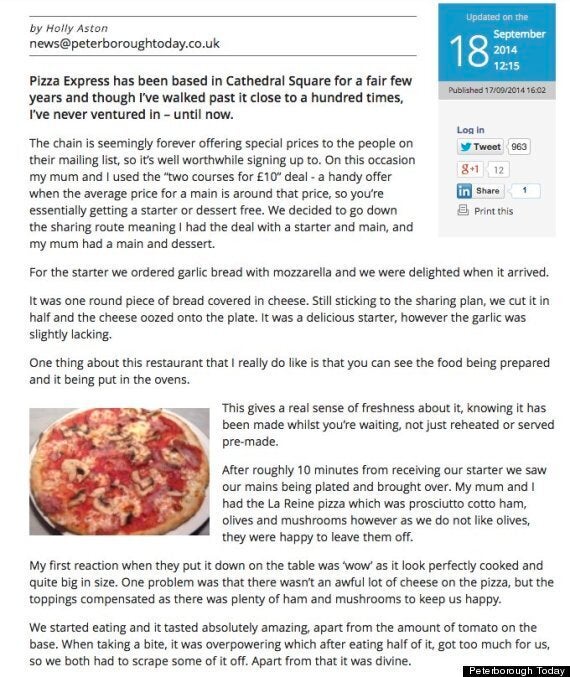 Since the explosion, there's been a new note added:
"Editor's note: There has been an extraordinary reaction to this review. I briefly took the author's name off because I wanted to check that the student journalist who wrote it was comfortable with the situation. To her credit she is and we stand by her review. In hindsight I think I should have made it clear that the author was a student in the byline. That said the restaurant review is a personal piece and that was her opinion, and we stand by her all the way. I haven't been able to reply to all the messages we've had, but thanks to everyone who got in touch. I for one am looking forward to going out for a pizza tonight."
Here's hoping Holly Aston takes a look at the incredible response she's had, and realises just how good her piece is..
Firstly, Holly, you've gone viral. This is something we journalists try to get every single one of our stories to do. Secondly, you've done it without even trying. Thirdly, you've done it purely by your writing - not because of something your dog did, or you takoing a selfie in a really stupid place.
And, you've had not one, not two, but TWELVE tweets about your piece from the great Caitlin Moran.
Oh, and you now have free pizza.
Whoever you are, my teen self - heck, my 25-year-old self - is in awe.
Popular in the Community