A Fifa ExCo member has claimed the 2022 World Cup will not be staged in Qatar due to the country's sweltering conditions.
Theo Zwanziger, the former German football association chief, told Bild: "I personally think that in the end the 2022 World Cup will not take place in Qatar.
"Medics say that they cannot accept responsibility with a World Cup taking place under these conditions."
Fifa's decision to award Qatar the finals sparked outrage in 2010. A nation with little football history, Qatar's appalling human rights record and attitude towards homosexuals continue to generate controversy.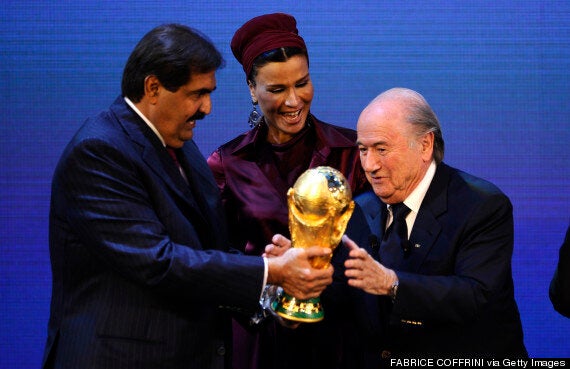 Blatter hands over the World Cup to Qatar Sheikh Hamad bin Khalifa Al-Thani
Earlier this year, the Sunday Times' Insight team alleged Qatar's bid was corrupt shortly after Fifa president Sepp Blatter said it was a "mistake" to award Qatar the 2022 World Cup.
"They may be able to cool the stadiums but a World Cup does not take place only there," Zwanziger added. "Fans from around the world will be coming and travelling in this heat and the first life-threatening case will trigger an investigation by a state prosecutor.
"That is not something that FIFA Exco members want to answer for."
Related