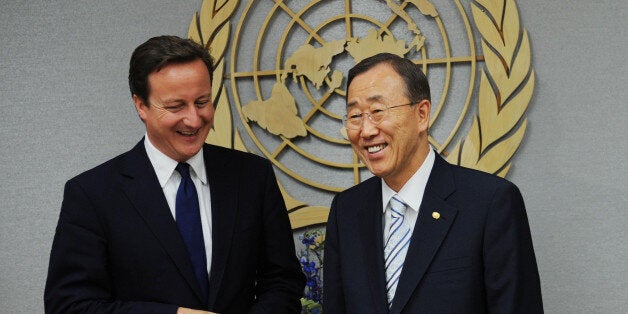 Prime Minister David Cameron has called for the international community to come together behind a "new, ambitious global deal" to restrict global warming to 2C. But the PM insisted that there was no need to choose between economic growth and reducing carbon emissions, telling the UN Climate Summit that innovative technologies - including shale gas fracking and nuclear energy - could help rein in climate change.
Mr Cameron called for nations around the world to cut "green tape" bureaucracy which he said was providing perverse incentives to greenhouse gas-producing fossil fuels, while holding back clean new sources of energy. The Prime Minister was among 120 world leaders gathered at the Climate Summit called by UN Secretary General Ban Ki-Moon to pave the way for a global agreement on climate change at a conference in Paris next year.
Mr Cameron restated his backing for a 40% cut in greenhouse emissions by 2030 which is expected to be put on the table by the European Union. But he made clear that any deal in Paris must involve legally binding commitments for all countries around the world.
"We now need the whole world to step up to deliver a new, ambitious, global deal which keeps the two-degree goal within reach," Mr Cameron told the summit. And I will be pushing European Union leaders to come to Paris with an offer to cut emissions by at least 40% by 2030."
Mr Cameron called for leaders to work hard to "raise the level of ambition" at Paris and prevent a repeat of the failed Copenhagen summit in 2009, warning: "We cannot put this off any longer. To achieve the deal we need all countries to make commitments to reduce emissions," he said. "Our agreement has to be legally binding, with proper rules and targets to hold each other to account. And we must provide support to those who need it, particularly the poorest and most vulnerable."
Mr Cameron said it was "completely unrealistic" to expect poorer countries to forgo the carbon-fuelled economic growth enjoyed by the West. But he insisted: "If we get this right there's no need for a trade-off between economic growth and reducing carbon emissions... We need to give business the certainty it needs to invest in low carbon.
"That means fighting against the economically and environmentally perverse fossil-fuel subsidies which distort free markets and rip off taxpayers. It means championing green trade, slashing tariffs on things like solar panels. It means giving business the flexibility to pick the right technologies for their needs.
"In short we need a framework built on green growth not green tape." He added: "As political leaders, we have a duty to think long term. When offered clear scientific advice, we should listen to it. When faced with risks, we should insure against them. And when presented with an opportunity to safeguard the long term future of our planet and our people, we should seize it. I would implore everybody to seize this opportunity over the coming year.
"Countries like the United Kingdom have taken steps, we've legislated, we've acted, we've invested, and I urge other countries to take the steps they need to as well, so that we can reach this historic deal."
The summit follows massive demonstrations around the world last weekend, which saw celebrities including Leonardo di Caprio and Emma Thompson join thousands of activists in demanding action from world leaders on climate change.
Friends of the Earth's Campaigns and Policy Director Craig Bennett - who is attending the summit - said: "Arriving at a climate change summit with a speech that promotes fracking is like trying to sell cigarettes at a hospital.
"Twenty-first century problems need twenty-first century solutions: If we want to build a cleaner, safer future we must switch to renewable power and end our dirty addiction to fossil fuels. With clean renewable power becoming ever cheaper, available now and accessible to ordinary people, we simply don't need to frack. It's at best a red herring and at worst a dangerous folly.
"Warm words abroad come cheap, but success in the fight against climate change will be measured in concrete actions by leaders at home - and the Prime Minister's record leaves a lot to be desired."
Greenpeace UK climate campaigner Sara Ayech said: "David Cameron was right to go to the summit and back a binding global deal, but he has to follow this through with concrete action at home.
"Right now, Britain is burning growing amounts of coal just because it's more lucrative for the Big Six than using gas. This is damaging our climate, our health, and our energy security as we depend on Vladimir Putin's oligarchs for most of our coal imports.
"We need action not just words. Will Cameron now cancel billions in planned new subsidies for UK coal? And will he make good on a rumoured commitment to phase out coal emissions completely?"