Cruel instruments of torture manufactured in China, including electric shock wands and neck-and-wrist cuffs have been advertised and sold at UK arms fairs and then sold to the world's most brutal regimes, a damning report has revealed.
In fact, the UK routinely hosts arms fairs where torture equipment is advertised, Amnesty has claimed.
Last September, Chinese exhibitor Tianjin Myway International was ejected from London Dockland's Defence and Security Equipment International exhibition for advertising electric shock stun guns in its company brochure. It was the third successive DSEi exhibition where banned equipment was on sale. The next DSEi fair is planned for September 2015.
At other UK arms fairs Chinese companies Famous Glory Holdings and Echo Industrial Co Ltd have advertised leg cuffs, a range of electro shock stun guns and batons.
"The UK government has never prosecuted any company for illegally peddling torture equipment at UK arms fairs, despite numerous repeat offences dating back over a decade," Oliver Sprague, the charity' arms programme director, said.
"The UK's public rhetoric is that it has the strongest laws to ban this trade, but its actions so far have demonstrated the complete opposite. We want assurances that this is the end of the UK playing the dirty role of matchmaker between trader and torturer. There is no way we should be involved in this grim torture industry."
UK export controls forbid "any act calculated to promote the supply of any category A goods" and the UK Government's guidance states: "The controls on Category A goods cover 'any act calculated to promote' the movement of such goods with no exemption for general advertising or promotion." Category A goods include goods defined as torture equipment under UK legislation. But despite these rules, "manufactures continue to flagrantly advertise torture equipment", Amnesty said.
Here are some examples of the equipment sold by Chinese companies. Some companies attempted to sell electric shock stun guns, leg cuffs and batons through arms trading in Britain.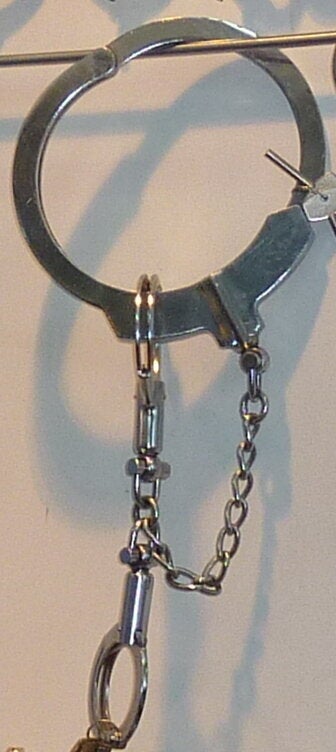 Chinese weapons of torture
The full report detailed 130 Chinese companies, up from 28 about a decade ago, which are now engaged in the development, production and export of law enforcement tools like spiked batons and restraint chairs with ankle cuffs which contort detainees. Amnesty said the torture implements are being shipped to Cambodia, Nepal, Congo, Egypt, Ghana, Madagascar, Senegal and Uganda, and has urged China to ban their manufacture.
"There is no excuse whatsoever for allowing the manufacturing and trade in equipment for which the primary purpose is to torture or inflict cruel, inhuman or degrading treatment on people," Patrick Wilcken, security trade and human rights researcher at Amnesty International, said in a statement.
China explicitly bans torture and mistreatment of inmates, and it strongly denies widespread allegations that torture is often used by Chinese police and Communist Party investigators.
Amnesty says it has documented a wide range of physical torture in China, including the use of electric shock batons.
On Monday, the Xinhua News agency reported that a court in northeastern China had convicted three police officers and four other non-police officers of torturing suspects and killing one person. One victim said he was restrained to an iron chair while being prodded with an electric shock baton, Xinhua said.
More from the Associated Press:
China's Public Security Ministry did not respond to requests for comment. Calls to one of the companies that makes electric-shock wands, Anhua Police Equipment Manufacturing Co, in eastern Jiangsu province, were referred to a senior manager who identified himself only by his surname Ma.
"We are at the service of the Chinese government, so I cannot answer you," Ma said. "I think China has pretty good human rights records, and I suggest those countries finding issues with China's human rights records look at themselves first."
A woman who answered the phone at Yuanda Industrial and Trade Co, which makes restraint chairs and neck-and-wrist cuffs, said the company was producing only what the government has approved and is not responsible for any wrongdoing.
Related