As the US Air Force began bombing Syria, Islamic State (IS) released a new propaganda video of British hostage John Cantlie claiming the West is being sucked into another Vietnam in the Middle East.
Mr Cantlie, who was abducted by the Islamist terror group, also know as ISIS, in 2012, is forced to defend them in the video and says American estimates of what it would take to beat them militarily are "laughably low." He also calls air strikes on IS "America's Gulf War Three".
It is the second video to feature the photo-journalist who has worked for the Times, Sunday Times and Sun. Last week, the first video emerged, in which he announces "a series of programmes" and claims he had "nothing to lose" in delivering the messages.
He calls says American politicians calling IS "awful" or "vile" will not harm it.
"Such petty insults don't really do much harm to the most powerful jihadist movement seen in recent history," he says.
"The president once called George Bush's Iraq conflict a 'dumb war' and couldn't wait to distance America from it when he came into power.
"Now he's being inextricably drawn back in. Not since Vietnam have we witnessed such a potential mess in the making.
"Current estimates of 15,000 troops needed to fight the Islamic State are laughably low. The State has more mujahideen than this.
"This is not some undisciplined outfit with a few Kalashnikovs."
He says the "full might of the US war machine could not destroy Islamic State" and says it has grown in power since then.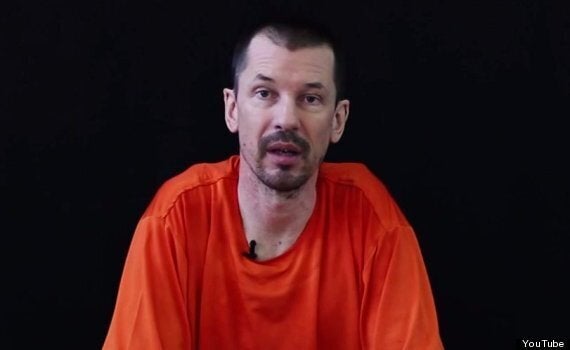 John Cantlie as he appears in the video
Like the first, the second video also shows him with cropped hair and in an orange suit.
Though Mr Cantlie claimed in the first video that he was delivering propaganda voluntarily, few have believed this.
Other IS videos of the executions of James Foley, Steven Sotloff and British aid worker David Haines all showed them making statements under duress, condemning their governments.
The latest video lasts six minutes and Mr Cantlie speaks in English with Arabic subtitles.
It always features high-end production values - images of public figures mentioned by Mr Cantlie are shown and he speaks with the fluent manner of a news anchor.
It appears to have been recorded before air strikes were launched.
Mr Cantlie introduces himself as "the British citizen abandoned by my government and a long-term prisoner of Islamic State".
What he says suggests the video was made before Tuesday's air strikes - saying Syrian president Assad has been "approached for permission to enter Syria".
He adds the new Iranian President Hassan Rouhani, who is decidly more pro-American than his predecessor, is keen for Western intervention to strengthen
"It's all quite a circus," Mr Cantlie says. "Airstrikes, the creation of last-minute puppet government, advisory teams on the ground, wooing previous enemies to join and trans-border incurions intoa country that's been in a state of civil war for three years.
"All while completely under-estimating the strength of fighting zeal of the opponent."
He signs off: "Join me again, for the next programme."