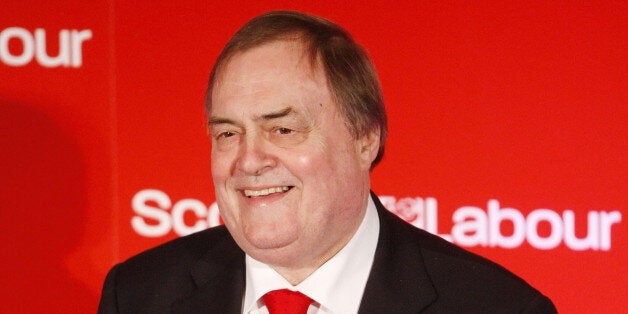 Shadow business secretary Chuka Umunna, lacks the "passion" to convince Labour supporters and voters that the party is on its way into government, former deputy prime minister John Prescott has said.
The Labour peer, speaking to comedian Matt Forde on stage at the Manchester Comedy store on the fringe of the Labour Party conference late on Tuesday evening, was giving his views on the current state of the party.
A few hours earlier Ed Miliband had delivered his keynote leader's speech in the conference hall. "Were you impressed with Ed's speech?" Forde asked. Prescott replied: "What's the next question?" The former deputy prime minister then added diplomatically: "I thought it was a remarkable speech."
Prescott, known for his robust and rambling speaking style, said he appreciated that the a new generation was in charge of the party but said "passion is quite important in politics" as a way of winning votes. And he worried that the professionalisation of politics had it made it "less rebellious, [with] less commitment and less passionate".
Asked whether he was impressed with Umunna, Prescott replied: "I keep making a mistake of calling him Chumbawamba so I get into all sorts of bloody trouble.
"It's a new voice, he actually expresses the details, he's an intelligent guy putting across the case. But he does sound a bit quiet doesn't he? You don't walk away saying, 'Christ, we're now on the way'," he observed. "You've got to do somehow do that, and that's when the raucous and passion [come in]."
"Where are the awkward buggers going to come from? Those awkward buggers have had experience." He's said, noting that many of the current generation of Labour MPs were not from a traditional working class or background."There should be a rebellious feeling in the party."
In 1996, the singer of the band Chumbawamba drenched Prescott at the Brit Awards by tipping a bucket of water over his head. The current shadow business secretary may now be plotting a similar move.
On Tuesday, Prescott also criticised Ed Balls' announcement that a Labour government would take measures to cut the deficit and balance the books. "I don't think it's a great way to go, we are in for a balanced budget, when did that all come in? You've got to excite people, that doesn't," he said.
The former deputy prime minister, who led the British government's delegation to the Kyoto climate change summit, was equally unimpressed with what he saw as Labour's decision to ignore environmental concerns. "There was nothing about the environment at this conference," he said. "There isn't a fringe meeting about the environment this week."
"True, Ed threw it in at the end of the speech, thank goodness, that's one part of it," Prescott conceded. But added: "What are we doing, absolute bugger all, and really that's not on."
Yesterday Prescott attacked Tony Blair for his devotion to interventionism. "Tony would put on a white cover with a red cross and go on his crusades," Channel 4 News reported the veteran Labour peer as having said.
Asked whether the remark had been a joke, Prescott said it "bloody well isn't". He added that Blair had "joined in the Crusades" with his views on sending troops abroad. "Perhaps he should get a pair of boots and go to the bloody North East and lead the troops that he is talking about," Prescott added.