Calling interviewers everywhere. If what you're after is a cooperative subject, warm, gossipy, conspiratorial, as interested in your opinions as you are in his catalogue of A-list anecdotes, then Mark Ellen is your man.
If you're a pop fan who grew up in the 80s, his name will ring lots of bells – as one of the founding forces of Smash Hits, Q Magazine, Mojo, Select and Word, for more than 30 years he's done more than his share of bringing music good and bad to fans, desperate for news and reviews of their latest idols.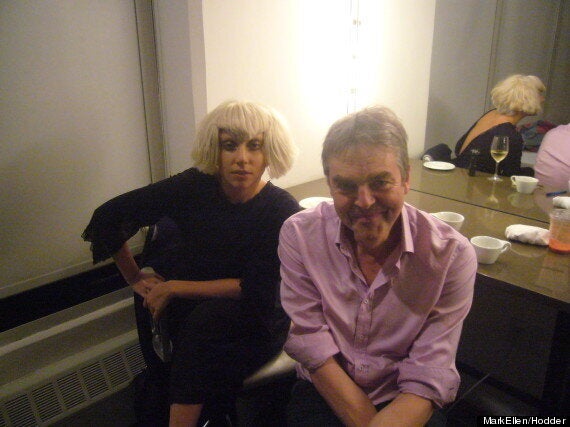 Lady Gaga treated journalist Mark Ellen to a one-woman baroque showcase, naked butt, tattoos and all
His face will ring a few more. Following his radio debut sitting in for legend John Peel, Mark's TV career has included presenting 'Whistle Test' both before and after it stopped being old and grey, and sharing the helm for Live Aid coverage in front of the world's biggest ever TV audience, when challenges included losing the live feed from Philadelphia and juggling British guests Brian May and Su Pollard.
And now he's written a book about it all, a memoir which is as much a study of what happened to music and music journalism over the last three decades, when the bottom fell out of the recording industry, artists had to cope with the advent of 24-7 iPhone intelligence, and veteran music journalists went running for cover as their turf was stampeded by bloggers and fans with attitude.
All of this is in there, plus some absolutely splendid, ripe anecdotes of Mark's real-life encounters with those heroes he'd worshipped since adolescence, the ones he still champions ("I just like Rod Stewart, he doesn't pretend"), the ones who took him by surprise ("Lady Gaga sat in front of me. I hadn't seen a completely naked 25-year-old girl for about 25 years… Michael Jackson was very knowledgeable about music production and the industry, and in every other way, like a pre-pubescent determined to reclaim his childhood") and, even more fun, the others who were complete let-downs (Jimmy Page, Van Morrison - take a bow).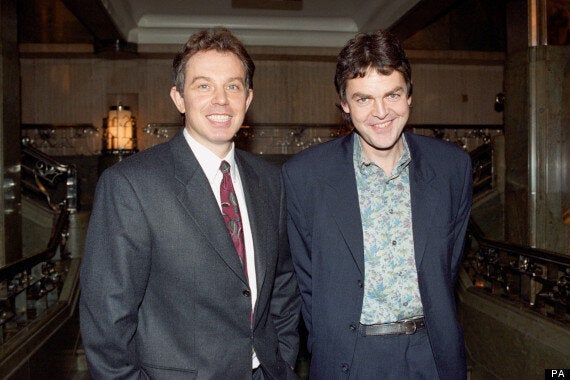 Mark Ellen's rock connections started early - he was in a band called Ugly Rumours at university with Mr Tony Blair. Here, one half of the band's reunion in 1994
With all of this going on, the problem becomes, where on earth to start? Thus, in what Mark tells me joyfully "takes me back, this is just like a Smash Hits interview" (ie a 30-year old format… never mind, if it ain't broke and all that), I simply fling some questions at him, and he obliges with answers that could be two-worded, but instead take us on a delightful dance of the last 30 years of music, foxtrotting between his great loves (Wishbone Ash, Brewers Droop, the Kinks), mine (George Michael) and everything in between, watched through his all-seeing, all-laughing eye…
Who's the musician who's impressed you the most?
"That answer, quite boringly, would be George Harrison. Most musicians are intensely competitive, even Leonard Cohen admits that. But because the Beatles had Lennon and McCartney, George Harrison was no threat to anyone, and he became everyone's friend. Monty Python, Formula 1 drivers, the Withnail gang, they all adored him.
"He turned up once at George Martin's house, after the music producer had had an operation on his ear. And George gave him a little tiny Buddha, saying it was a spirit that would look after him. Meanwhile, other George looked out of the window, and Harrison had arrived in a £300,000 Lamborghini.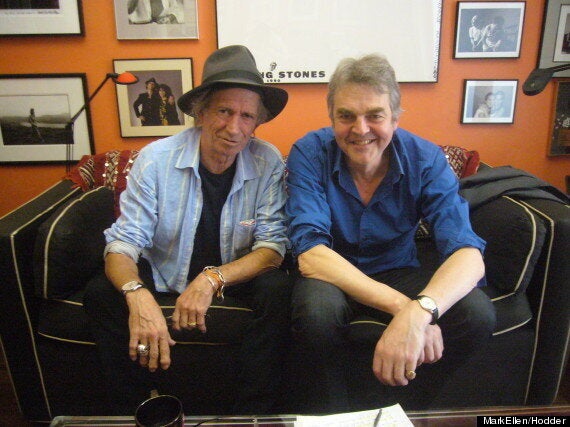 Keith Richards is one of the most charismatic people Mark Ellen has encountered - "funny bones"
"He stayed true to the Eastern religion he discovered in the 1960s, but he was equally happy meeting his pals in Henley for a pint. Just very happy in his own skin, had achieved everything he'd wanted to, and stayed really funny and charming. It was a great honour to meet someone who had that kind of effect on everyone he met."
At the opposite end of the spectrum, who's been the biggest let down?
"There are two types of people in the world, people who like Van Morrison, and people who've met him.
"When you're a kid, you imagine very fondly that the people playing these wonderful songs are the same people off the stage. And the most exaggerated example of this not being true is Van Morrison. I thought Van Morrison was a poet charging along the landscape, a folksy minstrel reading his Yeats, a fair maiden occasionally leaning to mop his brow, while he made his odyssey for the truth of life.
"In reality, he's massively bad-tempered, crabby, unbelievably uncooperative. A very difficult man. What's the word? He's a grouch. And Lou Reed was terrifying, which was probably just a device he used to frighten journalists."
(In addition, Mark's book has a great anecdote when one of Mark's teen idols Jimmy Page and Roy Harper came horribly into real-life focus during one interminable night. I won't spoil it for you, but it's a corker.)
Who's been the biggest surprise?
Lady Gaga. I thought she was going to be incredibly flamboyant, over the top, and all that was true, but she was fantastically entertaining. She shooed me out of her room because she was getting changed, then summoned me back in, and she was completely naked. I thought that was hilarious. I couldn't work out whether it was her own idea. We went through her tattoos in this bizarrely, asexual way. And she was incredibly interesting too.
"She's a proper star in the old-fashioned sense, sees her role to go out and elevate the sum of human happiness, even if means walking out in Times Square wearing only a feather boa. She said she'd wished been born a mermaid or a unicorn. Why aren't there more people like that?"
What's been the biggest change?
"Rock and roll used to be full of big, larger-than-life characters but, generally, the artists being promoted now have got much younger, so their previous lives before they hit the big time are much less rich to learn about.
"Now, there's a huge amount of opportunity to discover stuff about Rihanna, through Instagram and tweets and so on, but it's all coming from one main agent, and that's Rihanna herself, so she controls everything we understand.
"Plus, the level of control these days with interviews is so massive. In 1981, I interviewed Sting at his house in London, then the biggest rock star in the world, and it was just me, his son and his dog, with Sting making the tea.
"Now, sometimes you have to be interviewed to see if you can interview someone. And it's so controlled, you have to ask yourself as a journalist, what's real, and what's just being presented to you as a series of storyboards."
Who has the most charisma of everyone you've met?
"Hmm, well, Elton John has charisma, but that's obvious. And Lady Gaga, but, similarly, too obvious. I can't say George Harrison again. Keith Richards has funny bones, every single word he utters is worth listening to. Okay, my definitive answer is David Bowie. He's tiny and light, incredibly beautiful with fabulous hair. He's amazing, extraordinary, incredibly funny and upbeat. He always smiles."
Finally, what's been the most surreal moment of all?
This, understandably, takes some thought. After all, Mark Ellen is the man who stood in Meatloaf's front hall, watching open-mouthed as the oversized singer chased a law attorney out of the house, with a baseball bat, and naked save his underpants. And, as mentioned, he's the man who sat talking tattoos with an all-but naked Gaga in her dressing-room. However, happily for this most British of journalists, it's another Brit who finally comes to mind…
"As the editor of Q Magazine, I had to arrange the Q Awards, and I was getting into a bit of flap about everything being ready in time. Paul McCartney and his wife Linda turned up early, so I had the strange sight of seeing a Beatle and his famous wife helping lay the tables... Paul sitting there folding napkins."
Mark Ellen and his longtime cohort Dave Hepworth will be speaking about their times documenting the music industry, and the stars within it, at London's Soho Literature Festival tomorrow evening (Wednesday 24 September) at 7pm in London's Dean Street. Click here for info.
'Mark Ellen: Rock Stars Stole My Life' is out now. Click here for info.
Popular in the Community