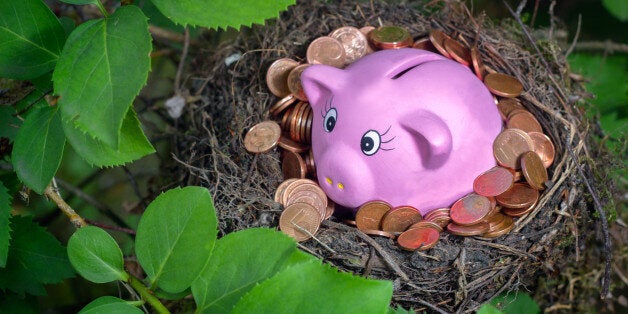 The lovely people over at The Money Charity asked students for their best money saving tips. Here's what they came up with..
"I've started taking a flask to college. I can get two and a half good-sized teas out of my 500ml flask, enough to tide me over at college. I save a load of cash every week to spend on clothes, books, DVDs, etc." - Rachel Mann
"Supermarkets often reduce meat and fish at the end of the day, so plan your trip to the supermarket in the evening." - Ellis Tuddenham
"I buy in bulk then cook a huge meal — best is bolognese on a Sunday — and freeze what I
don't eat. Not only do you save money but you have an easily microwaveable lunch/dinner for lazy days later in the week!" - Anna Robinson
"Don't be afraid to buy reduced meats or bread and bag them up in individual portions (this also saves space, something works wonders and allows you to eat things even if they are past the sell-by date." - Rebecca Wildan
"Make classroom-friendly snacks like grapes and other silent foods, so you don't get so hungry that you go and buy chocolate." - Emma Matthews
"Booking train travel in advance saves loads, as does using a Railcard. You can also reclaim money for delays." - Anna Robinson
"If you get the bus to uni but it's in walking distance, walk instead and put the money you would have used into the piggy bank. At £1 a journey you could save £10 a week or £40 a month." - Nicola McShane
"Check the cost per single item or price per 100g rather than the price on the pack. You may pay slightly more overall but can get better value for money." - Nicola McShane
"Put a note in your wallet with something you want to save money for. Every time you open your wallet you'll think twice about spending on things you don't really need." - Myrthe Kemme
"Make sure electrical gadgets are on a timer. We charge our phones, use our dishwasher and switch on our electric water heater at night on the cheaper rate." - Anna Robinson
Get computer software through your college/uni to make the most of their discounts — it can be up to 25% cheaper.
"Buy supermarket own-brand items — they're practically the same but cheaper." - Janelle Yeo
"Take two sets of towels and bedding — you won't have to pay for tumble driers because you'll already have one clean, dry set. You can leave the other set to air-dry." - Rebecca Wildan
"Every pay day take out £10-£50 and set it aside for emergencies." - Laura Acton
"Always check whether the multi-buy deal is really cheaper than buying one or two of the same thing — it's a common supermarket sting to get you to spend more!" - Eve W
"Send texts for free online (or with an app using your free wifi allowance) so you don't go over your inclusive allowance." - Jem Bedford
"Work where you shop and get a staff discount to boot." - Amy Marsden
"See if you can read any of your set texts online for free. Even if you don't have an e-reader you can use free apps on your phone to download and read free or cheap books." - Hannah Campling
Baking soda can replace just about anything: toothpaste, shampoo, deodorant, air freshener and stain remover! - Jamie Jansen
"Wee in the shower! Saves money on water bills and makes you feel strangely free." - Otillie Williams
Popular in the Community