The British public has had a change of heart - now the majority of Brits would back UK airstrikes against Islamic State targets in both Iraq and in Syria, despite overwhelmingly opposing when the issue was last debated in parliament.
The motion in parliament today is likely to pass with ease. Douglas Alexander, the shadow foreign secretary, confirmed on Friday morning that Labour will support the airstrikes.
If agreed by Parliament, the UK would expect to join US-led international air campaign within days. However, the bombing may not prove that intense as IS is understood to have limited numbers of fixed positions that can be attacked.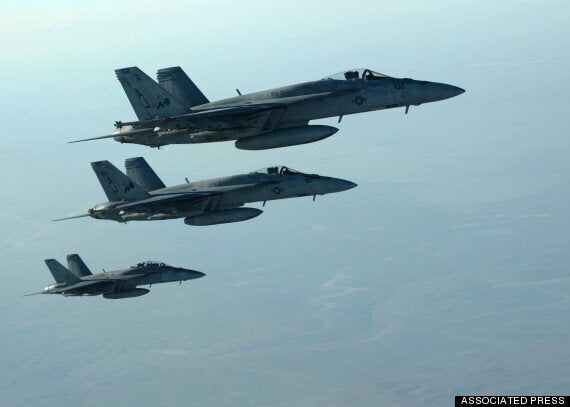 A formation of U.S. Navy F-18E Super Hornets leaves after receiving fuel from a KC-135 Stratotanker over northern Iraq, as part of U.S. led coalition airstrikes on the Islamic State
Defence Secretary Michael Fallon has suggested that the campaign against IS could be a "long haul" of "two to three years".
The motion to the House of Commons reads in full:
"That this House:

"Condemns the barbaric acts of Isil against the peoples of Iraq including the Sunni, Shia, Kurds, Christians and Yazidi and the humanitarian crisis this is causing;

"Recognizes the clear threat Isil pose to the territorial integrity of Iraq and the request from the Government of Iraq for military support from the international community and the specific request to the UK Government for such support;

"Further recognizes the threat Isil poses to wider international security and the UK directly through its sponsorship of terrorist attacks and its murder of a British hostage;

"Acknowledges the broad coalition contributing to military support of the Government of Iraq, including countries throughout the Middle East;

"Further acknowledges the request of the Government of Iraq for international support to defend itself against the threat Isil poses to Iraq and its citizens, and the clear legal basis that this provides for action in Iraq;

"Notes that this motion does not endorse UK air strikes in Syria as part of this campaign, and any proposal to do so would be subject to a separate vote in Parliament;

"Accordingly supports Her Majesty's Government, working with allies, in supporting the Government of Iraq in protecting civilians and restoring its territorial integrity, including the use of UK air strikes to support Iraqi, including Kurdish, security forces' efforts against Isil in Iraq;

"Notes that Her Majesty's Government will not deploy UK troops in ground combat operations;

"Offers its wholehearted support to the men and women of Her Majesty's armed forces."
"They can't continue this way. They can't be doing this to people and get away with it. No matter what nationality, if they are Western or not. Hundreds of Syrians have been killed by them. They need to be stopped. If airstrikes and ground force is what it takes, that's what it takes."
She says her father wanted to help everyone, no matter what race or religion. "Anyone who needed help he was there. Tragically he's lost his life doing what he loved but he wouldn't have stopped. Even if he'd come back after this he would've gone out again and again and again. He loved helping people. He was such a bright character."
The Prime Minister's official spokesman said there had been strong support for David Cameron's position re airstrikes, after he warned at the UN yesterday that Britain must not fail to take on the "psychopathic" jihadis of IS because it is "frozen with fear" about repeating the mistakes of the Iraq War.
There was said to have been "unanimous" agreement after contributions from Deputy Prime Minister Nick Clegg, Foreign Secretary Philip Hammond, Defence Secretary Michael Fallon and Attorney General Jeremy Wright among others.
Fallon told The House magazine: "(US Secretary of State) John Kerry has estimated two to three years, that looks like a long haul to me. But we have to face up to this. This kind of extremism has been spreading, taking root in democracies."
The Cabinet is said to have noted the "clear and present danger" that IS poses to security in the UK. However, the summary of the legal underpinning does not refer to that threat. Instead it points out that the Iraq government has given "express consent" for the "USA to lead international efforts to strike Isil sites and military strongholds" in the country.
"The Government is satisfied that the consent of Iraq in these terms provides a clear and unequivocal legal basis for the deployment of UK forces and military assets to take military action to strike Isil sites and military strongholds in Iraq," the summary adds.
Cameron has deliberately restricted Britain's involvement to Iraq in part to secure the support of Labour, which has raised concerns about extending air raids into Syria without specific authorisation of the United Nations Security Council.
The Prime Minister is desperate to avoid a repeat of last year's Commons vote on military action when Labour combined with Tory rebels combined to inflict a damaging defeat on the Government.
Unlike Iraq - where Britain is acting at the request of the government in Baghdad - there has been no such request from the Syrian regime of President Bashar al Assad, raising questions over the the legality of any military intervention.
But Tory backbencher Bob Stewart - a member of the Commons Defence Committee and a former British commander in Bosnia - said that IS had to be defeated in its birthplace in Syria.
He warned that the Government may even have to deploy British ground forces if the threat of terrorist attacks in the UK by IS was considered to be sufficiently dangerous.
"You have got to go to the eye of the octopus," he said quoting the US civil rights activist Stokely Carmichael, "and the eye of the octopus isn't necessarily in Iraq, it is in Syria".
He told BBC Radio 4's The World at One: "I am not one who will say that we will never ever put infantry on the ground. The truth is, as everyone knows, the only way to get rid of this menace is to beat on the ground, drive them out, annihilate them or capture them.
"We mustn't rule out the option of using our armed forces if our country is threatened enough that we need to do so."
Former defence minister Sir Gerald Howarth expressed concern that in limiting British action to Iraq, the UK was leaving the most difficult element of the operation to the US, which has already attacked IS targets in Syria.
"If you don't attack their bases in Syria, then clearly you are not addressing it," he told The World at One. "One will be left with the taste in the mouth that we are leaving it to the Americans to do the dirty end of the job."
But other Conservatives urged caution.
John Baron, a leading Tory rebel in last year's Commons vote, said that ministers needed to explain their strategy more clearly - including the role of the Iraqi army and other regional forces.
"Most accept that air strikes alone will not destroy or defeat IS, as we have already seen. So what is plan B regarding regional ground forces?" he said.
Related