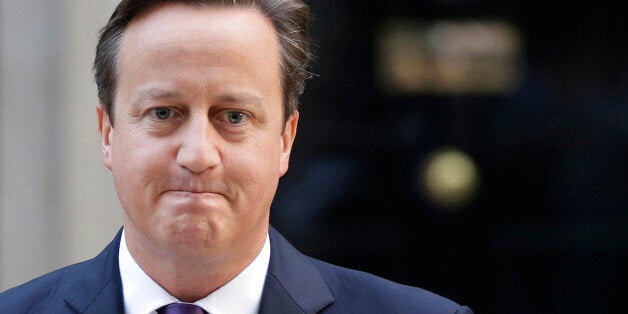 The Conservative Party is trailing Labour by 11% in the 40 key marginal constituencies that will decide the general election in eight months time.
The ComRes survey published on Monday adds to David Cameron's woes as the Tory conference gets underway in Birmingham. The prime minister's hopes of capitalising of Ed Miliband's lacklustre performance in Manchester were blown out of the water over the weekend when a second Conservative MP, Mark Reckless, defected to Ukip and another, Brooks Newmark, was embroiled in a sex scandal.
At the 2010 election Labour and the Tories were tied on 37% across the 40 crucial seats surveyed for ITV News. The poll suggests over the last four years Miliband has opened up a commanding lead in the battleground constituencies. Tom Mludzinski, head of political polling at ComRes said: "These are the seats where the general election next year will be won and lost." One crumb of comfort for Cameron is that the survey showed voters would prefer him to Miliband as prime minister by a margin of 46% to 33%.
In a further blow to the Tories, former Tory co-chairman Lord Ashcroft said polling he had conducted showed Miliband could achieve a "comfortable working majority" at the next election.
George Osborne will attempt to wrest back the narrative today when he uses his speech to the party faithful to focus on the economy - an area that the Tories believe is their trump card in the election. The chancellor will announce plans to abolish the current 55% tax imposed on pension pots when they are inherited by children and grandchildren.
However Conservative operatives in Birmingham are jittery about the prospect of Nigel Farage totally detonating the conference by pulling another defector out of the bag. A Tory source told The Huffington Post that the party was "genuinely concerned" that Dudley MP Chris Kelly would jump ship.
The Tories are throwing everything at Reckless, with chairman Grant Shapps accusing him of having "lied and lied and lied again" by denying he was going to defect. And the Tory co-chairman Andrew Feldman told MPs and candidates a fringe event at the party's conference that Reckless, the MP for Rochester, was "pissing on our parade".
Shapps said the Tories would be "campaigning hard" in Reckless's former constituency. He said: "Let this be a rallying cry - my friends, we are going to campaign hard in Rochester and Strood because the people there deserve an MP who will keep his word because our country needs us now more than ever."
And Boris Johnson, writing in the Daily Telegraph, also issued a warning to any potential Tory defectors. "Let me try to reason with any in my party, the folk who want to launch themselves headlong into the silage, because I genuinely think that they (if they indeed exist) must be utterly nuts," he wrote.