A total of 31 hikers are feared dead after a volcano erupted in central Japan.
Nagano prefecture officials said that they were found with "heart and lung failure", the customary way for Japanese authorities to describe a body before police doctors have examined it, near Mount Ontake, which erupted on Saturday.
There will be no confirmation of their deaths until they have been examined.
At least four of the victims were being brought down from the mountain on Sunday afternoon.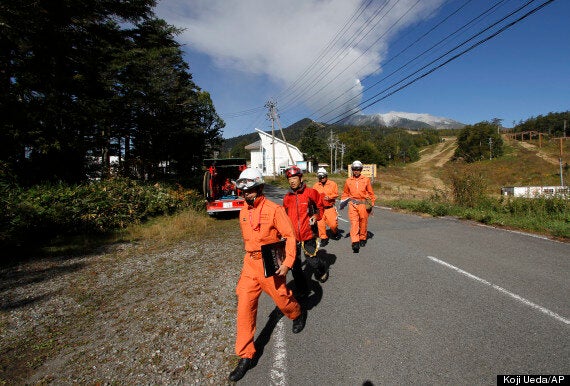 Rescue workers near Mount Ontake (background)
Mount Ontake in central Japan erupted shortly before 12pm local time on Saturday, spewing large white plumes of gas and ash high into the sky and blanketing the surrounding area in ash.
It is a popular climbing destination and at least 250 people were initially trapped on the slopes.
"We couldn't breathe so we covered our mouths with towels. We couldn't open our eyes either."
Keita Ushimaru, an official in nearby Kiso town, said that Nagano crisis management officials had said that at least four people with heart and lung failure were being brought down to the town, and that there were others in the same condition.
Rescue workers were also trying to help injured people and others who had been stranded on the mountain overnight, many taking refuge in mountain lodges. Some were unable to descend on their own, or unwilling to take the risk.
Military helicopters pulled seven people off the mountainside earlier Sunday, and workers were helping others make their way down the slopes.
One woman was being carried on a stretcher, and a man with a broken arm was walking down.
Seven people were picked up in three helicopter trips, said Defense Ministry official Toshihiko Muraki. All are conscious and can walk, though details of their conditions were unclear, he said.
Japanese television footage showed a soldier descending from a helicopter to an ash-covered slope, helping latch on a man and then the two of them being pulled up.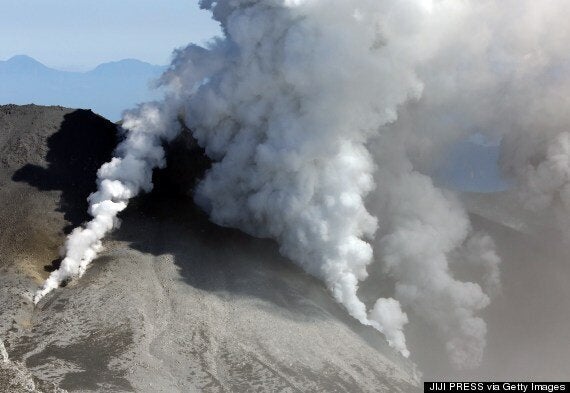 An aerial photo of the mountain taken on Sunday
Japan's Self-Defense Force has deployed seven helicopters and 250 troops. Police and fire departments are also taking part in the rescue effort.
A large plume, a mixture of white and gray, continued to rise from the ash-covered summit of 10,062-foot Mount Ontake on Sunday.
A convoy of red fire trucks, sirens blaring, and rescue workers on foot headed past barriers into the restricted zone around the mountain.
Shinichi Shimohara, who works at a shrine at the foot of the mountain, said he was on his way up Saturday morning when he heard a loud noise that sounded like strong winds followed by "thunder" as the volcano erupted.
"For a while I heard thunder pounding a number of times," he said. "Soon after, some climbers started descending. They were all covered with ash, completely white. I thought to myself, this must be really serious."
Mount Ontake, about 130 miles west of Tokyo, sits on the border of Nagano and Gifu prefectures, on the main Japanese island of Honshu.
The volcano's last major eruption was in 1979.
The eruption of Mount Ontake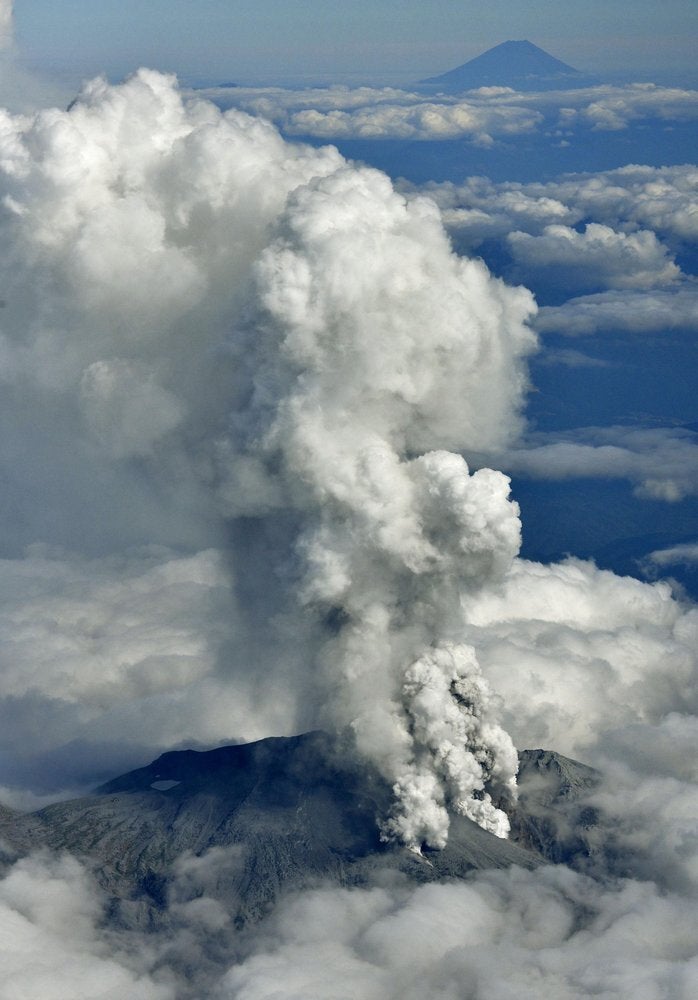 The Eruption of Mount Ontake