Simon Cowell has agreed to cut scenes from the upcoming Judges' Houses episodes of 'X Factor', following pressure from fans and viewers who objected to a preview clip that showed some contestants swimming with dolphins.
SEE MORE: Have A Sneak Peek At The Snaps From Judges' Houses...
The short preview, shown after last week's shows, featured Mel B's boys category in a pool with the dolphins, however, after mounting pressure from animal rights campaigners, the segment has been cut.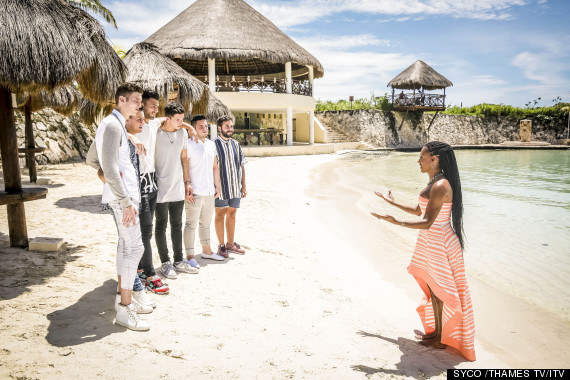 The scenes were filmed with Mel's boys category
Simon took to Twitter to address the situation, revealing that he was unaware that the scene had been filmed in the first place.
"Reading your tweets. I had no idea Xtra Factor producers filmed with dolphins. This will NOT be showed on Saturday," he wrote.
An online petition garnered over 8,000 signatures, reports The Mirror, and PETA have now praised Si's move to axe footage of the singers swimming with the creatures.
"Simon has always been a good friend to animals, so it's no surprise to PETA that he has intervened to prevent 'The X Factor' from glamorising swimming with dolphins," a spokesperson for the charity told the paper. "Many of the highly intelligent and social animals incarcerated in these sad displays have endured the trauma of being caught and torn away from their families before they are sold into a life of captivity.
"In the wild, dolphins swim together in family pods for their entire lives. We're very grateful to Simon for taking a stand against these cruel marine displays and encourage everyone to visit SeaWorldOfHurt.com to learn more about why dolphins and other cetaceans don't belong in captivity."
The Judges' Houses round sees each mentor and their category of hopefuls travel to an exotic location, where the judges receive a helping hand from a celeb pal and choose their finalists.
So far, this year's show has already had its fair share of drama, with Chloe-Jasmine at the focus of debate, after it was revealed she's been giving a second chances at a number of the audition stages.
LIKE US ON FACEBOOK | FOLLOW US ON TWITTER