Incredible footage of a man thought to have died of Ebola stirring as a burial team prepare to take him away for cremation has emerged.
Dr Richard Besser was filming a segment on the outbreak for Good Morning America in Monrovia, Liberia, when the astonishing event took place on Thursday.
Addressing the camera while standing in front of what looks like a covered body lying on the side of the street, Dr Besser relays from members of the community that the man had been ill for some time but no ambulance would come.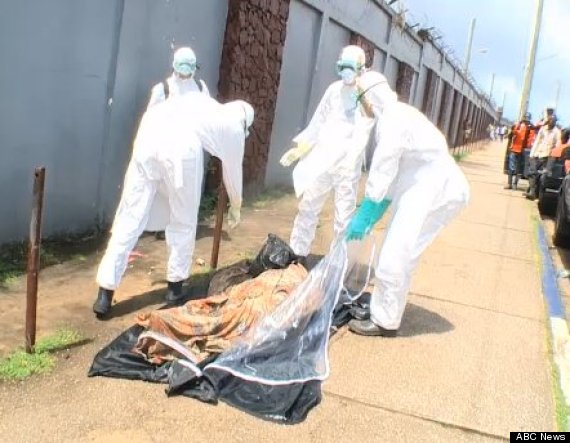 The medical crew are startled as the man begins to stir
Yet when the 37-year-old was thought to have died, a burial team arrived within the hour.
Dr Besser said: "This is a place right now where if you die of Ebola, they're very quick for you. If you're living and they need help, there's really nowhere to go."
As the burial team – all wearing hazmat suits – transfer the man's body onto a sheet of plastic and prepare to wrap him up, he begins to stir.
Dr Besser is heard exclaiming: "He's alive, he's not dead."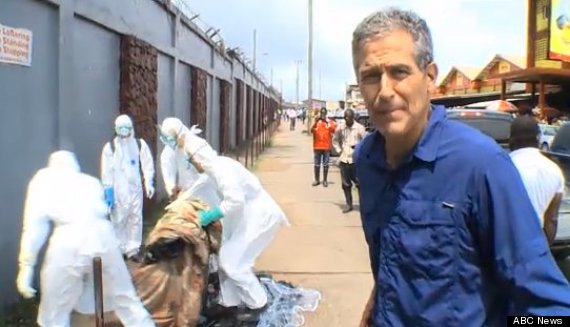 Sadly Dr Besser warns the man is unlikely to survive
The man's arm can be seen twitching, though Dr Besser cautions: "I don't know where they can take him, there are no hospitals to treat him."
Liberia's four million people are the most severely hit by the worst outbreak of the virus in history, which has so far claimed around 1,500 deaths in the country alone.
Its health system is buckling and there are simply not enough doctors and nurses or even clinics to treat the spiralling number of cases.
Dr Besser adds: "The problem that they have here is there's a lot more room for dead bodies than people who need treatment so when they thought he had died it was very easy to come and collect him.
"But now the ambulance is here, they have to find a bed and beds for treating people with Ebola are very scarce in Monrovia."
Amidst anger from the gathering crowd, the man is eventually loaded into the ambulance, though Dr Besser is not optimistic about his chances.
He says: "It doesn't look to me like he's going to be able to make it, there are very few signs of life."
At least 3,000 cases of Ebola have been reported in Liberia since the outbreak in March and the number of worldwide cases could hit 1.4 million by January if urgent measures are not taken, warns the US Centres for Disease Control and Prevention.