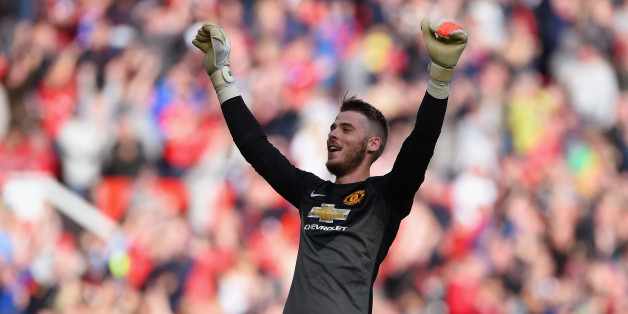 Michael Regan via Getty Images
Louis van Gaal lauded Manchester United matchwinner David de Gea for "saving" his side during a slender 2-1 win over Everton.
De Gea became the first goalkeeper to save a Leighton Baines penalty in the Premier League at the 15th attempt with United 1-0 up and produced two magnificent late saves from Leon Osman and Bryan Oviedo, as United propelled up to fourth in the table.
"Yes, of course," Van Gaal said when asked whether De Gea was the difference between the two sides. "Because at the end of the first-half he stopped the penalty, so that was good. He did very well in the last 15 minutes - three shots outside the box is always difficult because a lot of players are in front of him, so his view is not always good but when you stop those kind of shots you are very good. And he saved us."
"And I said to him it is always good that a goalkeeper has such games. So it shall improve his confidence also."
Everton manager Roberto Martínez also lavished praise on his "outstanding" compatriot. "David de Gea was outstanding," he conceded. "Two moments of an incredible.... Two saves that are eye-catching, but throughout he was very, very strong, very secure. Bryan Oviedo at the end, I felt everyone in the ground was waiting for the net to bulge. He had an outstanding performance, and I think he stopped us from having a positive result from the scoreline.
Van Gaal was left unsatisfied with United's second-half performance for the second week running. Radamel Falcao's 62nd-minute winner signalled the beginning of Everton's dominance, with Osman testing De Gea twice before Gareth Barry's goalbound shot was blocked by Tyler Blackett.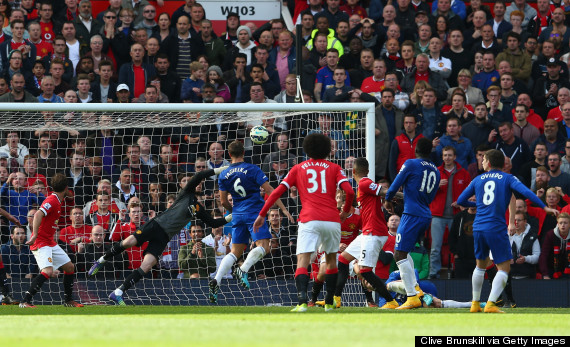 De Gea's stop from Oviedo's volley could be the save of the season
United's coach dismissed the suggestion his team's confidence was growing and opined they defended better with 10 men against West Ham last week, rather than with 11 against Everton.
"I'm always honest and I analyse the game and it is now our second game that we are not good in the second-half," Van Gaal added. "Maybe last week we had an excuse but I've said to my players that is not an excuse, 11 versus 10, it's more easy to keep your organisation then, because you're allowed to play compact. We didn't do that last week and we didn't do it this week.
"The first-half was very good, we created much more chances than last week, but last week we scored two goals and now, only one out of a lot of chances. And it was attacking and we didn't give any chance to Everton until the last minute [Baines' penalty]. So it was a very good first-half but we have to play 90 minutes."
Falcao struck his first United goal in his fourth game however Robin van Persie, captaining the side in Wayne Rooney's absence, looked lethargic during another 90-minute struggle. Van Gaal withdrew Falcao for James Wilson, though, and admitted he was compelled to counter Leighton Baines' marauding runs down United's right.
"When you play with a diamond you need to keep your positions and need to keep pressure on the full-backs and in the second-half the danger came from Baines," Van Gaal stressed. "That's why I changed Falcao and Wilson and he had to play more on the right side, but also [Antonio] Valencia, I saw him struggling, he played very well in my opinion, he was one of the stronger players in the first-half. But when you are not playing so much, then it is always difficult to play 90 minutes - you saw he had cramp after the match.
"That's why I changed him for [Marouane] Fellaini to do his job in that position. Oviedo was always going outside, then you have to speak with Rafa [Da Silva] and you can change, or you have to follow. Those kind of things you have to work out as a team and also in a training session with your manager.
"Last week, you had an excuse but, in my opinion, it's not an excuse because with 10 you can defend better than last week but now we play 11 against 11 and we haven't defended well. We have given four big chances away - in other matches we didn't give that kind [of chances]. I like Everton, also, because they are a playing team, but we have to do it better and we have to improve."
Luke Shaw was substituted after receiving a knock to his knee and although he has joined United's growing casualty list, Van Gaal bemoaned the timing of the second international break this season.
"Now all my players are gone. The rest are injured. We cannot train," Van Gaal lamented, occasionally banging the table. "I have to wait for [Ángel] Di María and [Marcos] Rojo to come back from Hong Kong, they are playing two friendly games, and then they are coming back with jet lag, so I cannot train them. Then I have to wait and then I have only two or three days before the game with West Bromwich Albion. That's my problem, I know, and we live in this football world. I was a national coach. But it's not so easy as everybody thinks."
United have won just three of their seven League matches but have quietly risen up into the Champions League places. Their Premier League goalscorers consist of the daunting sextet of Falcao, Di María, Van Persie, Juan Mata, Wayne Rooney and Ander Herrera ,and Van Gaal couldn't resist issuing a warning.
"We are not playing good but we are already fourth in the table. What is coming when we are playing well?"