Do I have Ebola? The likely answer is NO. Ebola's brutal symptoms mean the disease, which is killing hundreds of people in west Africa in its worst ever outbreak, is hard to miss.
After Europe's first case of Ebola was confirmed, Ebola panic has taken off in the UK, with hospitals on high alert, calls for airport screenings and even a school banning the visit of a Sierra Leonean child and his mother, despite both being health screened and cleared by authorities.
But the severity of Ebola's symptoms of the disease, which has killed 90% of those it has infected in past outbreaks, mean those fearing they will soon be walking through an abandoned, desolate London, 28 Days Later-style, can breathe easy - especially given infected people only become contagious when the symptoms start to show.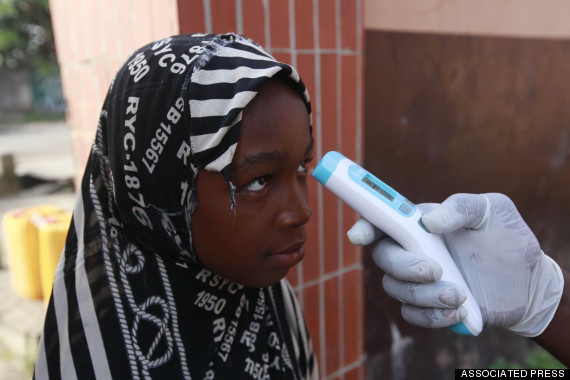 Checking for Ebola symptoms: A teacher uses a thermometer to take a students temperature at a primary school in Lagos, Nigeria
While there is a 50% chance of Ebola coming to the UK in the next three weeks, the NHS has reassuring words for anyone who comes into close contact with anyone infected.
"Simply washing hands with soap and water can destroy the virus," its advice on the disease says.
This is what Ebola sufferers can expect.
READ MORE
More Information From The NHS