A police officer, who is battling breast cancer for the second time, has been honoured by her department with a hot pink patrol car.
Orlando-based cop, Karen Long, previously suffered from the disease in 2007.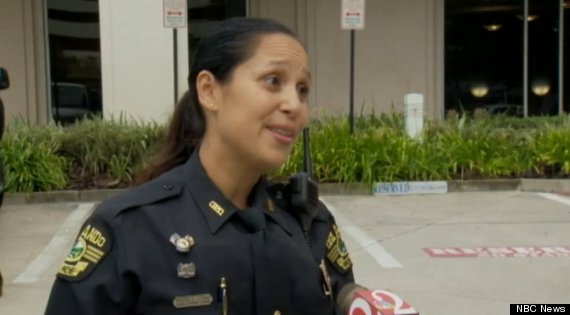 Following extensive cancer treatment including a double mastectomy, six months of chemotherapy and seven weeks of radiation, she was given the all clear.
A couple of months before her fifth anniversary of being cancer-free, Karen found out that the illness had returned.
She is now battling Stage 4 breast cancer.
SEE ALSO:

Breast Cancer Awareness Month: Naked Breasts Appear In Shopping Centres For The First Time Thanks To CoppaFeel!
To commend her fight with the disease, and in support of Breast Cancer Awareness Month (which began on 1st October), the Orlando Police Department presented Karen with a special gift.
A hot pink car was unveiled during a 'Hope Hike' which aims to raise awareness of breast cancer and spread stories of hope surrounding it.
Speaking at the charity event, Karen said: "I didn't ask to be a part of this club, but you know what, I'm in it and I'm happy to be in it. We've all fought the tough fight against breast cancer and I'm proud to be part of this special group."
Karen, who has an 11-year-old son, is positive that she can live and continue working with the illness. She also commented on how her son, Samuel, is incredibly supportive of her and is the reason she will beat the illness so that she can dance at his wedding.
She told Wesh: "I am still here, I'm still smiling, still working.
"I get to support a lot of people that are going through this and be like their ambassador and tell them 'There is still hope, you can still live with this disease.'"
[H/T Buzz Feed]